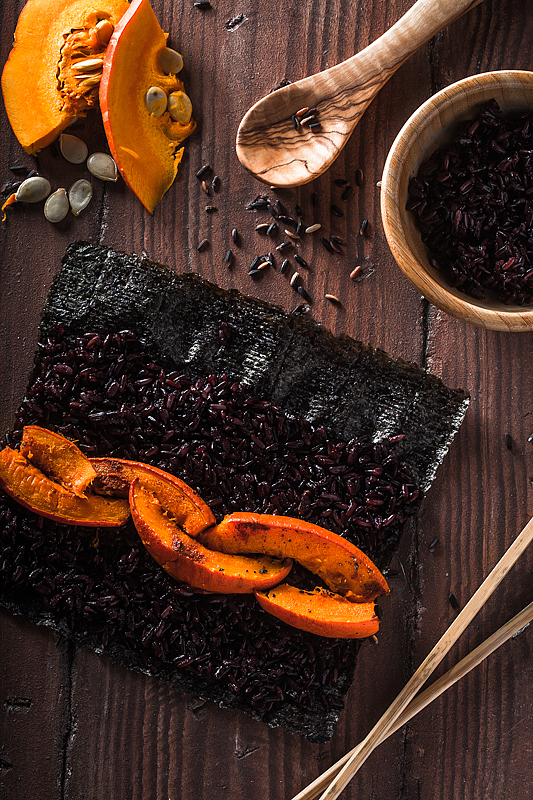 Hello and a warm welcome on purple avocado!
For years I've been thinking about giving my passions for food and photography some more space in the form of a food blog. And what you can see right now I my new darling. What is it about? Awesome photos, fancy, unusual foods and easy to cook recipes.
And I can't imagine anything more suitable than SUSHI to start with.Sushi is great! Sushi is creativity, Sushi is anything that can be put between rice and a sheet of nori, Sushi is love!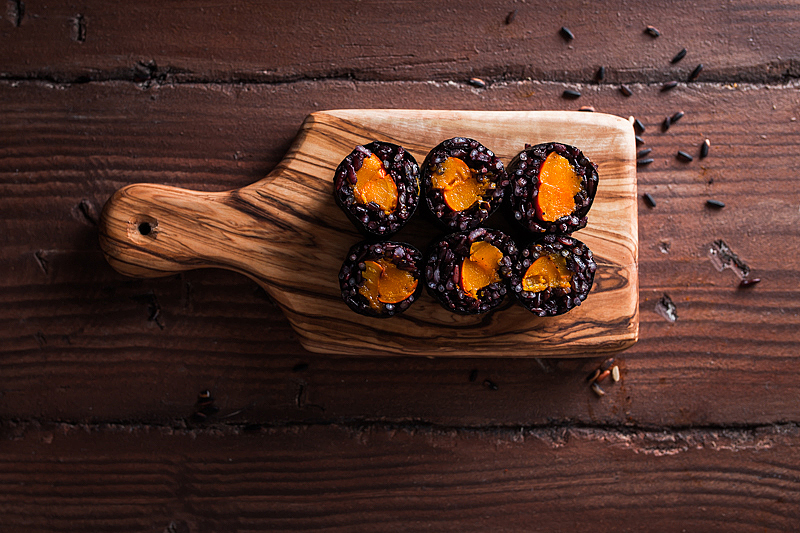 The good news first: You don't have to be a skilled, japanes Sushi chef in order to try out the fine art of sushi-rolling (is that even a word?). Anything is fine as long as it is fun and tasty. You won't even need expensive equipment nor ingredients, most of what you will need can be purchased for little money at your local asian supermarket (don't bother buyin a rice cooker, I've always cooked my lose rice in an ordinary cooking pot)
When I thought about this sushi combi, it was 90% about the aesthetics and 10% about the taste. So after 3 hours of endless shooting, when I finally could taste what I did there I was pretty impressed. The grainy, solid taste of the black rice works just fine with the creamy, spicy hokkaido and a hint of soy sauce. You really have to try this. I'm not kidding. This sushi will make you a very happy person.
Black Pumpkin Sushi
Ingredients
¼ - ½ Hokkaido pumpkin (use the leftovers for another cool pumpkin recipe)
ca. 200 gr black sticky rice
4-5 nori sheets
1 TL rice vinegar
½ TL salt
1 pinch of sugar
paprika
pepper
soy sauce, wasabi and a sushi mat
Instructions
Add the rice into a sieve and rinse it thoroughly. Add 2 parts water and 1 part rice to a pot and bring it to a boil. Once it has boiled, switch of the stove and let the rice soak for another 15-20 minutes
Mix the rice with your vinegar, sugar and salt and let it cool down (I rinsed it with cold water though as I was too lazy to wait and hungry).
Cut the pumpkin in half, remove the seeds and cut it into long stripes (no need to remove the shell, it's edible)
Spread your pumpkin slices on a baking sheet and sprinkle it with paprika and pepper (you won't need salt, if you enjoy your sushi with soy sauce). Let the pumpkin bake at 200°C for 15-20 minutes until soft and golden. Turn the slices over after half the time. Take the pumpkin out and let it cool down for a while.
Take your sushi matt and wrap it into a freezer bag to prevent the sticky rice from getting between the lamellae
Spread the rice on the nori sheet and leave 3-5cm on top and half a cm on the bottom.
Add the pumpkin (look at my photos) and turn the sushi matt over (if you've never rolled any sushi, some video tutorials might help. It is not that hard though 🙂 You can do it!)
Cut your sushi rolls into bite-size pieces and enjoy it with a bit of soy sauce and wasabi.
Notes
This portion took me two days to eat alone.
I would estimate 200-250 gram of uncooked rice to suffice for 2 people with moderate hunger.
If you like my recipe please leave a comment below and tell me how you liked the taste or how you altered it 🙂