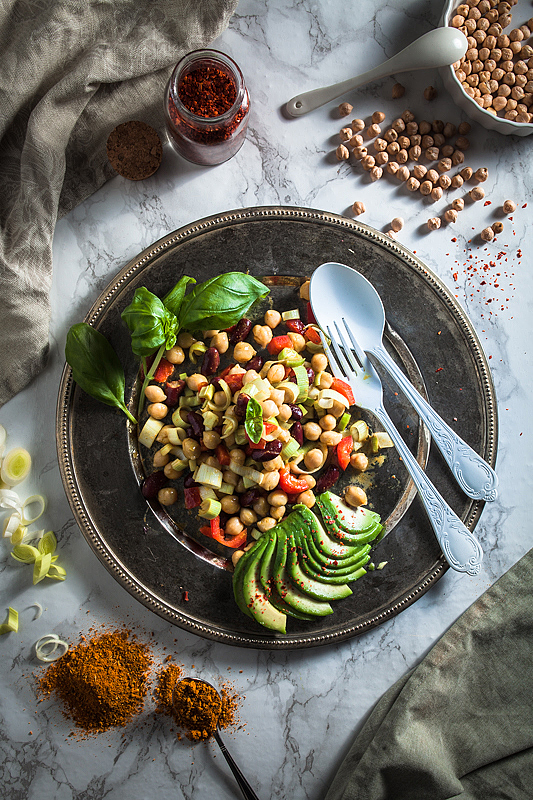 Hi everyone!
Today I want to share one of my favourite quick salad recipes with you. A recipe that will get you sated and happy and which is a proper meal if you want to. Since I reduced my meat intake I know that I have to get my fair share of proteins somewhere else. And although I know that beans are one of THE most amazing plantbased protein sources I never really included them in my meal plan properly.
[Sweet Potato and Chickpea Curry]
I never ate bean on a regular basis.
But since I got the inspiration for this salad at work I eat chickpeas and kidney beans much more regularly. Another advantage of this salad is that it's made in no time. 15 Minutes of work (20 if you clean up directly afterwards) and you can netflix and chill on your couch.
Often when I come home from work and I don't feel like cooking this salad is the perfect solution. As I work at an organic supermarket I simply buy some leek, a red pepper maybe some tomatoes and 15 Minutes later this lovely chickpea salad is ready to be inhaled by me.
Eine Regelmäßigkeit habe ich da irgendwie nie reinbekommen.
Seit ich dieses Salatrezept bei mir auf der Arbeit kennengelernt und abgewandelt habe, stehen Kichererbsen und Kidneybohnen viel häufiger auf meinem Speiseplan.
Ein weiterer Vorteil von diesem Kichererbsen Salat ist dass er unglaublich schnell zu machen ist. In 15 Minuten (20 mit aufräumen) sitzt man gemütlich auf der Couch und kann sein Leben chillen.
Meistens, wenn ich spät Feierabend habe und nichts mehr kochen möchte, kaufe ich noch eben eine Stange Porree, eine Paprika und vielleicht ein paar Tomaten und 15 Minuten später habe ich einen leckeren unkomplizierten Salat auf dem Tisch stehen und nur ganz wenig abzuwaschen.
By the way, the chickpea salad can be easily modified so it never gets boring. I love to add avocado, tomato, red onions or corn to it. Or how about some boiled eggs, spicy smoked tofu or some tuna?

Chickpea Salad with Curry Mustard Dressing
An extremely fast and easy salad with many possible modifications
Portionen / Serves:
for 1 person as a proper meal
Zutaten / Ingredients
1 can of chickpeas
1 can of kidney beans
1 leek
1 red pepper

for the Dressng
20ml Olive oil
10ml Balsamico Bianco (optionally other vineguars should be fine, too. Try apple vinegar or dark balsamico for example)
1 tbsp hot or medium-strength mustard
2 tbsp Curry
1-2 tbsp agave syrup / honey / maple syrup
Salt
Pepper
Zubereitung / Instructions
Start by mixing the dressing in your final salad bowl. Like this you won't waste any dressing and reduce dirty dishes. Mix oil, mustard, honey/syrup and curry in a bowl and where necessary add more oil or water. Season with salt and pepper.
Add the canned chickpeas and kidney beans to a sieve and rinse them with water until there's no foam left. Add it to the salad bowl.
Slice the leek and pepper and add it to the bowl as well.
Mix everything well and enjoy immediately or let it marinade for a few hours or over night.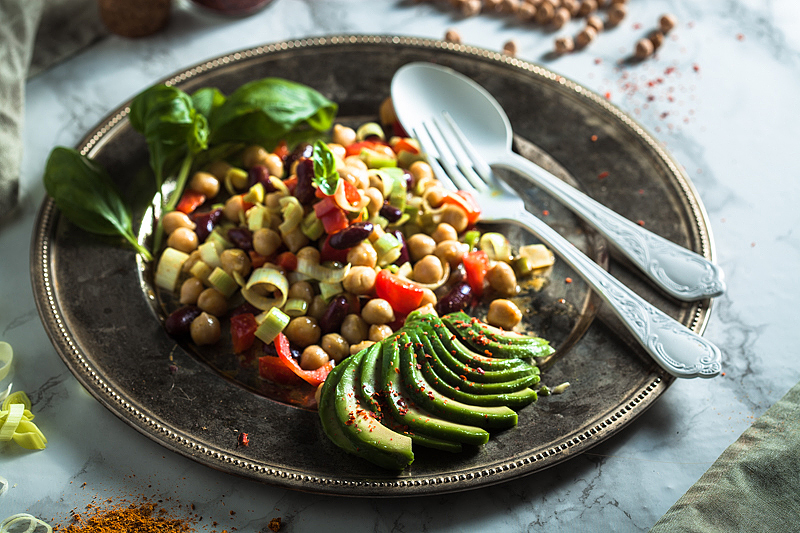 By now I eat this salad every 1 – 2 weeks. Have fun trying it yourself 🙂 And let me now in the comments how you modified the recipe and what you added to it!