On the first of November I was invited to the little chocolate manufacture Das Bernsteinzimmer among with some other bloggers in order to have a closer look behind the scenes. Solvejg, owner of this business did not only show us how to make our own chocolates but also gave us access to her little warehouse and gave away some secrets about the art of crafting with chocolate. On top of that there will be a little give away at the end of this post 🙂

Each piece is unique
Both chocolates and chocolate bars are done by hand. I've already written about the amazing chocolate bars from 'Das Bernsteinzimmer'. So if you want to have a quick read click here:
[Das Bernsteinzimmer – vegan, handmade chocolate]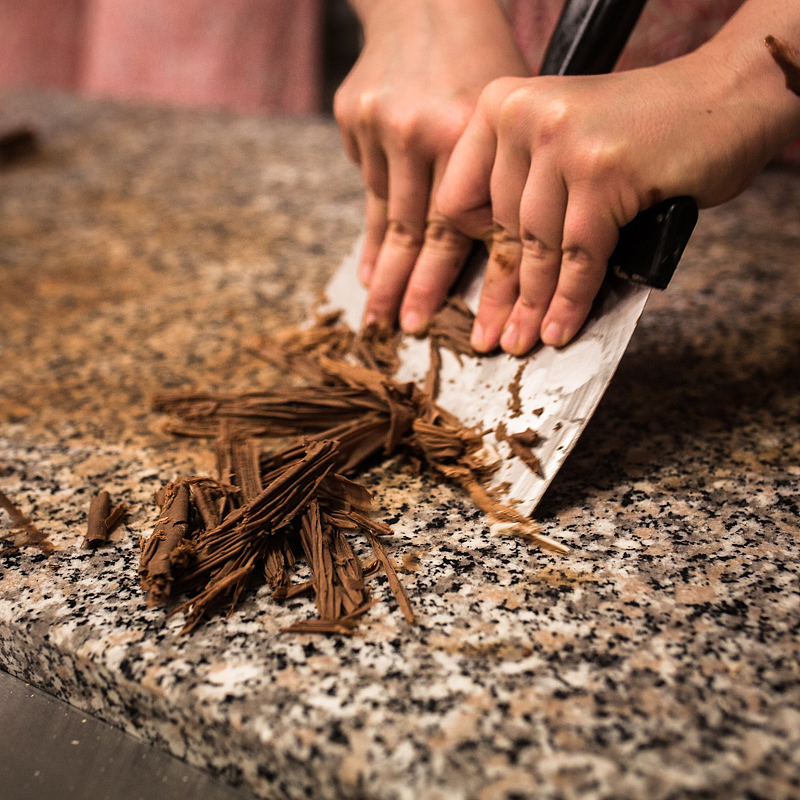 Organic, vegan and fair
Just a short glance into the small but mighty warehouse of 'Das Bernsteinzimmer' illustrated perfectly their philosophy. They work only with the best organic and vegan ingredients. No, that's not cheap but ensures that there's is no unnecessary suffering resulting from the chocolate production. Just for the sake of our enjoyment there shall no animal die or child be forced to work. Sounds like an idealistic approach? Maybe. But for me those businesses with such moral and ethic pillars are the ones I want to support.
Chocolates in Handiwork
After a short introduction into their raw materials and corporate philosophy we had to take action ourselves. We produced two different kinds of chocolates. For this we  kneaded marzipan, weighed powdered sugar, mixed peanut butter with nougat and the chocolate needed tempering. Oh and there was so much to take care of.
There's so many mistake you can make. Especially when processing chocolate further you have to know your profession. Otherwise it can easily become clumpy instead of tenderly melting. I won't bother you with the chemical background but that's some damn serious chocolate business.
Another difficulty was to coat the chocolates consisting of marzipan and peanutbutter nougat evenly in chocolate. In an appropriate timely manner. For one big baking tray of marzipan chocolates it took us as a team 2-3 hours. We didn't even have time to finish the whole batch of peanut butter nougat, which is why we only got a dozen of those delicious treats.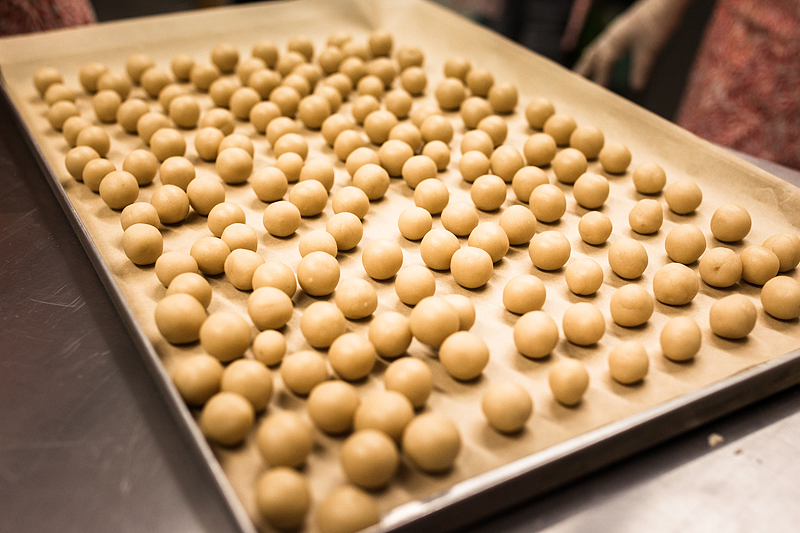 That's exactly the fact you should always bear in mind before complaining about the prices. Handmade chocolates are so full of work, high quality products and of course lots of love and passion for chocolate.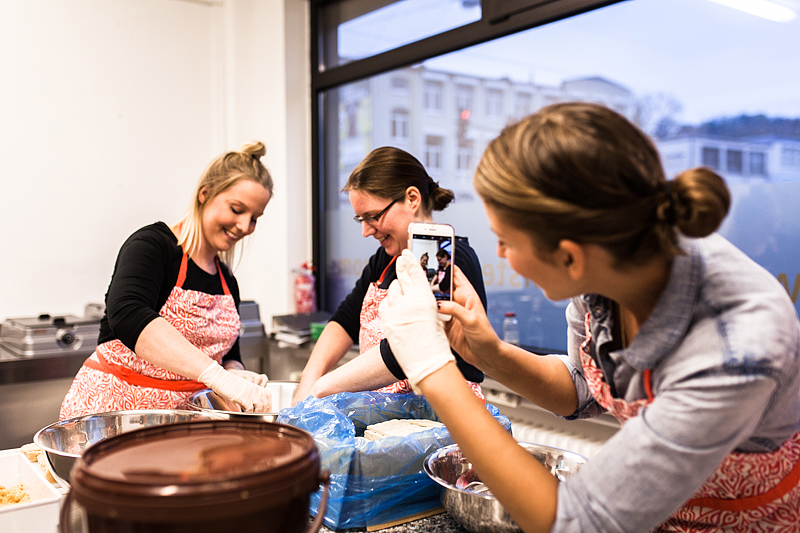 Giveaway
I don't want you to settle for my words and photos only, which is why I'm tossing up a bag of our homemade chocolates. It includes some peanut butter salt caramel and roasted almonds marzipan with cinnamon chocolate. You won't find them anywhere else as they were a special creation just for this event.
Unfortunately for you guys from abroad this is a contest only for those who have an adress in Germany to send it to. I don't want the chocolates to travel unnecessary long and risk them breaking or melting. Sorry guys. Next time!
What you gotta do to win

Leave a comment under this post. As I don't want to get bored tell me of your most awesome chocolate/praline creation or what your favourite combination would be.
Increase your chance of winning by liking my Facebook Page and leaving a comment under the Give away Post pinned to the top
You can participate until 20.November 8pm. I'll be announcing the winner in this post (and if possible message him / her directly)
Thank you SO much at 'Das Bernsteinzimmer' for this entertaining afternoon and for providing us with these delicious chocolates.
Good luck everyone, it's a pity I can't share with you all!