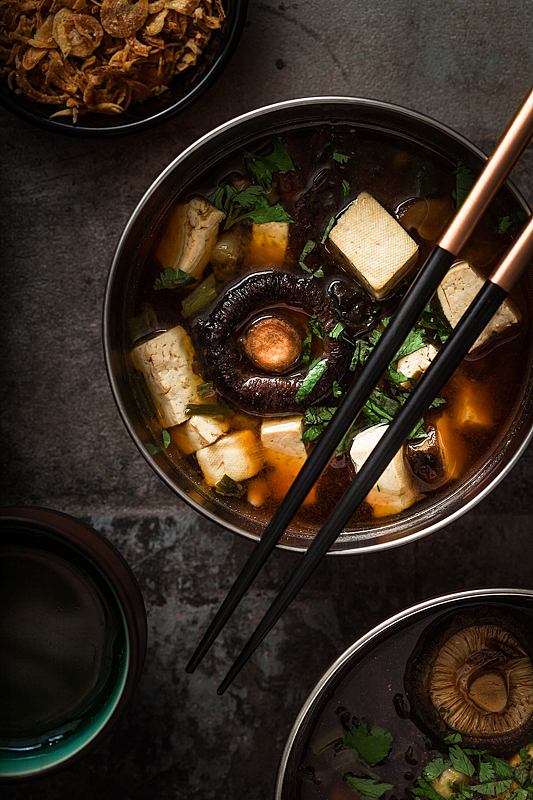 Guys! It's really bad this year. If I'm not sleeping I'm surely going to be tired. I'm unproductive, without any motivation and I'm procrastinating like a pro. I'm not in the slightest in a christmassy mood (*cough* 15 Degree and rain) and all my great plans for some awesome christmas recipes lie now in the past. Instead of wrapping homemade presents to the smell of cookies and mulled wine I'm sitting in front of my computer watching the 160 greatest Arnold Schwarzenegger quotes.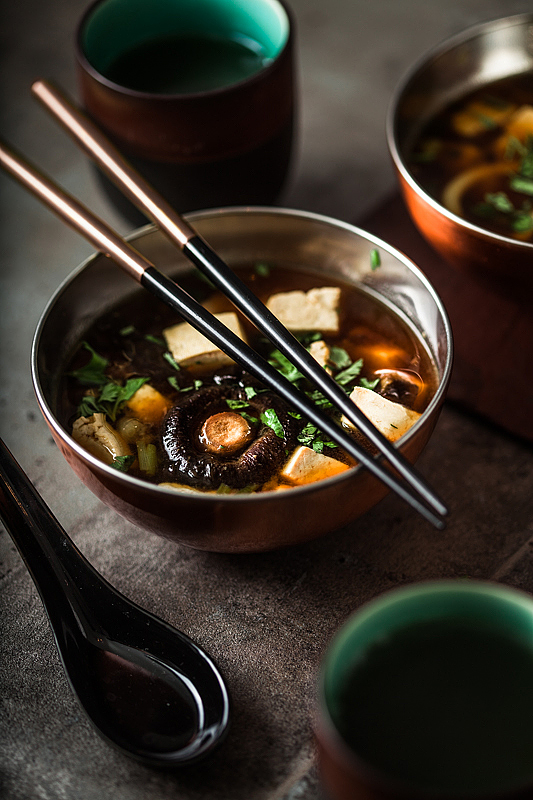 If you do transform to such sad creatues in the end of the year as well then come and join me for a while. Let us reminisce about a better, fresher version of mine visiting a good friend in Berlin. During those days she taught me some basic knowledge about the Asian Cuisine. We cooked a Miso Soup together ( I LOVE Miso Soup so much!) and since then I made it several times back in Dortmund. I doubt this version is a hundred percent as the classical, traditional version of Miso Soup, but I still like it a lot as both, a starter or an entree.
It is also really easy to cook and you should get all the needed ingredients at your neighbourhood asian supermarket. Before we come to the recipe (you can always scroll down if you're bored by my senseless jabbering ; ) let me quickly explain you some basics about the main ingredients.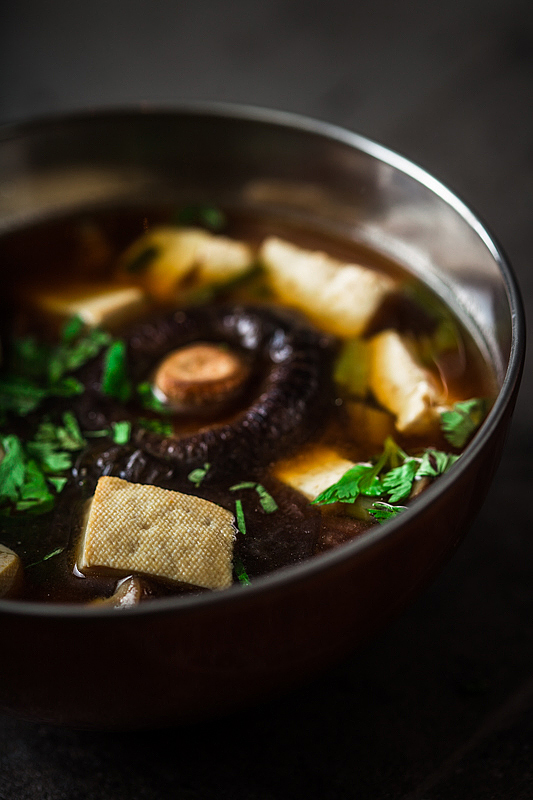 Miso paste
There's three different versions of miso paste. A light one, a medium dark / reddish one and the darkest. The darker it is, the more intense the taste will be. Nothing more to say from my side (as I said, my knowledge is really basic). I usually go for the reddish paste and am quite happy with it.
Tofu
Just buy any fresh tofu you can get (not the silken tofu). If you want you can roast it, but it's not necessary. You can just add it to the soup and let it simmer.
Wakame Algae
You get those dried algae at the asian supermarket as well and they are hella delicious and healthy. A small handfull will be enough for a big serving of miso soup as the algae swell a lot in the water.
Udon Noodles
I got myself the instant version which you have to put in the boiling soup for just a couple of minutes. But from the guys of the  Strassenkueche I was told that the frozen udon noodles have a much greater taste, and they know so much more about Asian Cuisine than I do 😀
Shiitake mushrooms
The dried mushrooms need to soak in water for a couple of hours before they are fried in the pan. The fresh mushrooms, however, don't have to be soaked. Shiitake mushrooms, by the way, are also ridiculously healthy, which means after such a miso soup you will feel like a hip Insta fitness health guru 😉 #absaremadeinthekitchen #healthyfoodporn and stuff
Miso Soup for Beginners
Zutaten / Ingredients
3 or more tbsp miso past
1 liter Water
1 pack fresh Tofu
1 onion or some scallions
A smal hand full of Wakame algae
Shiitake mushrooms
Udon Noodles
Fried onions
Chili sauce
Zubereitung / Instructions
Soak the (dried) shiitake mushrooms in water for a couple of hours and cut them into stripes afterwards
Dice the onions and roast them gently in a pot with some oil
Add the shiitake mushrooms and roast them for a while before adding the miso paste
Deglace it all with water, add the tofu and the algae and let everything simmer
Taste it from time to time and add more miso paste to taste
Once the algae have swelled you can add the udon noodles and let the miso soup simmer for a couple of minutes
Serve the soup in bowls and garnish it with fried onions or chili sauce to your taste
Productivity overload.
I'll curl up on my couch again, continue procrastinating, watch movies and series and listen to some more Arnie quotes 😉 You can join me if you want! If we don't read us anymore I wish you some nice holidays 🙂