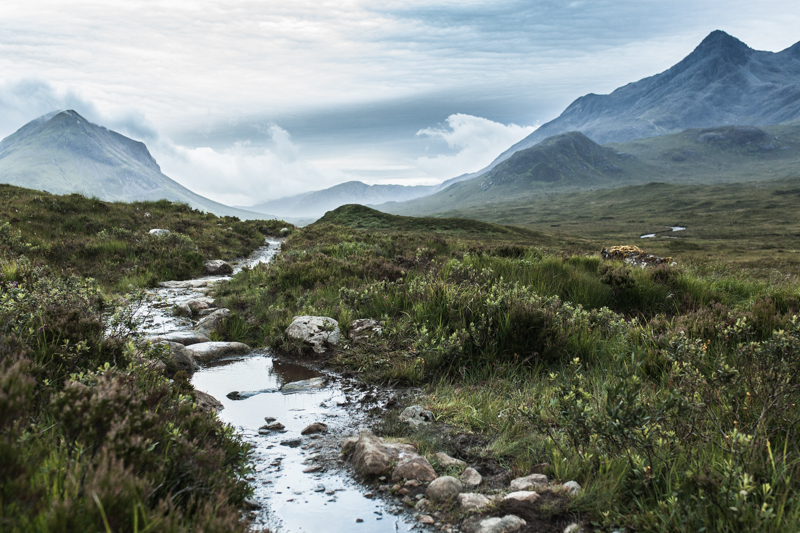 Last summer my brother and I went on a Scotland trip just by car and with a tent. It was our first trip of this kind and we saved some emergency money in case we would be fed up with camping at a time and could find shelter in a hostel or a guest house for one or two nights. Surprisingly (?) this wasn't needed. Our Vauxhall and our tent became our home for two weeks and there wasn't a single night that we felt uncomfortable or unwell. Each night we enjoyed to cuddle into our sleeping bags, watching movies and listening to the loud and stormy weather outside.
A Scotland Roadtrip
During our 14 days in Scotland we have seen and done a lot. We camped on 10 different camp sites of which some made us feel so welcomed that we stayed for another night or came back again later. We set up our tent in the wild twice, once on a mountain and once next to a loch, surrounded by trees.
3 of those 10 camp sites were not as expected – either too uncomfortable or too expensive – at the other 7 my brother and I felt cozy, welcome and simply fine which is why I'll recommend only those 7 to you.
Just to make sure: My brother and I were not looking for much luxury. Our needs and wishes were quite trivial:
clean showers and toilets
an area to prepare food (sheltered in the best case)
a tent area that would not be visited by millions of midges and that would not turn into a swamp after one night of rain
Well, some days we felt a little luxury and lots of those camp sites provided the following as well
Wifi to stay online and message our loved ones that we're still alive
a great location with amazing views
The best camp sites of Scotland on Google Maps
I created a map in google maps in order to give you a helpful overview about the locations of those camp sites:
(a click on the top right botton will lead you to google maps – I hope this map is helpful at least for some of you)

So let's get started with
The best 7 camp sites in Scotland

Sterling: Witches Craig Caravan & Camping Park
We liked the Witches Craig so much that we camped there for a second time after our trip to Skye and the Hebrides. The warden was super friendly and even remembered us from the week before. So while we visited Skye and the Hebrides, enjoying changeable but all in all good weather, it was raining night and day for a week in Sterling. That's why the meadow for the tents resembled a little swamp during our second stay. Still, our tent managed to stay dry on the inside and we had a sheltered food area. The wifi connection was great, the showers and bathroom were heated and clean and there was an option to order fresh rolls for breakfast.
Website: Witches Craig Caravan & Camping Park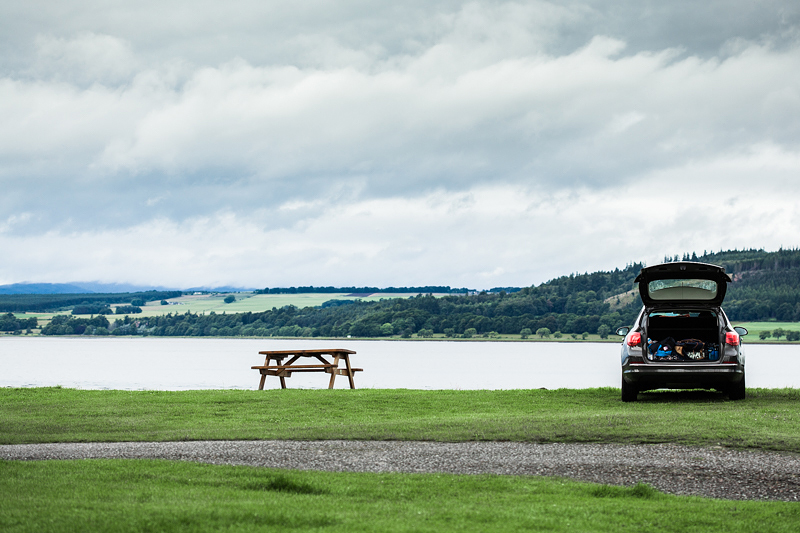 Inverness: Bunchrew Caravan Park
As we planned to watch the Highland Games in Inverness, we needed a stay close by. The Bunchrew Caravan Park is spectacularly located by the sea and offers you most amazing views while you're having breakfast, lunch or dinner. We stayed for two nights and felt quite at home. The wifi cost extra and didn't work properly unfortunately. We set up our tent for far from the router. But having those views makes up or even justifies being offline for a while, eh?
Website: Bunchrew Caravan Park
Camp sites on the Isle of Skye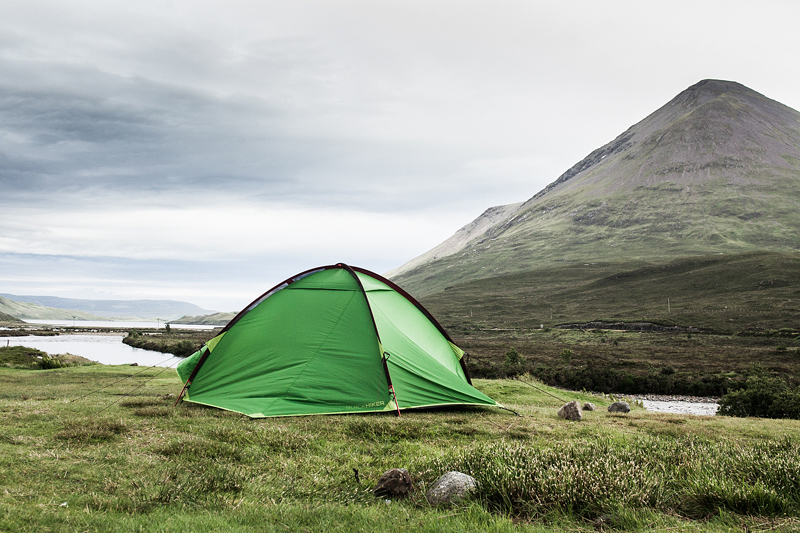 Isle of Skye: Sligachan Camping
We followed the recommendation of a fellow camper in Inverness and stayed at the Sligachan Camp site for our first night on Skye. This camp sites facilities are minimalistic. Toilets, shower rooms and a place for your tent. That's it. The location though is superb. I mean! Look at that nature being all wild and natural.
Website: Sligachan Camping
 
Dunvegan: Kinloch Campsite
As the name already makes you guess, the Kinloch Camp Site is located by a loch, so again we could enjoy amazing views while dining (you gotta get used to that when travelling Scotland). We came to this camp site after some very, very quite days on the Outer Hebrides and really appreciated to socialize again. We went to a pub in Dunvegan with a Dutchman for some cold beer and nice talks. Great area, great camp site.
Website: Kinloch Campsite
Camp sites on the outer Hebrides

North Uist: Berneray Youth Hostel and Camping
In order to catch our ferry that would set up early in the morning we looked for a camp site close to Leverburgh. And again we found something with amazing views by the sea. The camp site shares a bathroom with the Youth Hostel. There's also a big kitchen and seating possibilities inside and outside. The area where you can set up your tent is huge and directly by the coast line. It's quite windy but beautiful.
What we didn't like that much was all the sheep crap lying around almost everywhere.
 
North Uist: Balranald Camping
When we arrived on the outer Hebrides we were extremely tired. It was late and all we wanted to set up our tent and sleep. So we found the camp site in Balranald. It is basically a small, enclosed area and a little house with washroom facilities and a cleaning room with a sink and a washing mashine. In this room you can also find a little box and a piece of paper with a price list and information on how to pay. Here, as in Berneray, payment is made by a foundation of trust. You put your name on a list and place the money in a box. On the opposite site of the campsite there's a cute little beach area.
Website: Balranald Camping

Stornoway: Laxdale Holiday Park
The outer Hebrides are quite. Like really quite. The biggest town ot the island group is Stornoway with approximately 12000 inhabitants. But even there we felt a little isolated as the shops closed at 5 pm, just when we arrived. The camp site in Laxdale was the first place that felt full and cramped after some days. The meadow for the tents was tiny compared to Balranald or Dunvegan and even the caravan spots were small and already booked out, when we arrived. Luckily there's always space for another tent and a car. As we planned to camp wild the next day, Laxdale offered some luxury that we really appreciated. There's a sink unit with hot water for your dishes and the shower rooms are heated (you won't believe how much you will appreciate a warm and cozy wash room after days and days of being outside).
Website: Laxdale Holiday Park
---
Oh well, that was quite a bunch of information. I sincerely hope they are helpful for some of you and the links I provided help you to plan your oncoming Scotland trip.
By the way, if you pay a visit to one of the  Visit Scotland tourist centres you can ask for a map with all camp sites all over Scotland. This map was our guide line and helped us a lot on our quite spontaneous, unplanned tour.