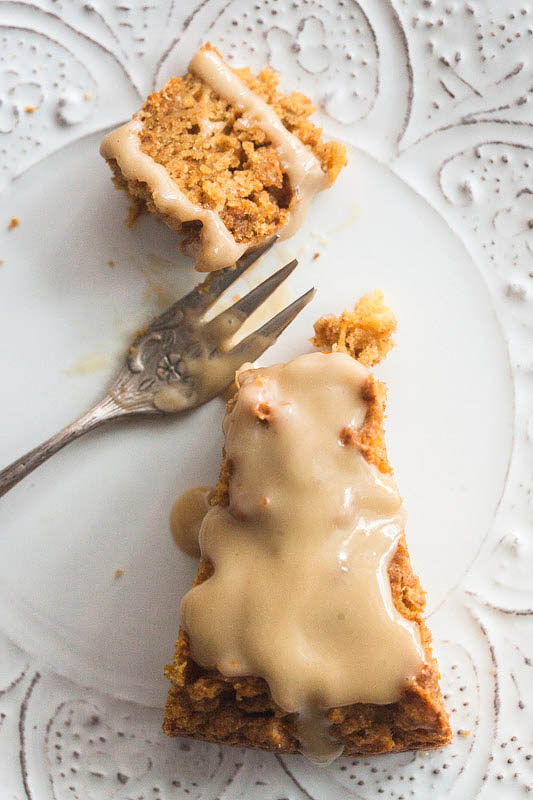 When it comes to cake recipes I usually have high expectations. I prefer to bake recipes after recommendations, knowing that it has already been thoroughly tested and chances are high that it'll turn out soft and juicy. My perfect cake will not crumble to pieces and can only be "enjoyed" with a bottle of water next to it, thank you very much.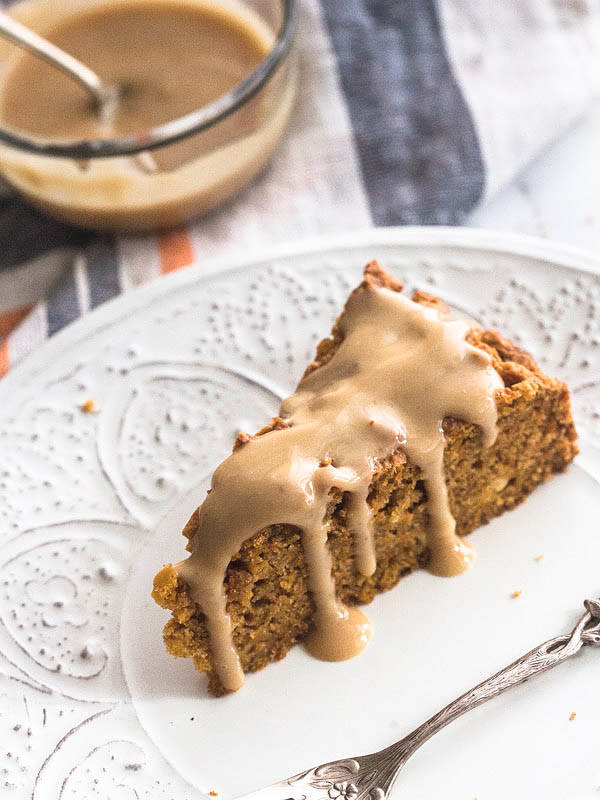 I've tried way too many cake recipes that were disappointingly dry and boring. So much time and effort goes to waste. Also, when I bake cake that usually happens for a special occasion. And as I am a busy, lazy and unorganised person I often don't have the time to test a new recipe in advance meaning I have to rely on a recipe blindly.
Last month there was such an occasion. My Grimm was about to turn one year older, which by chance collided with a camping weekend with a whole bunch of cool people at the Edersee in Hessen.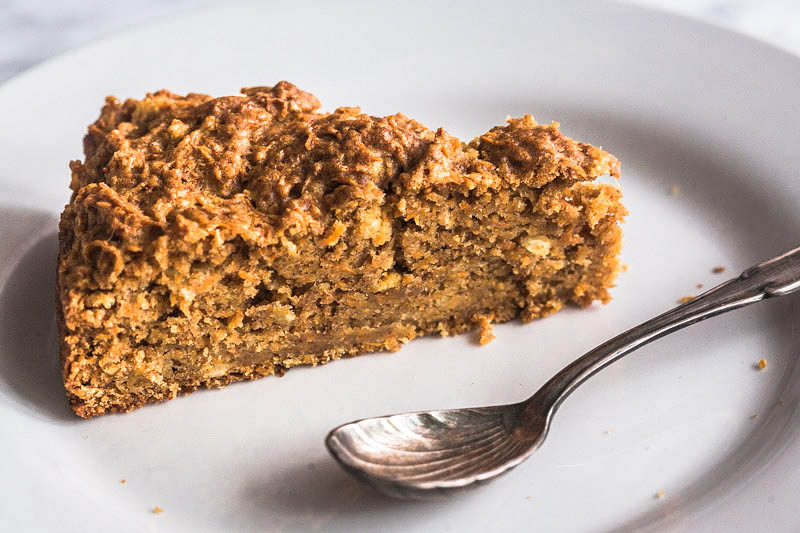 We had a great weekend ahead and yet I was a little stressed out, as I had already made plans in my head to make a big and complex layered birthday cake for him. The situation at hand did not really suit my plans and I needed a Plan B. As we would arrive at the camp site on Friday and the birthday was to be celebrated on Sunday I was in need of a cake that would
– stay fresh for a couple of days (a vegan cake without eggs that could go bad was a given)
– would not necessarily need a fridge all the time
– could be made relatively quickly,
as I had a very stressful and busy week with lots of things to do before the weekend.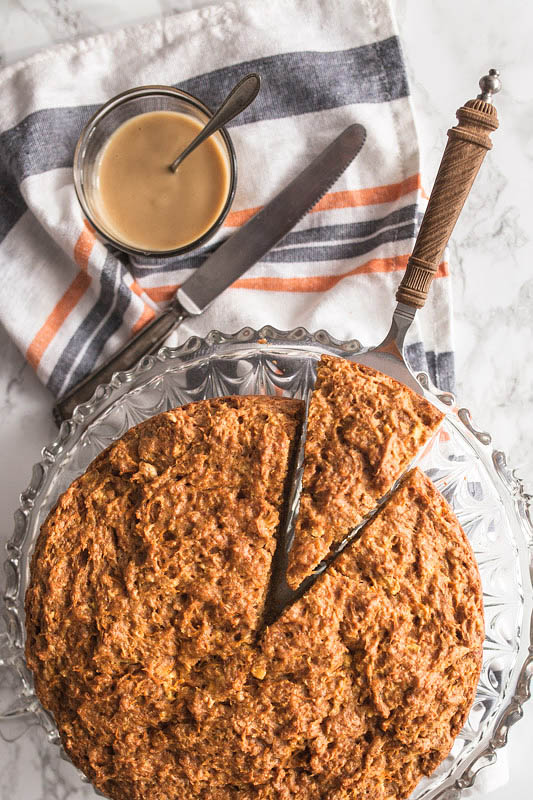 So I asked the omniscient source called "Facebook groups" for suitable recipes and laid my trust into the hands of some strangers of the internet. Two recommendations sounded more than suitable:
Vegan carrot lemon cake
Vegan coconut cake (with more than reasonable quantities of coconut milk! <3)
I tried them both for this weekend and I can tell you they both turned out marvellous (though the coconut cake was – compared to the carrot cake – a little dry, so I have to adjust this recipe before it'll be on this blog).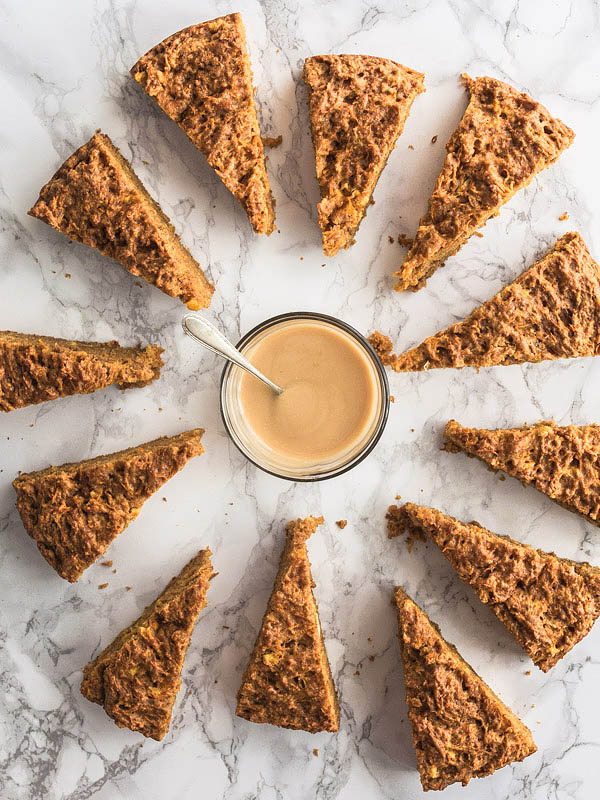 I made the carrot cake Thursday evening and we were able to store it in the fridge all Friday long and took it to a warmer place on Saturday afternoon. Saturday midnight we served it and it was super juicy and soft. No one recognized the carrot in the cake by the way.
Should I mention that the cake didn't last longer than 5-10 minutes? In retrospect I wish I had baked double the amount.
When I baked this cake again for the blog I adjusted quite some ingredients to improve it even more. I also made an Icing from cashew butter but that's absolutely optional. The cake itself is already super rich and tasty.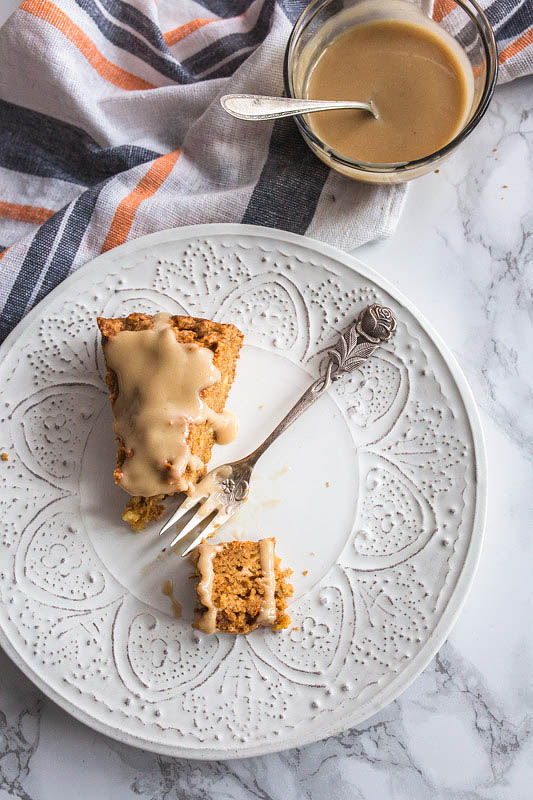 The cashew butter icing
My custom icing can be described as rather special. You can't compare it with butter cream frosting or cream cheese frosting, the cashew butter icing is much stronger and has a nutty, bitter-ish taste with a sour lemony note. I personally like it in combination with the sweet cake but feel free to add any icing you like.
Soft, vegan Carrot Lemon Cake with Cashew Butter Icing
185° (356°F) / 60 minutes
Portionen / Serves:
for a 20-30 cm loaf pan / round 30cm pan
Zutaten / Ingredients
Cake
400 g carrots
400 g flour (I like to mix 630 spelt flour with whole grain wheat flour 1:1)
juice and zest of one organic lemon
150 ml maple syrup or agave syrup
150 ml sunflower oil or canola/coconut oil
1 tsp cinnamon
8-10 g baking soda
8-10 g vanilla sugar / or vanilla extract
Icing
2 tbsp cashew butter
2 – 3 tbsp maple syrup
a pinch of salt
3-4 tbsp lemon juice
2 tsp water
optional: 1 tsp coconut oil
Zubereitung / Instructions
Cake
Peel the carrots and rasp them finely.
Sieve the flour and add it to a bowl as well as the oil, maple syrup, cinnamon, baking soda, vanilla sugar and zest and juice of a lemon. Mix it all together and add the carrots lastly, stirring it thoroughly until you get an even dough. Note: The dough is a little stubborn and sticky, but that's what it's supposed to be and will make it soft and tender ultimately.
Grease the cake pan with some oil and fill it evenly with the cake dough.
Bake at 180°C (356°F) for about 60 minutes. Check with a tooth pick if your cake is done. If non of the dough sticks to it the cake is ready.
Let it cool down for 10 – 15 minutes, then remove the cake mold / pan and let it cool further.
You can store it in the fridge for a couple of days.
Icing
In a small bowl mix together cashew butter, maple syrup, a pinch of salt and lemon juice. If necessary add a little water and adjust the icing to your taste by adding more of the ingredients. I liked mine with lots of lemon juice. It you would like to have a more solid texture ad some coconut oil and chill it in the fridge for about an hour.
Add the icing on top of the cake ultimately before serving. Otherwise it'll soak into the cake and won't look pretty pleasing.
Pin it for later