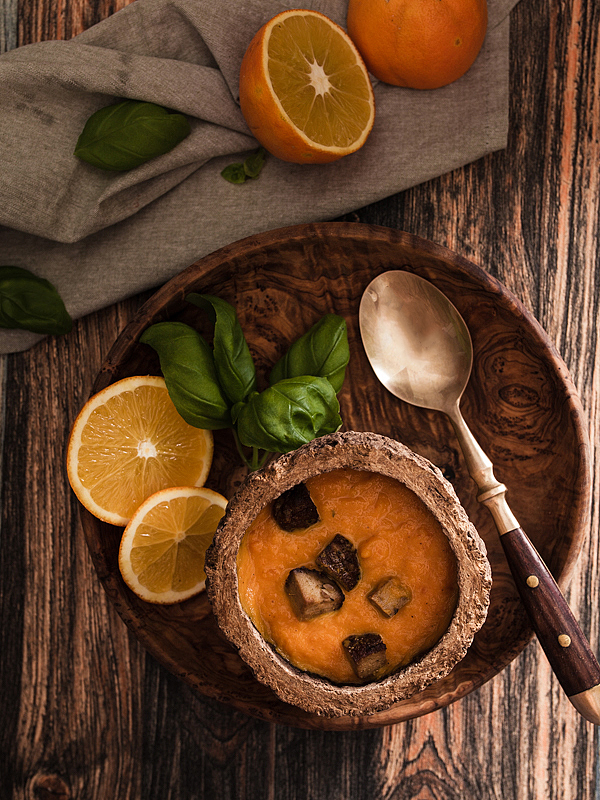 Today we're talking soup. It's all about a simple yet juiy carrot orange soup to be precise. Actually I've never been such a huge fan of soups. In restaurants I would have never ordered a soup as a starter ( I'm more of a salad person). If at all I might get some soup at the buffet.
But when it get's colder towards the end of the year such a warming soup is quite a thing, eh?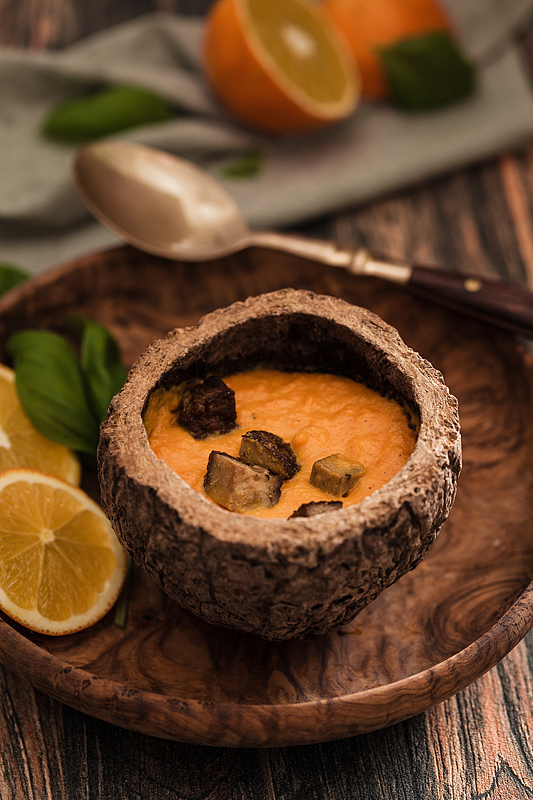 Winter time is soup time
Soups are so quick and easy to make, soups can be warmed up easily or frozen for another time and they will fill you without making you feel uncomfy. My favourite soup over the last was and will always be pumpkin soup. If you're interested in my ultimate pumpkin soup recipe let me know in the comments 🙂 However after a 2-day-trip to Hamburg and an extremely delicious soup for lunch I simply had to cook my own version of a carrot orange soup.
This carrot orange soup is so easy to make, doesn't take too long and is a welcoming fruity yet warming alternative to all those hearty winter soups we usually cook.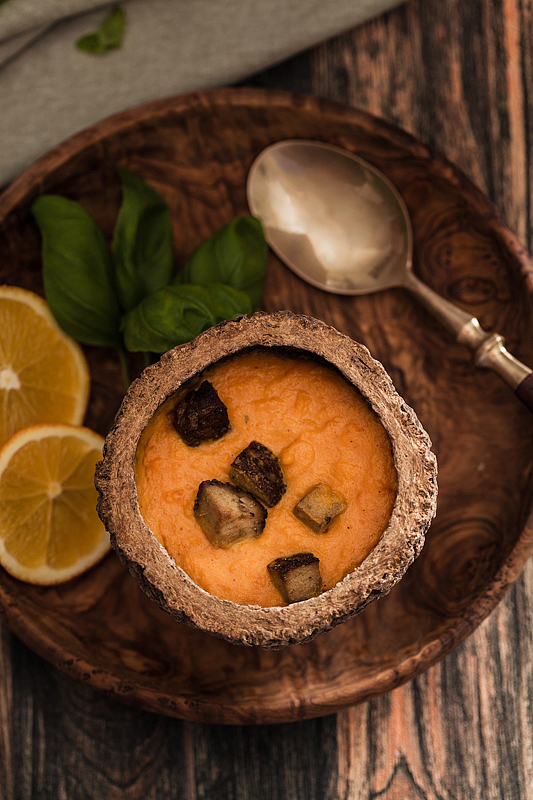 This soup is perfect as a starter, but will be able to get you sated as well. We added some 'meaty' bonus to our soup by frying some diced smoked tofu to it. A nice contrast to the fruity kinda sweet soup.
Carrot Orange Soup
Carrot Orange Soup with Coconut and Ginger
Zutaten / Ingredients
1 kg Carrots
1 Orange
½ Liter Vegetable Broth
1 Onion
1 piece of Ginger
200 – 250 ml coconut milk
1 pack smoked tofu
~ 5g salt
~3-5g pepper
~5g grated nutmeg
~5g paprika
Zubereitung / Instructions
Cut the carrots into thumb sized pieces. Peel and mince the onion and a thumbnail sized piece of ginger.
Heat oil in a pot and fry the onions and ginger for a couple of minutes. Add the carrots and deglaze it with the vegetable broth.
Let it simmer until the carrots are soft. Mash them with an immersion blender until you get a creamy texture.
Add the coconut milk and bring it to a boil once more.
Add the spices. Extract the juice from the orange and add it bit by bit carefully. The orange juice is quite intense and you should try it while adding it.
Drain the smoked tofu and dice it. Heat oil in a pan and fry the smoked tofu dices until crunchy.
Serve your soup and garnish with tofu and some herbs.
Enjoy you meal and have a great advent season 🙂