It's finally there. The long awaited recipe for an american and – as you asked for it – vegan lemon meringue pie is online after I have tortured you with stories and photos for weeks over on Instagram. I must admit it took me so long, since the recipe testing took quite a while. But as a conciliation I'm sharing not only one but two recipes with you. I've created a classic version with egg for you and developped a vegan lemon meringue pie so that noone feels left out and we all can enjoy this piece of art together.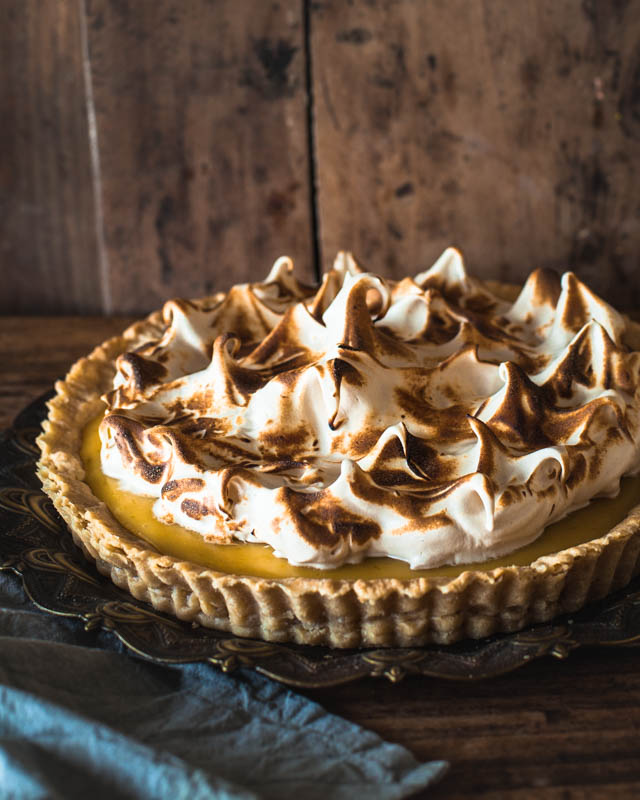 What shall I say? All the experiments and testing payed off. Since this double-recipe is a rather long one I don't even want to lose too many words over it, but some have to be written down. The lemon meringue pie story started with a young lady from Rotterdam, who claims to be terrible at baking ( I can tell ya, she's a danger for herself and others when working in the kitchen :D). There's only one recipe she can bake – and that in perfection! So when I visited Anne in Rotterdam of course we had to bake this infamous lemon meringue pie. It was marvellous and the next weeks I've recreated, adjusted and perfected this cake to my (and my friends) liking. I'm 100% happy with the synergy of the components.
We have a short pastry that isn't too sweet but gives the cake a nice crisp texture and base, a very lemon-y, sour lemon curd and a topping of fluffy, caramelized meringue. Doesn't it sound heavenly? Lemon Meringue Pie has become my most favourite cake by now and I'm planning to bring it to all parties I'm invited to. Also note that it will get so much easier and flow more effortlessly every time you make it. In order to safe some time you may also freeze the short pastry in its form and bake it whenever you need it.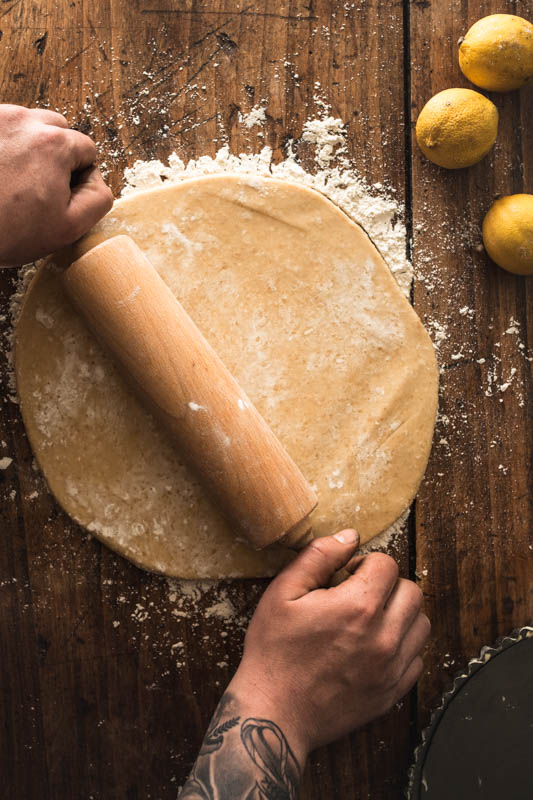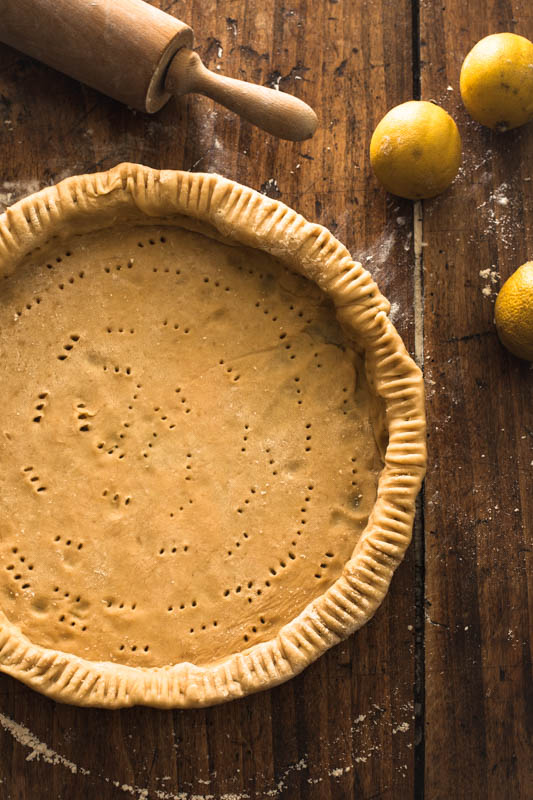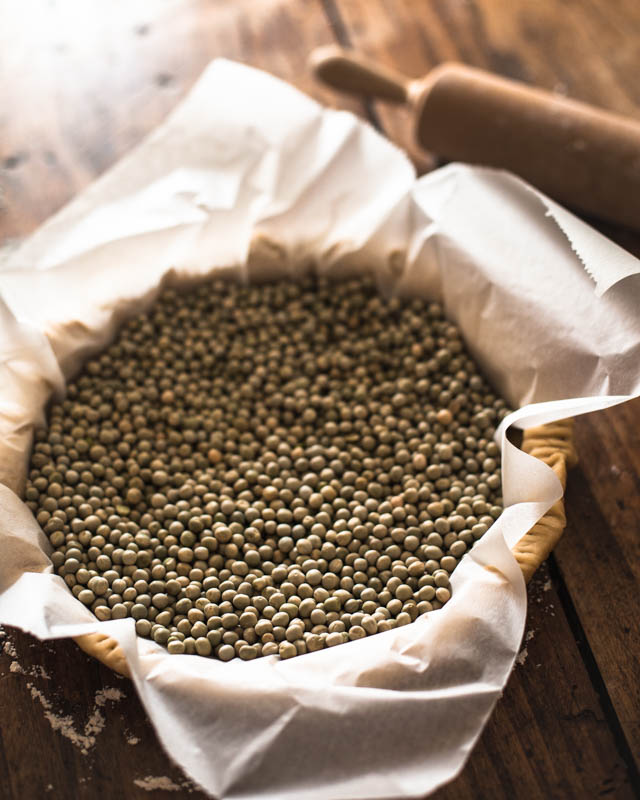 Vegan lemon meringue pie hacks
I always love a good challenge and hell – making this pie a vegan one was definitely one of the bigger ones. On a hungover Sunday afternoon I've met with a friend to try out some variations to vegan lemon curd and vegan meringue. In the recipe I'm sharing the most successful results.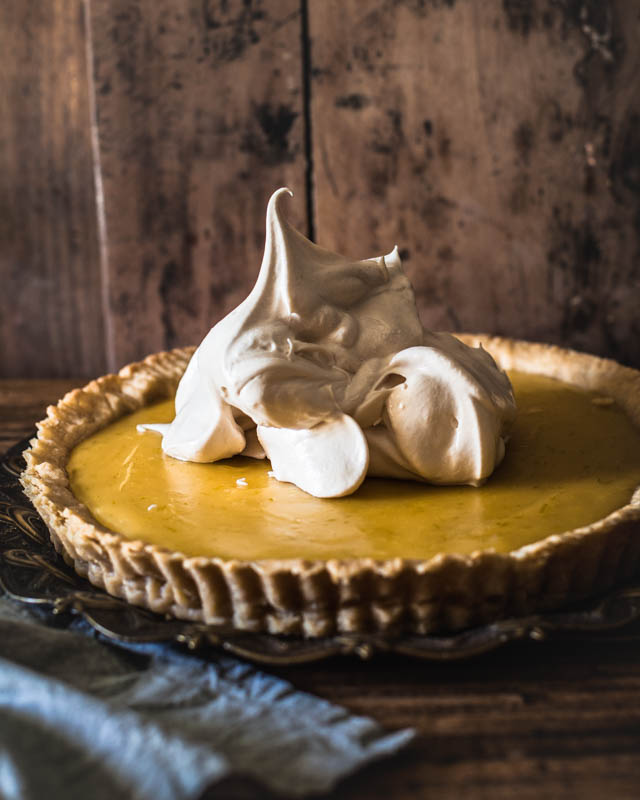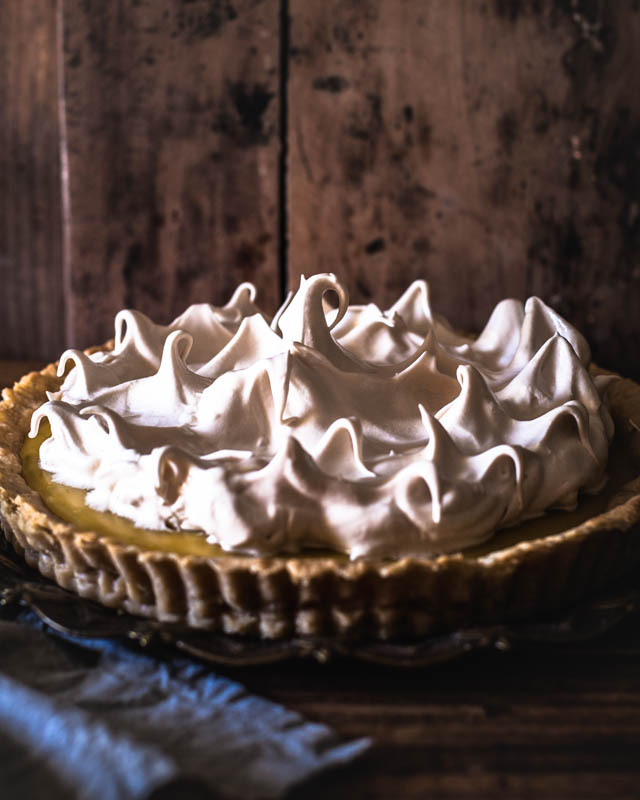 I love aquafaba and the endless possibilities it gives the vegan cuisine. Yet I found it particularly difficult to achieve a very stiff vegan meringue. Lots of sugar, cream of tartar and some lemon juice are definitely game changers yet the result won't be as photo worthy as a traditional egg white foam. No worries, you won't have any drawbacks in taste, I just don't want you to be disappointed by the looks later. Rest assured that my aquafaba experiments will continue and should I find a better solution I'll update this recipe. Your tips for perfect aquafaba meringue are very welcome here too.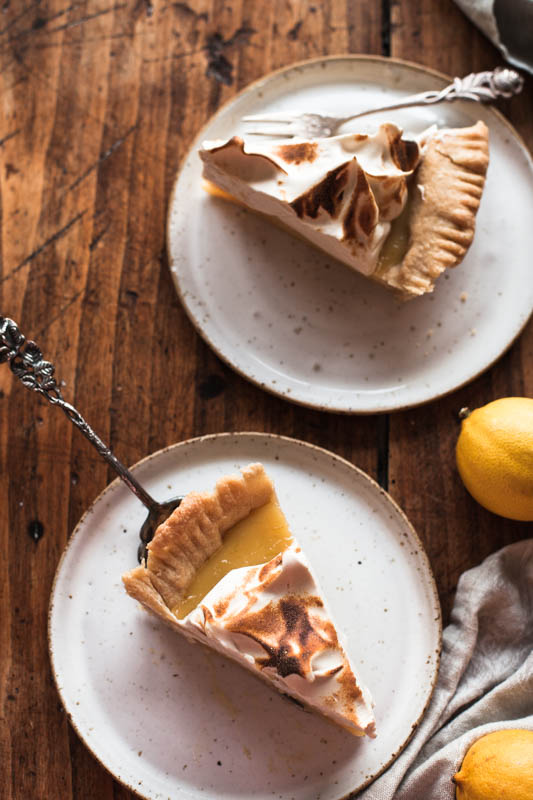 Classic & vegan lemon meringue pie recipe
A classic and a vegan recipe for the american lemon meringue pie
Author:
Sabrina Dietz / Purple Avocado
Portionen / Serves:
for a 28cm tart pan
Zutaten / Ingredients
PIE CRUST
300g flour
250g cold butter (or margarine – I like using Alsan)
50g sugar (can be left out, just add a little more flour if the dough gets too soggy)
~ 70ml cold water
a pinch of salt
helpful tools:
Pie weights* or uncooked beans or peas
LEMON CURD
70g corn starch
150g sugar
juice and zest of 4 organic lemons
350ml water
3 egg yolks
80g butter or margarine
VEGAN LEMON CURD
exchange the egg yolk for ~ 100ml of plantbased cream
ITALIAN MERINGUE
3 egg whites
250g sugar (I used brown sugar – which will result in a slightly darker meringue. If you want it snow white go for white refined sugar)
100ml water
a dash of lemon juice into the bowl you're whisking the egg whites
1 tsp cream of tartar (or baking soda) – this is optional, but it really helps to get the meringue as stiff as possible
handy tools:
VEGAN AQUAFABA MERINGUE
~200ml chickpea water (aquafaba) / water from one can of chickpeas
100g sugar
½ tbsp lemon juice
1-2 tbsp cream of tartar (or baking soda)
Note: Aquafaba is very heat sensitive, so the process from making meringue differs from the Italian Meringue steps
Zubereitung / Instructions
PIE CRUST
Mix together the flour, sugar and salt. Cut the butter into smaller chunks and add them to the flour mix. Since we don't want the butter to warm up or even melt knead the dough very quickly with your hands or use a fork or pastry cutter* to knead everything to a still slightly crumbly mass.
Add a little bit of water and – this time with your hands – knead it to a solid not crumbly ball of dough. I add the water once or twice and knead in between since we don't want the dough to be soggy. You should just add enough water that the dough doesn't fall apart anymore.
Wrap your dough ball in cling film and let it sit in the fridge for about an hour.
Flour a surface and the dough ball and roll it out into a flat (about 50mm thick) and round shape a bit larger than your tart pan*
Butter your tart pan and carefully place the rolled out dough inside it, pressing it firmly to the edged as well as to the bottom (you can use a glass to press it evenly).
With a fork poke holes into the sides and bottom. This will prevent it from bloating upwards while baking.
You can now either put this pie into the freezer and bake it whenever you like (add about 10 minutes of baking time) or process it further right away.
Preheat the oven to 180°C / 356°F. Place a sheet of baking paper on the pie and add the pie weights or beans.
Bake the cake for about 20 minutes with the weights, then remove them and bake for another 10 – 15 minutes.
Set aside and let cool down before removing it from the pan and adding the lemon curd, which we are preparing now.
LEMON CURD
Mix the corn starch, sugar, lemon juice, zest and water together in a pot.
Separate the egg yolk from the whites and set the whites aside (at room temperature) for the meringue.
Bring the pot to a boil while continuously stirring it with an egg whisk. Once it starts to boil the mass will thicken very quickly (you will notice). Take the pot off the heat, quickly add the margarine and don't you dare stop stirring.
Once the margarine has melted completely add the egg yolks and stir until everything is mixed evenly.
Transfer the lemon curd into your beautifully cooled down pie crust, shake it a little to get rid of any air bubbles and let it cool down and become solid before you add the meringue.
VEGAN LEMON CURD
Proceed as above but instead of the egg yolk mix the plantbased cream (I used oat) with all the other ingredients and just add the margarine after the curd has boiled and thickened.
ITALIAN MERINGUE
Transfer the egg whites to a big, clean bowl. It is important that neither your bowl nor any of your tools are greasy as it won't work otherwise.
Start whisking it with an electric whisk until it becomes soft, white and fluffy, while adding a dash of lemon juice and the cream of tartar.
Mix sugar and water in a pot and bring it to a boil, while stirring it with an egg whisk. Heat it up to 120°C / 250°F (don't burn yourself please).
Start beating the egg white foam again and slowly, bit by bit add the hot sugar mix to it. You will notice that the foam will get a lot more solid.
I stirred for another 3-5 minutes until I could form stiff peaks that didn't collapse anymore.
With a dough scraper spread the meringue on your (cool) lemon curd. To create those stiff peaks (which are totally optional) I used my hand by covering it in meringue and shaping the cake to my liking.
With a butane torch you can now flame and caramelize the meringue (carefully).
VEGAN MERINGUE
Vegan meringue with aquafaba is quite a bit harder to make and I must admit I didn't get results that were as attractive as the egg version. YET it was equally delicious!
Note that aquafaba is super heat sensitive and therefore cannot be made as Italien Meringue.
Add 200ml of chickpea water to a big bowl and start whisking it for about 5 minutes.
Add the lemon juice, cream of tartar (it really helps immensely!) and drizzle sugar to the mix little by little.
The whisking may take anything from 10 to even 20 minutes. Be patient and you will be rewarded with soft and sweet, vegan fluff.
If you use granulated sugar the caramlizing process should work, but I doubt you will be able for form stiff peaks with aquafaba meringue. Yet, as I said, it will taste equaly delicious.
Should you have any more tips please share them in the comments below 🙂
You might like these recipes as well:
Vegan mousse au chocolate (with aquafaba)
Vegan white mousse with strawberries (Aquafaba)
Bananabread with dates and walnuts
Vegan carrot-lemon-cake with cashew-icing
Fanta-Cake with mandarins and sour cream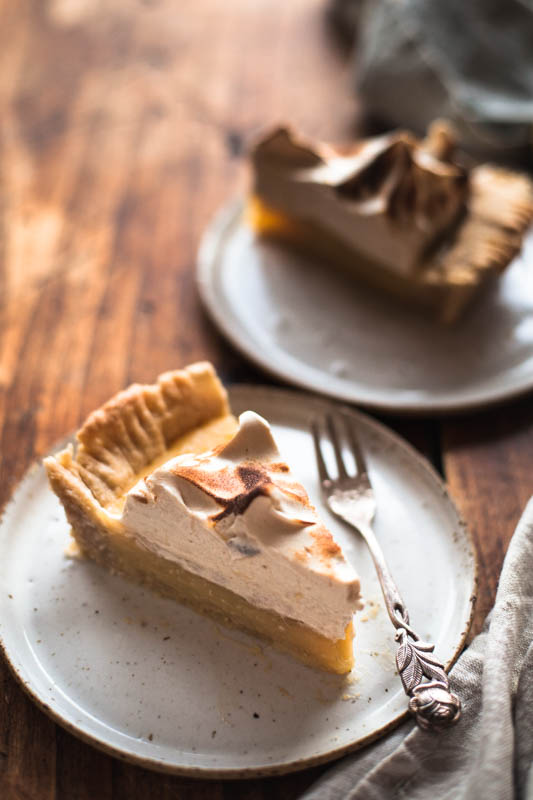 Thank you for reading and recreating. I'd love to see your creations!
---
Info & Transparency | Links marked with an *asterisk are so called affiliate-links! If you buy a product via this link you support me and my work on this blog with a small commission. Obviously this won't cost you a cent more, but I see it as an appreciation for my work. I will only recommend products and services, which I use myself and with which I am fully satisfied.