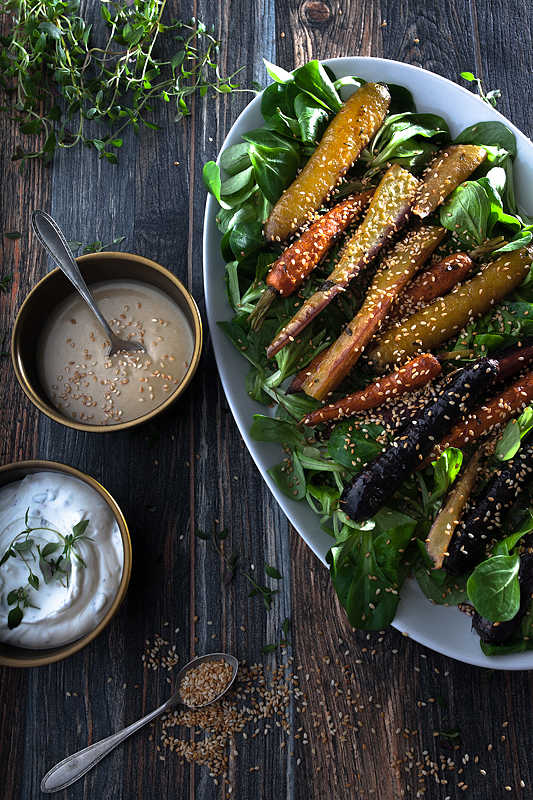 Hello everybody!
Easter is fast approaching. To me it's usualy just a weekend like any other weekend. But this Easter is also the first one with my blog online, so I thought I should share at least an Easter recipe with you.
The question was, what could I possibly prepare. As I don't often work with meat, I refrained from making a remarkable Easter Lamb. My dad is much better at those things anyway. Furthermore I didn't really feel like frying fish as well. I have enough fish at work. So I wanted this dish to be vegan in the end. And light and springlike.
Well, after some research on my ususal foodporn sites I knew at least what I didn't want to do. Roasted carrots. Carrot cake. Carrot muffings. No bake carrot-something. Carrots, carrots, carrots!
But what the heck is spring-like, light AND vegan? No rabbit. No lamb either. Eggs? Forget it. And above all that I couldn't get those goddamn carrots out of my head. In my mind I had it already pictured – beautiful, photogenic carrots draped nicely on an oval, simple plate on a bed of mache. Light from the top right, gloomy and moody ambience.
In the hope that I would find further inspiration I went to the weekly market in my town. In search for illumination. And I found it. Albeit – I'm sure you can guess – in the form of carrots!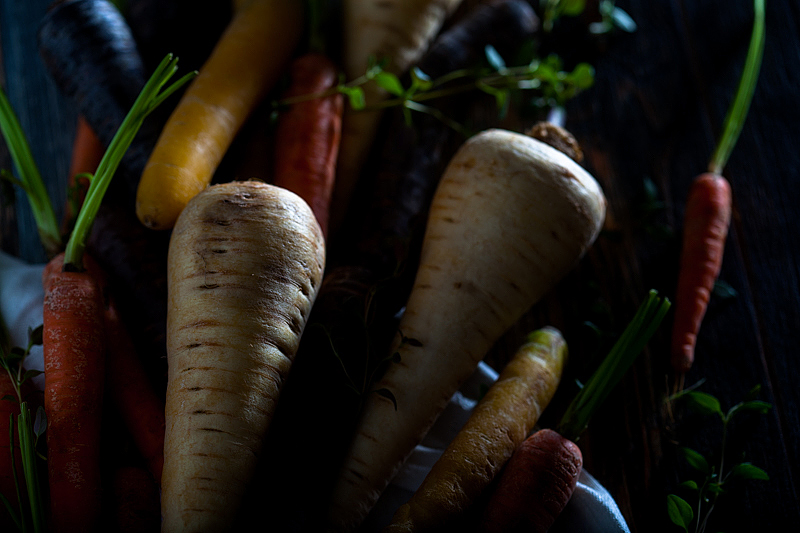 Of course it weren't the ordinary orange carrots. You can't draw me from the woodwork with such  an ordinary appearance. No, this on particular vegetable stall sold not only orange carrots, but also beautiful parsnips and yellow and purple (!!) carrots.  How am I supposed to say no to such beauty and perfection? The result was, that I went home with a bag full or rainbow carrots.
And here we are. My extremely inconsistent, visually easily attractable self with an admittedly still pretty wicked Easter recipe for you. The carrots are roasted in the oven with a maple syrup thyme marinade. They are served with lambs lettuce, a sesame dressing, roasted sesame dressing and quark with herbs. You can prepare this meal as an appetizer or as a nice side dish. Or you eat it as an entree, as I did. I was full and satisfied afterwards.
Colorful carrots from the oven with mache and a sesame dressing
A vegan recipe for Easter. Carrots and parsnips from the oven. With a marinade of maple syrup and thyme. Along with it comes mache with a sesame dressing, roasted sesame seeds and curd with herbs.
Portionen / Serves:
1 huge serving plate
Zutaten / Ingredients
for the carrots
1 pound of carrots / parsnips
approx 20ml maple syrup
sunflower oil or the like
fresh thyme
Salt
for the salad
1 bunch of mache
1 tsp tahin / sesame paste
approx. 5 tbsp olive oil
approx. 2-3 tbsp herb vinegar
salt
sesame seeds
for the curd with herbs
buttermilk curd 0,5% or the like (vegan alternative)
salt
dried herbs such as rosemary, thyme, oregano, parsley
chili flakes to spice it up
Zubereitung / Instructions
Carrots
Preheat the oven to 200 - 200°C
Rinse the carrots and parsnips thouroughly and spread them on a baking tray that you covered with a baking sheet before.
Mix maple syrup with oil and minced, fresh thyme in a bowl and sesason it with salt. With a brush spread it evenly over the vegetables.
Let the carrots roast in the oven for approx. 30 minutes. Turn them over after half the time and cover them with some more of the maple marinade
Salad
Rinse and drain the mache and spread it on a serving plate.
For the dressing mix olive oil and herb vinegar with the sesame paste until it's dissolved. Season with salt.
Roast the sesame seeds in a pan without oil.
Curd with herbs
Mix the curd with dried herbs of choise and season to taste with salt and possibly chili flakes.
Pin it for later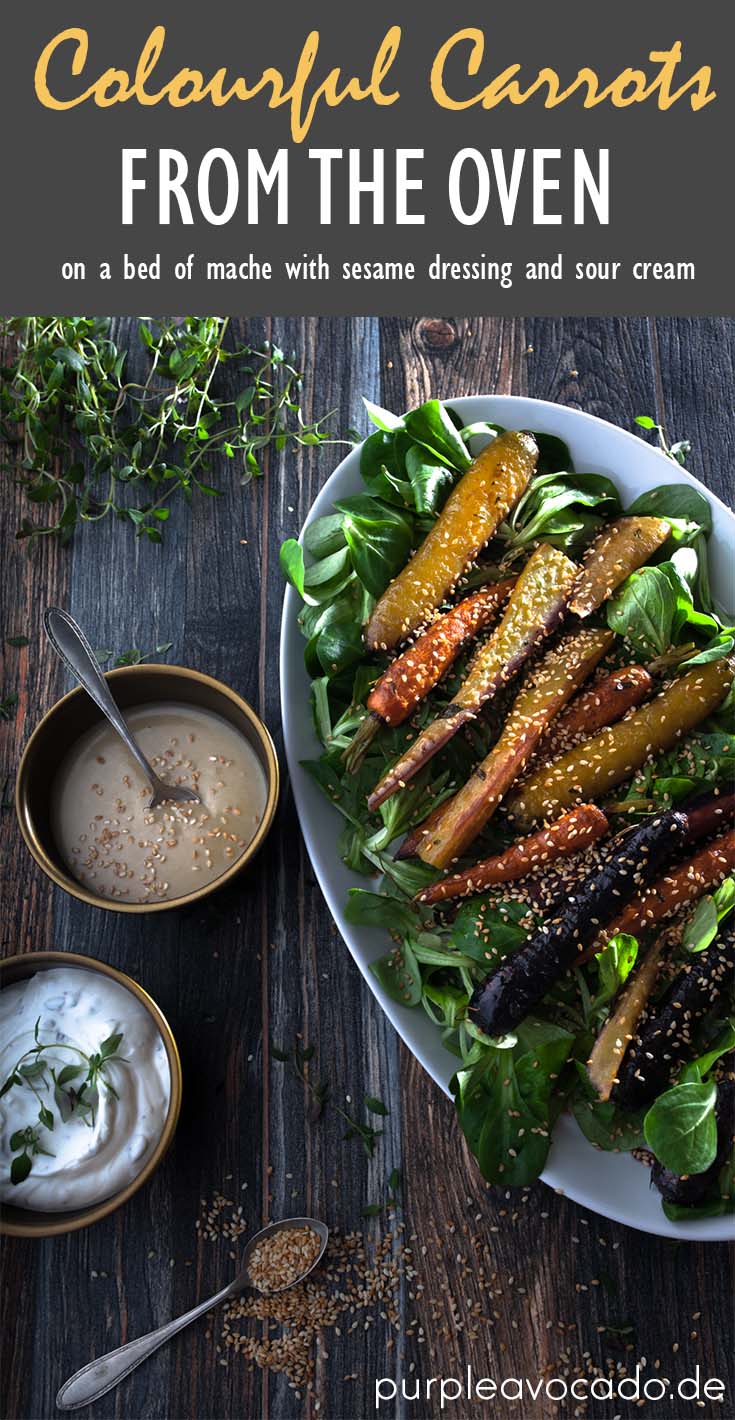 Some more vegan Easter inspiration:
Vegetable Casserole with Fresh Herbs, Lemons and Cured Black Olives
There will be another Easter Recipe published on this blog by the way. It'll be easy to make and definitely impressive for your future guests! So stay tuned!