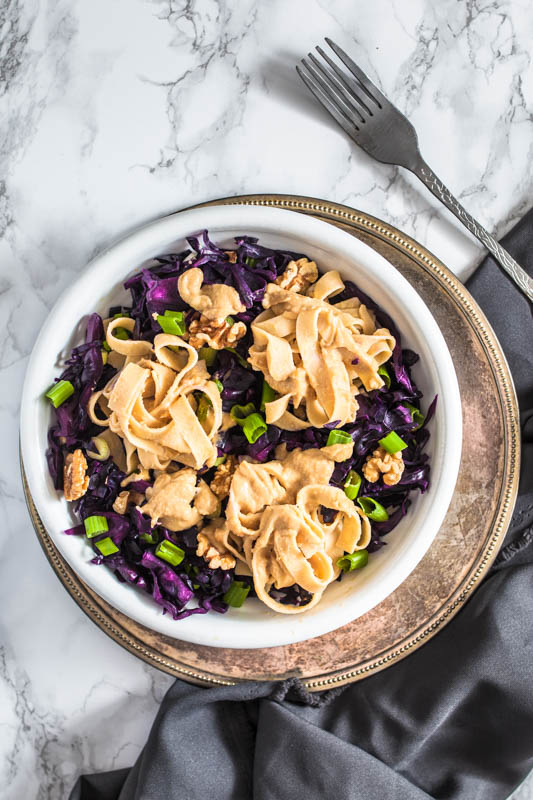 The perfect dish, in my humble opinion, combines a variety of tastes and textures. It challenges your tastebuds and does not reveal each and every flavour immediately. Today I have a recipe that delivers those traits in perfection. Today crisp and sour red cabbage meets fettuccine with an umami, creamy hummus sauce and crunchy, bitter roasted walnuts as well as fresh and slightly hot spring onions.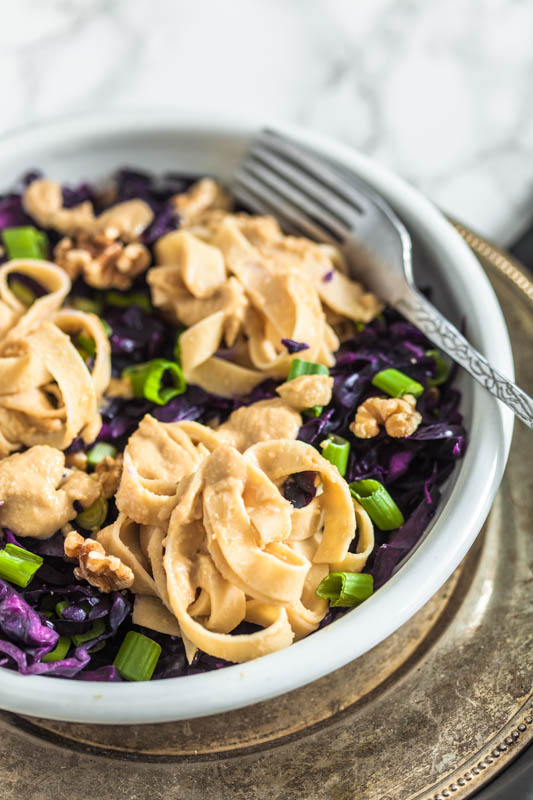 I admit it, most of the time I'm way to lazy for homemade hummus. Apart from that I'm not the typical hummus on bread person either.
But the idea to make a creamy hummus sauce definitely pleased me. The preparation is fairly similar to ordinary hummus, we're basically just adding a little more water and heat the hummus in a pot or pan and subsequently toss fresh fettuccine into it. Certainly you can add any extra such as dried tomatoes to adjust it to your taste.
Fresh and crisp red cabbage gives the hummus pasta the little extra. We're boiling it with vinegar and agave syrup to the desired texture, soft and chewy or crisp and firm.
Same with the hummus – you can adjust the recipe to your taste by adding apples, raisins or cinnamon for example.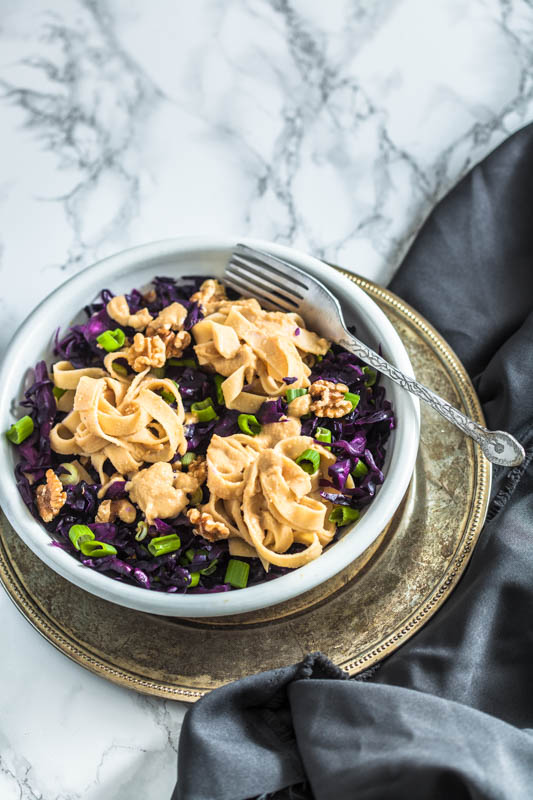 Warm pasta dish or leftover salad
This dish does not only taste well when steaming hot. No, fettuccine in hummus sauce, red cabbage, roasted walnuts and spring onions taste perfectly fine even when cold as a salad.
I took the leftovers with me to university and obliged a friend to enjoy it with me. How else could I make sure that I am not the only one who likes my recipes?
Her twinkling eyes and the rainbows and unicorns that appeared above her head were not faked and this recipe is therefore critics approved. You can recreate it without any risk now.
Fettuccine with hummus sauce, red cabbage, spring onions and walnuts equally delicious when warm or cold
Portionen / Serves:
4 servings
Zutaten / Ingredients
for the red cabbage
~ half a red cabbage (about 500g)
1 dash of lemon juice
3-4 tbsp agave syrup or 2-3 tbsp sugar
3-4 tsp salt
2 cloves of garlic, minced


for the hummus sauce
2-3 cloves of garlic
1 can chickpeas (about 400g)
a dash of soy sauce
a dash of lemon juice
1 tbsp tahini (sesame paste)
~ 200 – 300 ml water


apart from that
fettucine
2-3 spring onions
1 handful of walnuts
Zubereitung / Instructions
Red cabbage
Cut the cabbage into fine stripes and rinse it with cold water.
Add the cabbage and some salt to a pot and fry it until the juice flows out.
Mince the garlic and with the vinegar, agave syrup add it to the pot as well and mix everything thoroughly.
Cook until the cabbage reaches the desired texture. I prefer it crunchy and firm to the bite, but you can also cook it longer until soft and smooth.
Hummus sauce
Rince the chickpeas with water until there's no foam left.
Heat oil in a pan and fry the garlic swiftly.
Add the chickpeas and after some minutes deglaze it with a cup of water and let it simmer.
Add a dash of soy sauce, some lemon juice and sesame paste to taste.
Turn the heat off and add your hummus mix to a mixer and grind it finely. Alternatively you can mix it all with a hand blender, though it won't become as creamy.
If your hummus sauce is to firm simply add a little more water.
Let's finish it!
Boil the fettuccine for 7-9 minutes (or according to the instructions) until al dente.
Rinse and slice the spring onions. You can roast the walnuts to intensify the taste and cut them roughly afterwards.
Spread the red cabbage on your plate.
Add the fettuccine on top and pour the hummus sauce on top.
Garnish with walnuts and spring onions.
This recipe is a modified version from Jenny Mustard.
Pin it for later: