Stuffed Sweet Potato with spinach and feta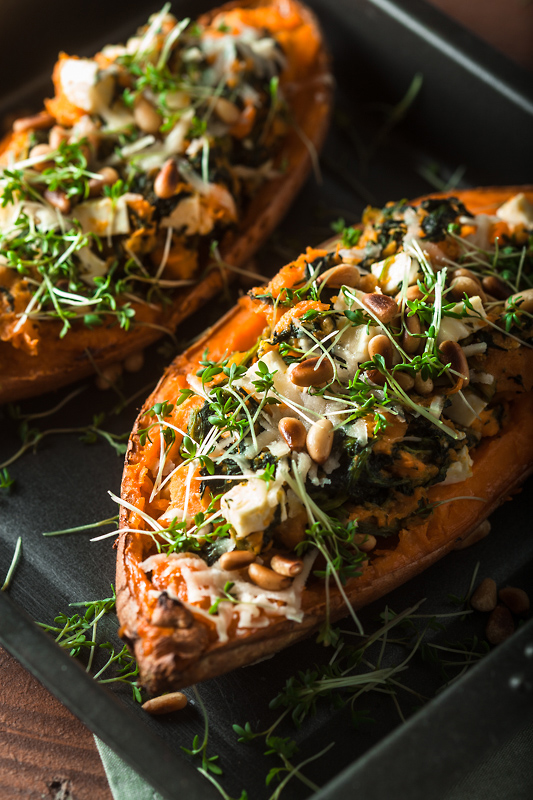 Portionen / Serves:
1-2 servings
2 big sweet potatoes
salt & pepper
about 50g feta cheese
20-30g pine seeds
grated parmesan
cress
2 hands full of fresh or frozen leaf spinach
2-3 tbsp grated parmesan
1-2 tsp cream cheese (optional)
Preheat the oven to 200°C (392°F) and cover a baking tray with parchment paper
Wash and dry the sweet potatoes. Halve them and cut into them roughly with a knife to reduce the cooking time.
Depending on the size it may take from 40 - 60 minutes to cook them. You want them nice and tender. If unsure prick them with a fork. If you can pull it out easily the potato should be fine.
While the potatoes are cooking heat a pot on your stove and add spinach with a little water (or oil) to it. Add parmesan, cream cheese and stir all the ingredients together. Season with salt & pepper to taste. Put the pot aside.
Once the sweet potatoes are cooked take them out of the oven Take a spoon and scoop them out.
Add the sweet potato mass and the feta cheese to the spinach and mix it all together.
Now spread this stuffing equally into your four halves and top it with some more grated parmesan.
Put the potatoes into the oven for another 10 - 15 minutes until the cheese is molten.
During this time you can heat a small pan and roast some pines seeds.
Take the sweet potatoes out, serve them on a plate and top them with cress and pine seeds.
Recipe by
Purple Avocado
at https://purpleavocado.de/en/stuffed-sweet-potato-spinach-feta/