Pasta with Avocado, fried Egg and ginger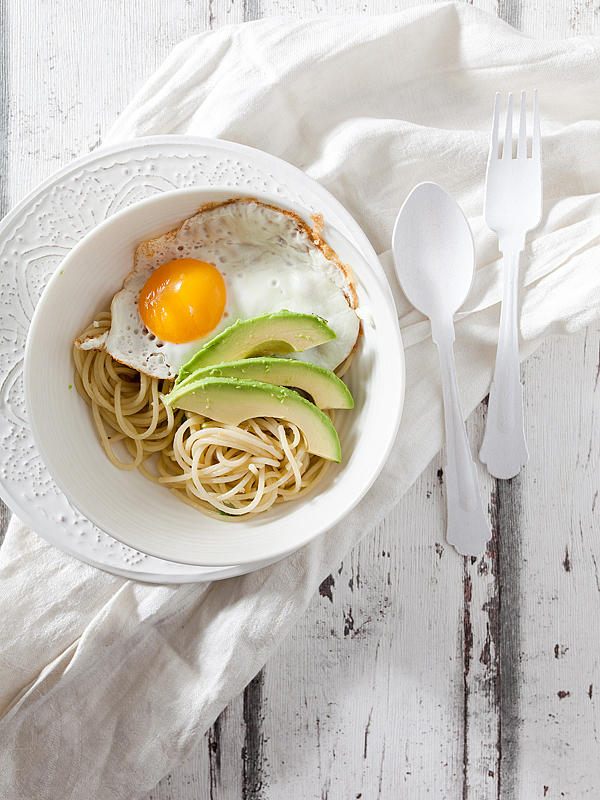 Portionen / Serves:
1 portion
100 - 150g spaghetti
salt
soy and olive oil
1 avocado (ripe and soft and creamy)
1 egg
1 - 2 cloves of garlic
1 small shallot
1 small piece of ginger (about the same amount as the garlic)
Cook the pasta. I don't have to explain how to cook pasta, eh?
Mince the garlic, shallot and ginger. The smaller the pieces the better. You want to taste the ginger but you don't want to chew at it.
Add soy oil (or any other oil that can be heated) to a pan and put it on medium heat.
Fry the onion until glassy and add the minced ginger and garlic to the pan.
Add the cooked pasta to the pan.
Dice the avocado and add it to the pan. Add some olive oil and salt (that's why the stove should be on medium heat. The olive oil shall not burn) and stir it all carefully.
Take another pan and fry an egg. I won't explain how to do this. You can do that!
Serve the pasta in a bowl with the egg on top and some avocado slices as garnish (you eat with your eyes first). Add some parmesan and cress if you want.
Recipe by
Purple Avocado
at https://purpleavocado.de/en/pasta-avocado-fried-egg-ginger/