Green Spelt Sushi with beetroot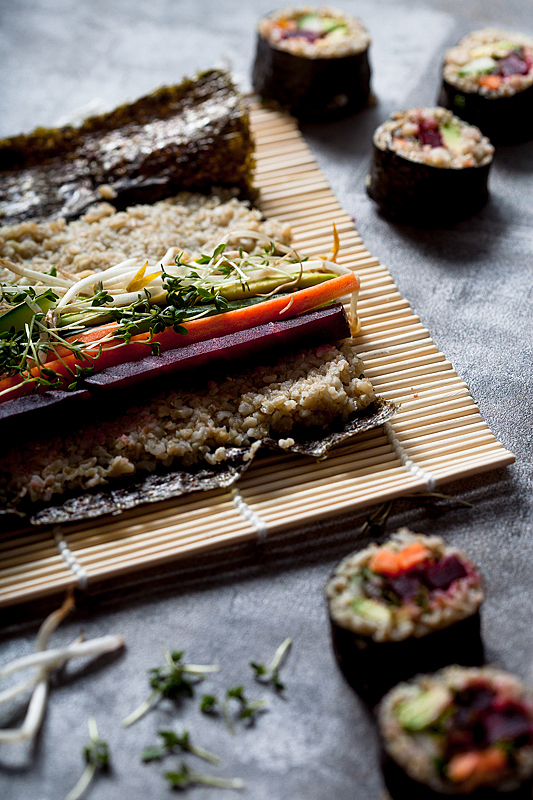 Portionen / Serves:
5-6 rolls
200g green spelt
400g water
1-2 tbs rice vinegar
salt, sugar
5-6 nori sheets
1-2 pieces of beetroot (cooked)
1-2 medium sized carrots
⅓ cucumber
½ - 1 avocado
one hand full of soy bean sprouts
some cress
Sushi mat
sharp knife
soy sauce
wasabi
Wash the green spelt in a sieve and add it with the water (1:2) to a pot. Bring it to a boil, turn the heat down and let it boil for about 30-40 minutes.
When the green spelt has welled up and is soft (the water should be completely gone), you can remove the pot from the stove. Mix the green spelt mass with two tbs of rice vinegar and a pinch of salt and sugar and add the mass to a cold bowl. Let it cool down in your room or outside.
Peel the carrots. Slice the carrots, cucumber, avocado and beetroot into long and narrow stripes.
Wash the soy bean sprouts and cut the garden cress.
Take a nori sheets and place it on your sushi matt, the rough side up.
Spread the cool green spelt evenly on it and leave 1cm space on one side and 2-3 cm on the other.
Place the carrot, beetroot, avocado, cucumber, cress and soy bean sprouts in a row on the green spelt and roll the nori over it. Form a sushi roll and push it tight.
Cut the roll into thin slices and serve it with soy sauce and wasabi.
Recipe by
Purple Avocado
at https://purpleavocado.de/en/green-spelt-sushi/