Vegan Quiche with green asparagus, wild garlic, scallions and dried tomatoes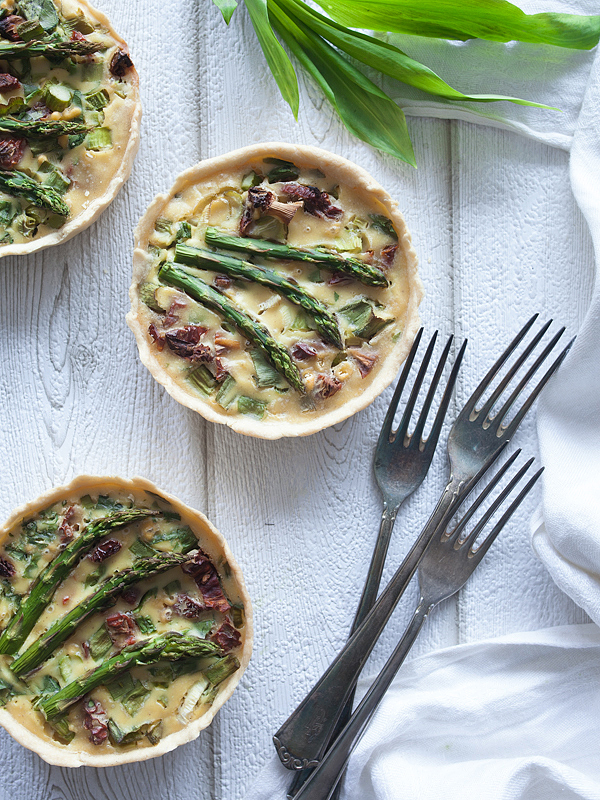 Portionen / Serves:
6 mini tartes or one 28cm (~11 inches) pan
225g flour
90g margarine
6 tbs water
salt
120g gram flour or polenta*
200ml soy cream
240ml water
salt
18 asparagus sticks
some leaves of wild garlic
approx. 10 dried tomatoes
1 spring onion
rest time for the dough: 1-2 hours
preparations: approx. 20 minutes
baking time: 30 minutes
Prepare the dough first. Knead together the flour, margarine, water and salt and let it sit in the fridge for 1-2 hours. Take it out before processing it further so it can warm up to room temperature again. That makes it easier to work with.
Part the dough into six equal balls and roll out each of the balls very thinly.
Place he rolled out batter iin the tart moulds (see photos) and press it to the edges. Remove exzess dough.
Mix together the gram flour (chickpea flour) with the soy cream and some salt until all the flour has dissolved.
Mince your veggies.
Fill up your tarte moulds with the vegetables first and then the filling. Place 3 asparagus tips on top, to round it all up.
Bake the vegan quiche for 30 minutes at 200°C (bottom and top heat)
* It has to be gram flour in order to thicken properly. If you know any other flour types with those characteristics, please let me know in the comments :)
Gram flour by the way can be found in asian supermarkets and isn't that expensive usually.
Recipe by
Purple Avocado
at https://purpleavocado.de/en/vegan-quiche-with-green-asparagus/