No Bake Date Brownies Recipe with Peanut Butter Maple Syrup Topping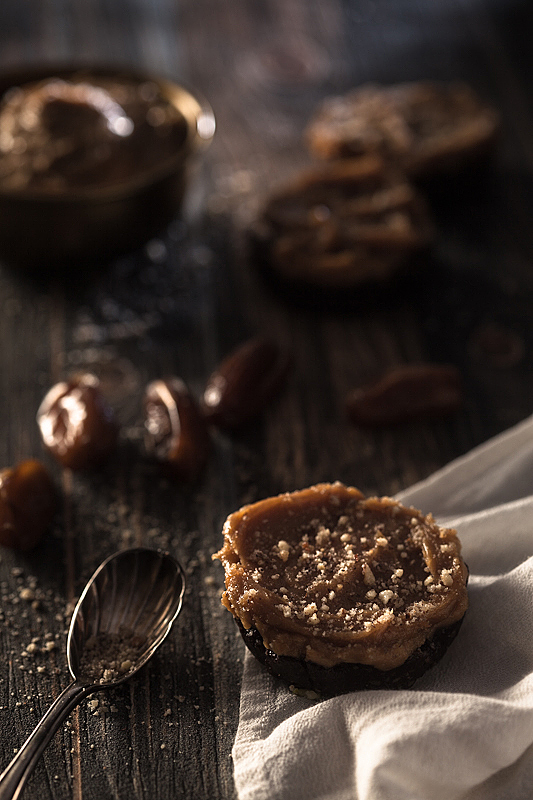 Portionen / Serves:
für ca. 9 Muffinförmchen / ein kleines Backblech
200-300g medjool dates *
100g hazelnuts (minced)
60g almonds (minced)
30g cocoa
a pinch of salt
150g peanut butter
30ml maple syrup
20-30ml almond milk
1 tbs coconut oil (optional)**
Knead the dates with the hazelnuts, almonds, cocoa and a pinch of salt to a dough.
Cover a baking / muffin tray / muffin dish with baking paper and fill it up with the brownie dough.
Let it cool in the fridge for approx. 1h (20 min in the freezer)
Mix the peanut butter with the almond milk and maple syrup until creamy
Optionally add some coconut oil.
Spread the mixture on the cool brownies and store in fridge until it's eaten.
Garnish with some minced nuts or almonds.
* If you don't have soft and creamy medjool dates, I would reccommend to soak the dates in water for 1-2 hours.
** (good!) coconut oil is very healthy. As an ingredient for your topping it'll make the mass a bit more stiff. Melt the coconut oil and mix it with the topping ingredients.
Recipe by
Purple Avocado
at https://purpleavocado.de/en/vegan-date-brownies-recipe/