Vegan, savory sweet potato muffins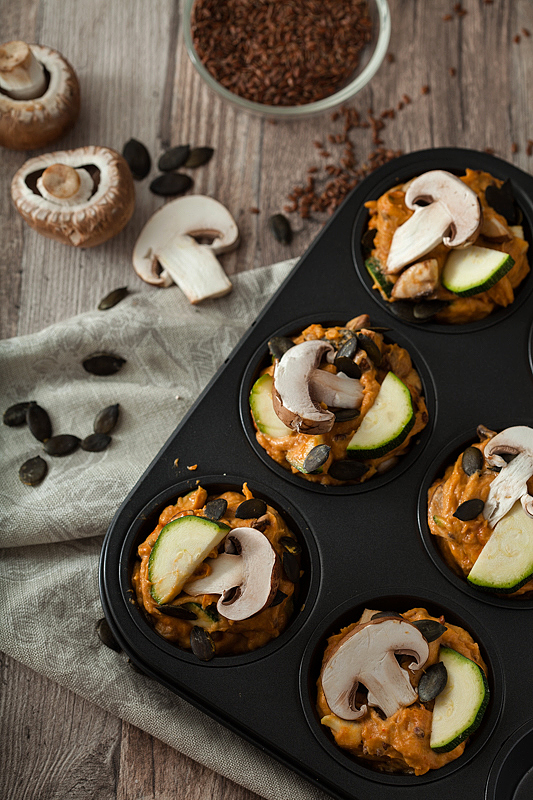 Portionen / Serves:
6-8 Muffins
1 large sweet potato (500-600g)
110g flour
1 tsp baking powder
1 tbs flax seed + 3 tbs water (you can also use chia or - well an egg)
1 tsp salt
1 tsp paprika
½ zucchini
5-7 mushrooms
a hand full of pumpkin seeds
Peel the sweet potato, dice it and let it boil in a pot of water for 20 minutes until soft.
Rinse of the water and mash the sweet potato in a bowl with a fork. Let it cool down for a while.
Mix one tablespoon of flax seed with three tablespoons of water and let it sit in the fridge for 10-15 minutes.
Mince the mushrooms and zucchini (put some slices aside if you want to garnish your muffins)
Preheat the oven to 175° C
Place your mashed potatoes on a clean kitchen towel and rinse of all the excess water.
Mix together the flour, baking powder, flax seed egg substitute, sweet potato mass and minced veggies.
Grease a muffin pan lightly and fill the dough into the moulds evenly.
Garnish with your veggie slices and some pumpkin seeds.
Bake for 30-40 minutes until the muffins become a bit darker on top.
Recipe by
Purple Avocado
at https://purpleavocado.de/en/savory-sweet-potato-muffins/