Fanta Cake with mandarins and sour cream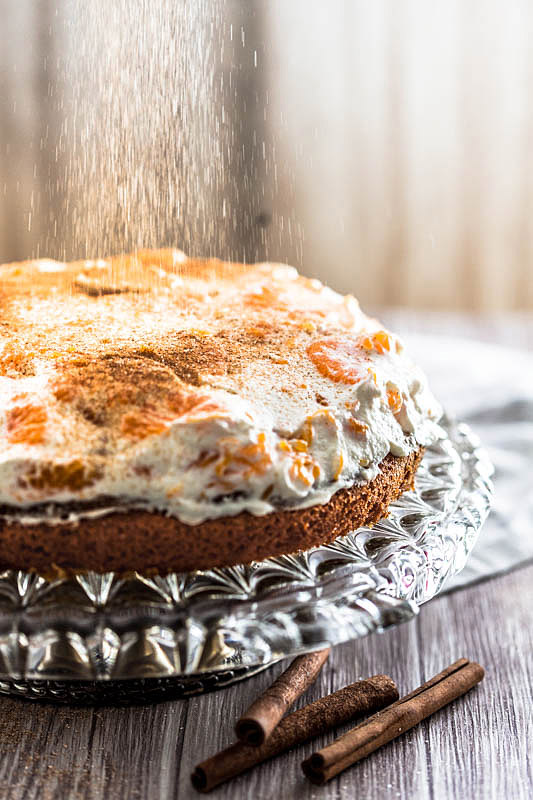 Author:
Sabrina Dietz / Purple Avocado
Portionen / Serves:
for a 26cm / 10 inch baking pan (double the ingredients for a huge baking tin)
2 eggs
125g sugar (2/3 cups)
1 pack vanilla sugar (or pure vanilla to taste)
60ml oil (1/4 cup)
75ml Fanta or other Orange Lemonade (1/4 cup + 1tbsp)
125g flour (1 cup)
2 tsp baking soda / natrium
some margarine for the baking dish
1 can of mandarins
300ml whipping cream
3 pcks vanilla sugar (or ordinary sugar mixed with some vanilla to taste)
200g sour cream (1 cup - a little less in fact)
optional: 2 packs cream stiffener
cinnamon and sugar mixed (to sprinkle)
ca. 25 minutes (test with a skewer)
upper-/lower heat: 180°C / 356°F
Gas stove: 2-3
Preheat the oven to 180°C / 256°F
Add eggs, sugar and vanilla to a bowl and whisk it up. Add oil and fanta and continue whisking it until foamy.
Mix flour and baking powder together and bit by bit mix it under the dough.
Grease your baking tin with some margarine and add the dough to it evenly.
Bake the cake base for about 25 minutes (test with a skewer) the baking time may vary depending on the size of your baking tin, so always make sure to check from time to time with the skewer.
Whisk the whipping with vanilla sugar (and optionally cream stiffener) for about 5 minutes until stiff.
Add the mandarins through a strainer and let them drain. Mix them together with the sour cream.
Add the whipped cream to the mix and gently fold it in.
Spread the cream evenly on your (cold) cake base and sprinkle it with the cinnamon-sugar mix.
You can store this cake for 1-2 days in the fridge.
Recipe by
Purple Avocado
at https://purpleavocado.de/en/fanta-cake-recipe/