Papaya Curry with Coconut Milk and Quinoa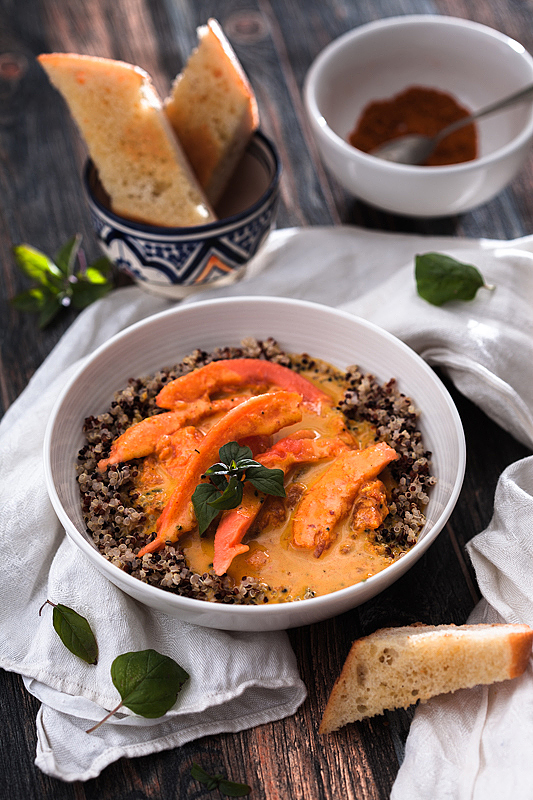 Portionen / Serves:
1-2 Bowls
200-250 ml coconut milk
150 g quinoa (tricolore)
1 medium sized papaya (don't throw away the seeds)
½ tsp chili flakes
1 tsp ground ginger
1 tsp turmeric
1 tsp paprika, sweet
1 tsp paprika, spicy
1 tsp cumin
1 tsp oregano
½ tsp papaya seeds, dried
½ tsp brown sugar
1 tsp (saffron) salt
Preheat the oven to 100° C.
Cut the papaya in half, remove the seeds and place them in a sieve. Rinse the seeds and squish them in your hands to remove the majority of the skin. Place the seeds on a baking sheet and roast them in the oven for about 10-15 minutes.
Scoop the papaya flesh out with a spoon and cut it into slices.
Rinse the quinoa and cook it with 250 ml of salted water for 10 minutes. Drain off the water and set aside.
Add the coconut to a pot and bring it to a boil.
For the spice mix add all the spices to a mortar and stir them together, including the papaya seeds.
When the coconut is boiling turn down the heat and add the spice mix. Stir it and bring it to a boil again. Add the papaya lastly and let it simmer for another 5 minutes.
Serve the curry in a bowl with the quinoa and enjoy.
Recipe by
Purple Avocado
at https://purpleavocado.de/en/papaya-curry-quinoa-coconut-milk/