Jamies Food Revolution inspired grilled Peppers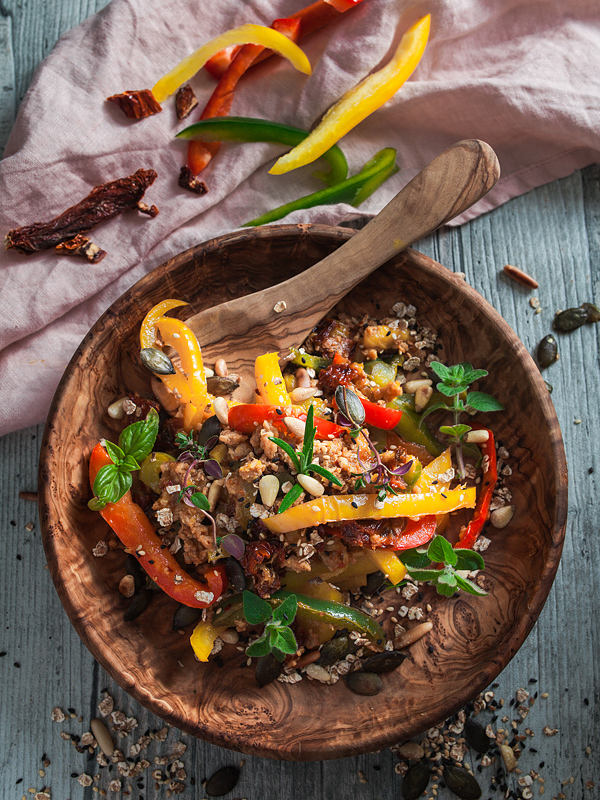 Portionen / Serves:
1 bowl
Peppers in red, yellow and green, sliced
half a mango, diced
a piece of ginger, minced
some dried tomatoes, diced
some soya granules, soaked in water for 5-10 minutes
Pine seeds
Pumpkin seeds
Sesame seeds in white and black
Oat flakes
Fresh oregano, rosemary, thyme and basil
Cumin
Paprika sweet and spicy
Chili flakes
Coriander
Salt
Heat up a pan and roast the seeds and grains first. Once they're crunchy and golden put them aside
Drain the soya granule off the excess water, add oil to the pan and fry the soya granules. Add salt, cumin, paprika, coriander and chili flakes and mix throughly.
Add the peppers, dried tomatoes and ginger and fry for a while.
Add the mango and fry until it gets soft and squishy.
Spread your pan mix on a plate, drizzle the seeds and grains on top and garnish with the fresh herbs to taste.
Recipe by
Purple Avocado
at https://purpleavocado.de/en/food-revolution-grilled-peppers/