Dobu Jorim - Crunchy, stewed tofu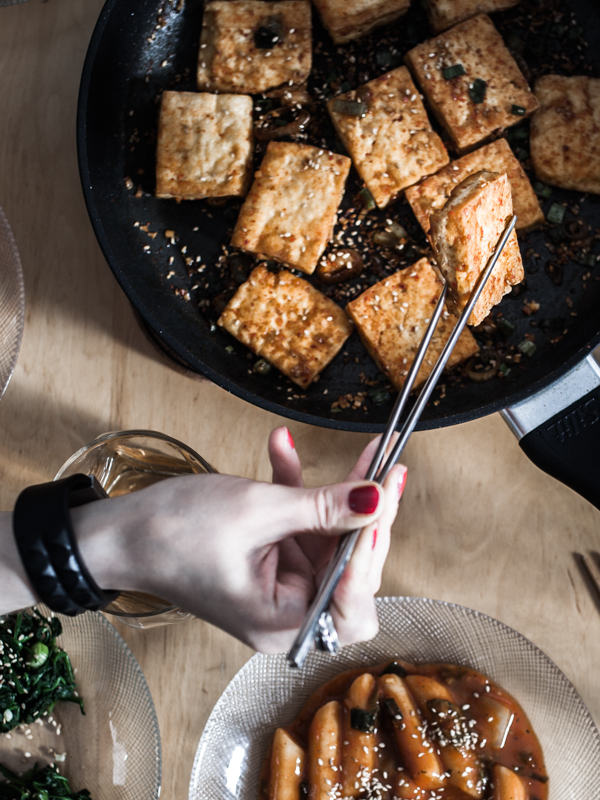 Portionen / Serves:
3-4 portions
3 tbsp water
3 tbsp soy sauce
1 tbsp sesame oil
1 tsp sugar
1 tsp korean chili flakes (Gochugaru)
2 tsp sesame seeds
1 tsp minced garlic
1 piece of spring onion, sliced thinly
Cut the fresh, korean, soft tofu into 2 cm thick slices
Cover a cutting board with paper towels and place the tofu slices next to each other on that towel.
Add another layer of paper towels and another cutting board and put a bottle of water or another weight on top of it. In order to make the tofu nice and crispy, it should be drained of all the excess water. This is one good way to achieve this.
Bake the tofu thorougly in hot oil from both sides. Turn the heat down afterwards and add the marinade (careful, as sesame oil is very sensitive to heat).
On medium heat let it all boil down to thicken and serve immediately.
Recipe by
Purple Avocado
at https://purpleavocado.de/en/spinach-salad-tteokbokki-tofu/