Scrambled Tofu with Mushrooms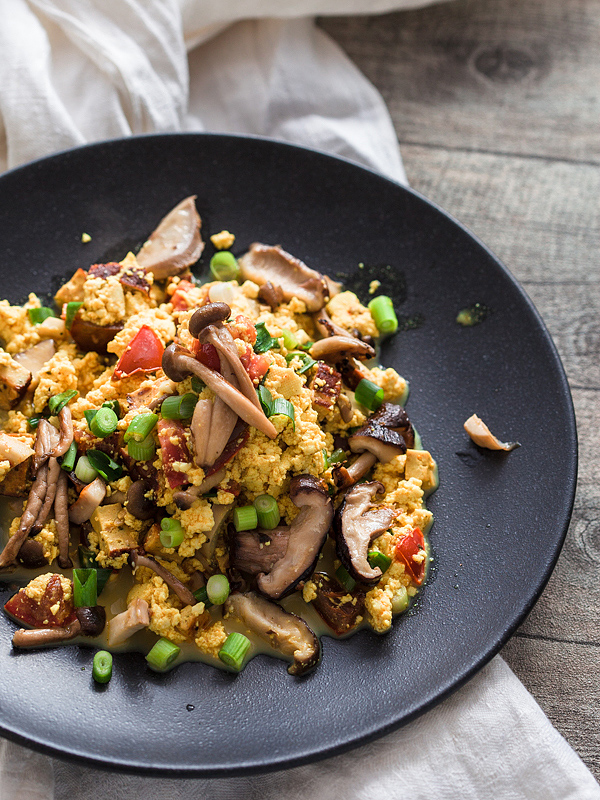 1 handful mushroom e.g. shiitake, enoki or king oyster (I always have some frozen mushrooms at my disposal
1 - 2 tomatoes, diced
1 - 2 green onions, minced
½ package fresh tofu
⅓ package silken tofu (for the soft parts in scrambled egg)
1 little piece of smoked tofu (or black forest tofu), diced
a pinch of turmeric
½ tsp Kala Namak
salt, pepper, paprika to taste
Unfreeze the mushrooms in water and slice into thin stripes. Fry in a separate pan and salt lightly.
Dice the smoked tofu and fry it in a pan (with oil) until it's crispy on the outside
Put the fresh tofu in a bowl and mash it softly with a fork. If it's too soaky drain off the excess water with your hands.
Add the silken tofu and the spices to the bowl and mix it together, then add it to the pan with the smoked tofu.
When it's all heated up properly and mixed together add the tomato and green onions lastly and let it simmer for a couple of minutes.
Recipe by
Purple Avocado
at https://purpleavocado.de/en/scrambled-tofu-mushrooms/