Sesame Fish Sticks on a summery Salad with Soy Rice Dressing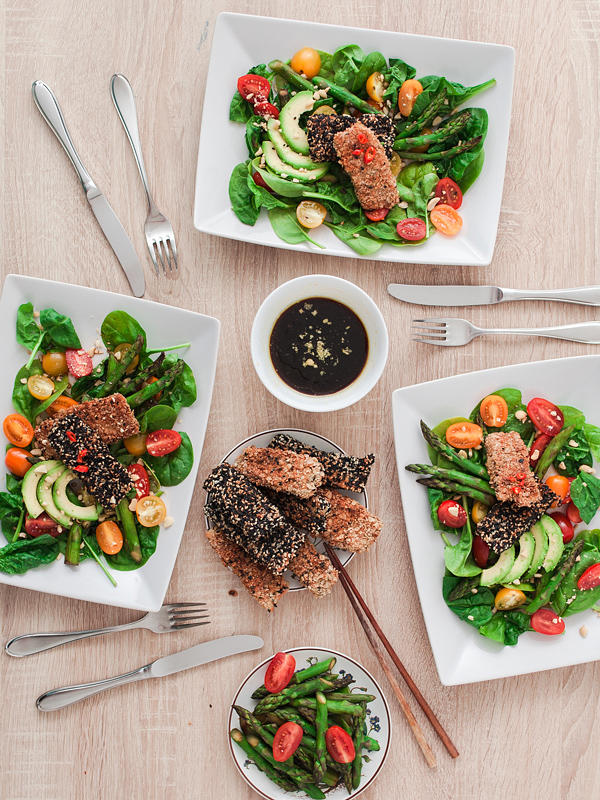 Portionen / Serves:
4-6 servings
4 tbsp soy sauce
4 tbsp rice syrup
2 tbsp olive oil
2 dashes of lemon juice
Sriracha to taste
pepper
1-2 avocado
500-800 g green asparagus
300g cherry tomatoes
75-150 g baby spinach
400-800 g salmon filet
50-100 g light sesame
50-100 g black sesame
75-1500 g oats
100-200 g flour
1-2 eggs
a dash of water of your favourite plant milk
oil, salt, pepper
Remove the ends of the asparagus and divide into three or four. Halve the tomatoes and clean and dry the spinach.
For the dressing mix together all the ingredients and put aside
Slice the salmon. Mix the dark and black sesame together. Add flour and some salt and pepper to a large bowl. Add the eggs to a bowl.
Coat the salmon pieces with flours first, then with the egg mixture and the sesame / oats in the end.
Bake them in a hot pan with oil until the crust is crunchy and golden brown of colour. Let your deluxe fish sticks drip of on a paper towel.
While baking the fish you can fry the asparagus in a hot pan without oil (if you feel like it, you can always add oil).
Cut the avocado into slices.
Arrange all the salad ingredients on plates, drizzle the dressing on top and garnish with the sesame fish sticks.
Recipe by
Purple Avocado
at https://purpleavocado.de/en/sesame-fish-sticks-matcha-cupcakes/