Cauliflower Sushi Basic Recipe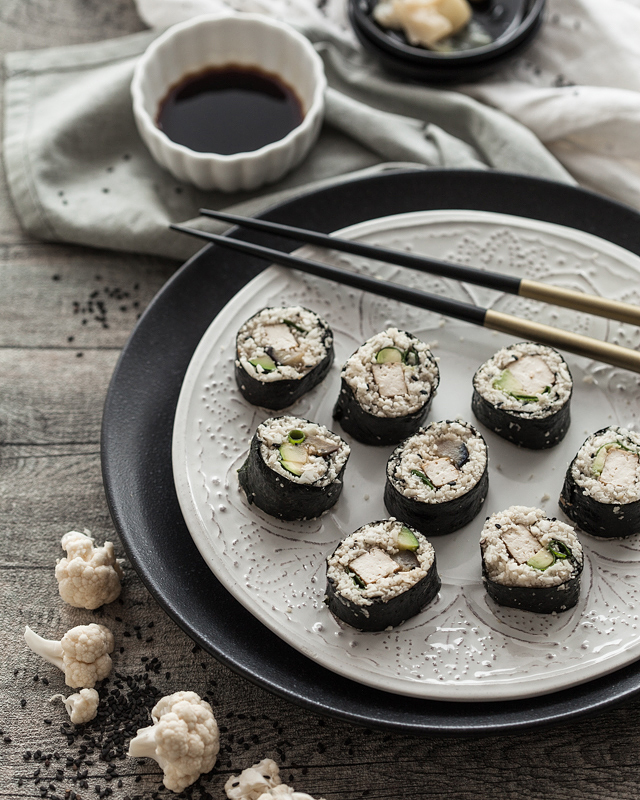 1 cauliflower
1-2 tsp rice vinegar
½ tsp salt
½ tsp sugar
1 tbsp Tahin, sesame paste (optional)
Frying oil (eg. Sunflower or coconut oil)
Remove the stem of the cauliflower and cut the cauliflower into small pieces. Rinse them off with water. Mince it either in a food processor or use a grater. The consistency should be fine, rice-like without large chunks in it.
Wrap the cauliflower rice into a towel or squeeze it in your hands to get rid of all the excess water.
Heat oil in a pan and fry the cauliflower rice for approximately 5 minutes until it has a light brownish / golden colour while constantly stirring. Mix the tahini under if desired. Repeat this step with all your cauliflower rice.
Add the rice to a bowl to let it cool down. Mix rice vinegar, salt and sugar together and add it to the bowl. Stir it carefully until it's evenly spread.
Once the cauliflower rice is completely cool you can handle it just like ordinary rice. I wouldn't recommend to make inside-out rolls though as the cauliflower rice isn't sticky enough for it.
Recipe by
Purple Avocado
at https://purpleavocado.de/en/low-carb-cauliflower-sushi/