The best chocolate chip cookies of all time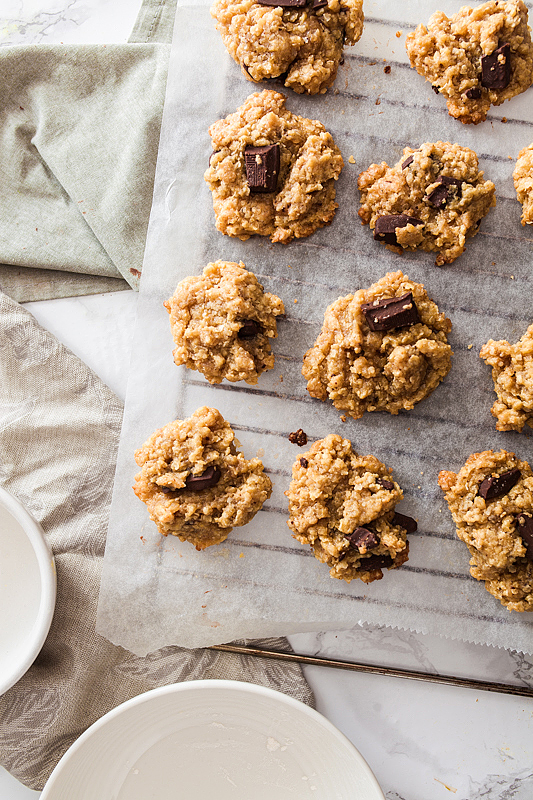 Portionen / Serves:
for 2 baking trays (~24 cookies)
2 eggs (or egg substitute)
270g brown sugar (2 cups)
120g soft butter or margarine (1 cup)
1 pack vanilla sugar
170g oats (2 cups)
70g peanut butter (2 cups)
260g flour (2cups)
1½ tsp baking powder
1 pinch of salt
1 tbsp sparkling water (for the stickiness)
200g chocolate chips or minced couverture chocolate
180°C/356°F for 13-15 minutes
Mix the eggs, sugar, soft butter and vanilla sugar evenly in a bowl.
Add oats and peanut butter and mix thoroughly.
Stir in flour and baking powder.
Add salt and sparkling water lastly. Your dough should be sticky and solid, not too liquid.
Mince the couverture and stir it unter the dough.
Preheat the oven to 180°C (356°F) and cover a baking tray with baking paper.
With a table spoon add the dough to the tray. The cookies will melt into the perfect shape while baking.
Bake for 13-15 minutes. The cookies should be still immensely soft and easy to dent as they will harden further afterwards.
Recipe by
Purple Avocado
at https://purpleavocado.de/en/chocolate-chip-cookies-recipe/