Low Carb Cauliflower Rice with Vegetables and an Almond Butter Sauce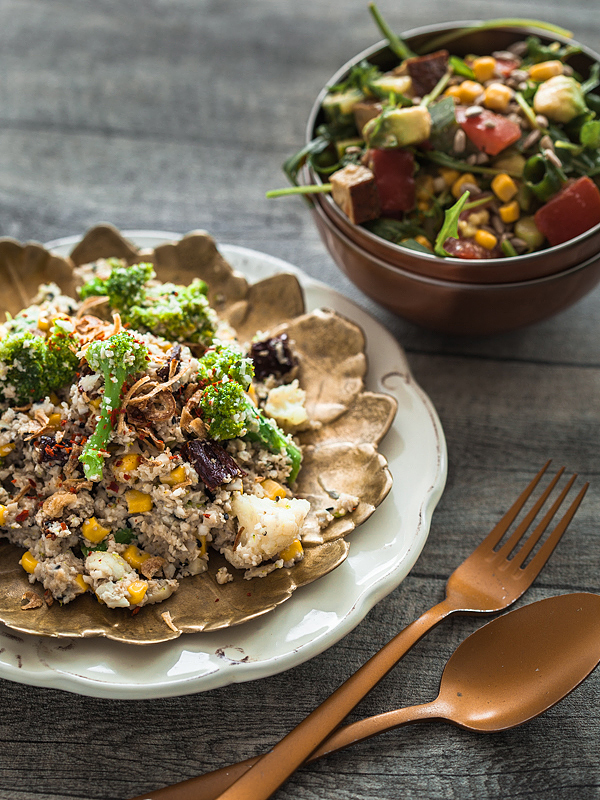 Portionen / Serves:
1-2 servings
1-2 dried tomatoes
½ can of corn
brokkoli or cauliflower florets
roasted onions
1-2 onion cloves
for the sauce
~200ml cream
1 tsp almond butter
salt, paprika, cumin, parsley
some water
Prepare the cauliflower rice after this recipe.
Cut the brokkoli/cauliflower into small florets and rinse it under cold water. Boil it in salt water for 5-10 minutes until the desired firmness to the bite is reached.
Dice the dried tomatoes. Peel and mince the garlic. Let the canned corn drain through a sieve.
For the sauce stir together cream and almond butter and add your spices of choise and as appropriate add some water.
Heat oil in a pan and fry the cauliflower rice and the garlic primarily. Add the other ingredients and fry for a couple of minutes.
Pour the sauce over, stir it and bring it to a boil. Then serve immediately and garnish with chili flakes and roasted onions.
Recipe by
Purple Avocado
at https://purpleavocado.de/en/cauliflower-rice-vegetable-stir-fry/