Crunchy oven fries with two vegan cashew dips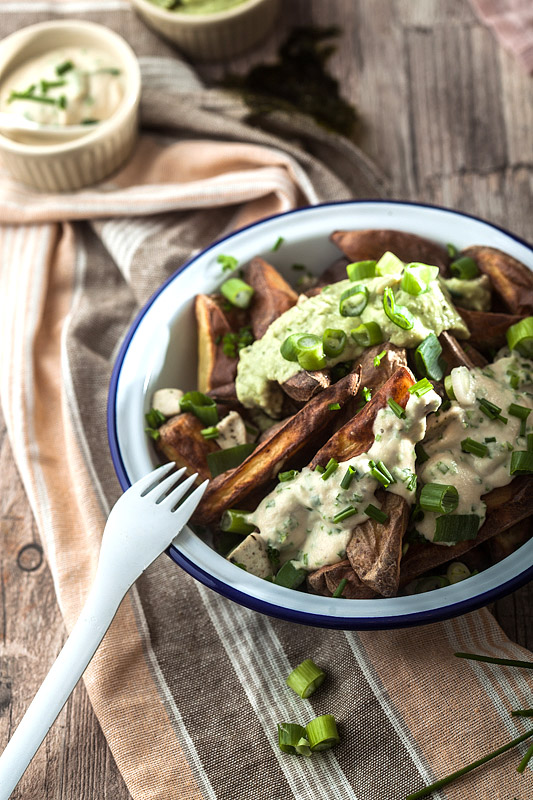 Portionen / Serves:
2 servings
3-4 russet potatoes
some salt
1-2 spring onions
vegan cheese
150 g (~1 cup) cashew seeds
½ lemon
1-2 tsp nutritional yeast
120 ml (½ cup) water
optional: wild chives
1 avocado
50-100g cashew seeds
~1/2 lemon (start with less and add more to taste)
~ 2 tbsp wasabi (adjust to your own taste of spiciness)
1 nori leaf
some salt
some water if necessary
Cut the potatoes in thick slices. No need to peel the skin.
Rinse the potato slices and add them to a bowl with cold water. Let it sit for at least an hour.
Preheat the oven to 220°C.
Spread the fries on a baking paper covered gridiron so that they don't touch each other.
Bake for 30-40 minutes until crunchy and golden.
Season after baking with salt and optionally spices to taste.
Mix the cashew seeds with the water in a blender.
Add lemonjuice, salt and nutritional yeast part by part and to taste.
Add the dip to a glas jar. Mince the chives and stir it in the dip.
The dip should stay fresh in the fridge for a couple of days. Mine, however, never made it past the second day ;)
Halve the avocado, remove the stone and slice it lengthwise and crossways. With a spoon scoop out the flesh and mix it in your blender with the cashews and some water if necessary. Add wasabi, lemon juice, salt and a roughly chopped nori leave and purée it thoroughly.
The lemon juice prevents the dip from becoming brown. Optionally you can simply add the avocado stone to your jar.
The avocado dip should be used up within a couple of days, just like the cashew dip.
Recipe by
Purple Avocado
at https://purpleavocado.de/en/crunchy-oven-roasted-fries-vegan-dips/