Rainbow Roll Sushi with purple rice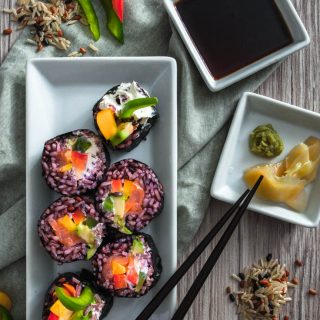 Portionen / Serves:
for 4-5 rolls
200 g purple rice (eg. from Betty's Reisküche or Reishunger)
1 tsp rice vinegar
a pinch of salt and sugar
1 tsp of cream cheese per roll
3 peppers in yellow, green and red
1 avocado
1 slice of smoked salmon per roll
1 sushi mat
a sharp knife
soy sauce
wasabi
Rinse the rice in a sieve until the water clears up. Add 1 part rice and 2 parts water to a pot and bring it to a boil. Turn the heat down, leave the lid on the pot and let it simmer for 30-40 minutes.
Once the rice is firm to the bite transfer it to a bowl and mix it with rice vinegar, sugar and salt. Let it cool down while preparing the filling.
Cut the peppers and avocado into thin slices.
Wrap the sushi mat in foil or place it in a freezer bag. Place a nori sheet on top and spread the rice evenly, leaving 1 - 2 cm on top and 0,5 - 1 cm on the bottom.
Place the salmon first and spread 1 tsp of cream cheese on it. Add the peppers and avocados on the sheet as well and roll it all up tightly. Cut into bite sized pieces and serve with soy sauce, wasabi and pickled ginger.
Recipe by
Purple Avocado
at https://purpleavocado.de/en/purple-rice-rainbow-roll-sushi/