Aquafaba curd mousse with white chocolate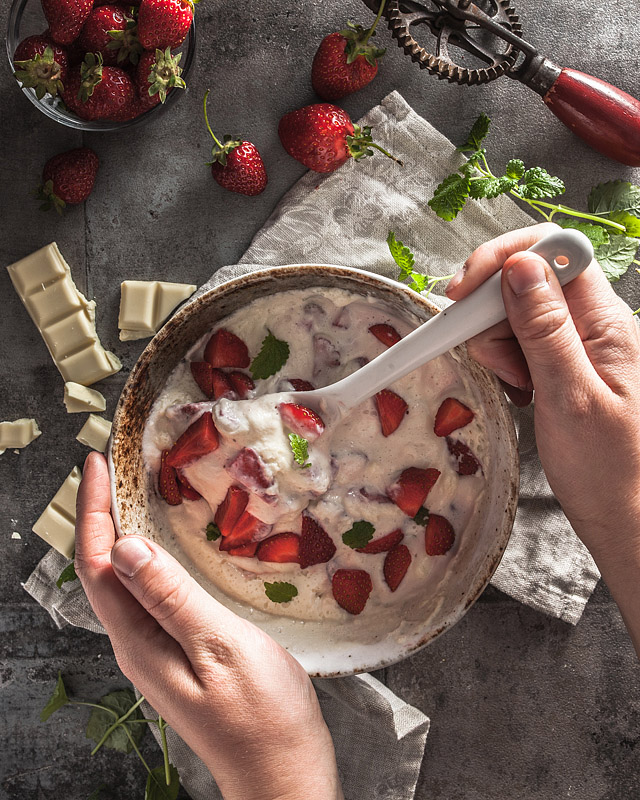 Portionen / Serves:
4-6 servings
250g Soy Curd or yoghurt (dairy products work fine as well)
200g white chocolate
~ 200 ml aquafaba (chickpea water from ~ one can)
~ 500g strawberries (you can never have enough strawberries)
Wash and cut the strawberries.
Add the chickpea water to a bowls and mix it for 3-5 minutes until firm and fluffy.
Melt the chocolate and with the curd / yoghurt add it to the aquafaba bowl.
Put some of the strawberries aside for decoration and stir the rest under the aquafaba mousse.
You can now either divide the mousse evenly into dessert glasses / bowls or just keep it in the big bowls. Garnish with the rest of the strawberries and let the mousse chill in the fridge for at least 2 hours.
The aquafaba mousse should become solid enough to turn the bowl over without spilling anything. However, if your mousse didn't become as solid as wanted it's still fine and super delicious and fluffy (sometimes that can happen, doesn't decrease the taste).
Recipe by
Purple Avocado
at https://purpleavocado.de/en/aquafaba-curd-yoghurt-mousse-strawberries/