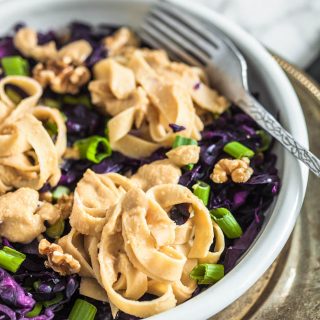 Portionen / Serves:
4 servings
~ half a red cabbage (about 500g)
1 dash of lemon juice
3-4 tbsp agave syrup or 2-3 tbsp sugar
3-4 tsp salt
2 cloves of garlic, minced
2-3 cloves of garlic
1 can chickpeas (about 400g)
a dash of soy sauce
a dash of lemon juice
1 tbsp tahini (sesame paste)
~ 200 – 300 ml water
fettucine
2-3 spring onions
1 handful of walnuts
Cut the cabbage into fine stripes and rinse it with cold water.
Add the cabbage and some salt to a pot and fry it until the juice flows out.
Mince the garlic and with the vinegar, agave syrup add it to the pot as well and mix everything thoroughly.
Cook until the cabbage reaches the desired texture. I prefer it crunchy and firm to the bite, but you can also cook it longer until soft and smooth.
Rince the chickpeas with water until there's no foam left.
Heat oil in a pan and fry the garlic swiftly.
Add the chickpeas and after some minutes deglaze it with a cup of water and let it simmer.
Add a dash of soy sauce, some lemon juice and sesame paste to taste.
Turn the heat off and add your hummus mix to a mixer and grind it finely. Alternatively you can mix it all with a hand blender, though it won't become as creamy.
If your hummus sauce is to firm simply add a little more water.
Boil the fettuccine for 7-9 minutes (or according to the instructions) until al dente.
Rinse and slice the spring onions. You can roast the walnuts to intensify the taste and cut them roughly afterwards.
Spread the red cabbage on your plate.
Add the fettuccine on top and pour the hummus sauce on top.
Garnish with walnuts and spring onions.