Nectarine & Sweet Potato Salad with Maple Syrup & Mustard Dressing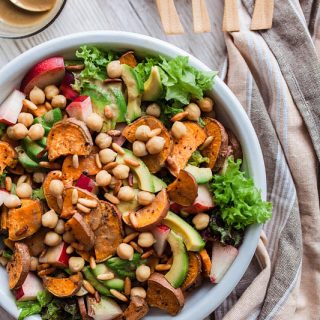 Portionen / Serves:
1 big bowl for 2
2 medium sized sweet potatoes (500 – 600g)
salt & pepper
1 avocado
300 – 400 g canned chick peas
1 hand full of salad / spinach
1-2 nectarines
2-3 tbsp pine seeds
1-2 tsp mustard
~ 10 ml rice vinegar (or red wine vinegar)
~ 20 ml olive oil
a dash of sesame oil
1-2 tbsp maple syrup
a dash of soy sauce
Preheat the oven to 180°C (356°F). Wash and dice the sweet potato ( leave the skin on). Add them to a bowl with cold water and leave them in for about 10 – 15 minutes. Dry the potato dices roughly afterwards and mix them in a bowl with some salt and pepper.
Spread the potatoes evenly on a baking tray and roast them at 180°C (356°F) for about 30 minutes until soft and tender. Check the texture with a fork.
Dice the avocado. Drain the chick peas through a sieve and wash until no foam is left. Wash and dice the nectarines.
Roast the pine seeds in a pan without oil until golden brown.
Mix together all the dressing ingredients in a big bowl. It should taste a little sour.
Let the sweet potato cool down a little and add them together with the salad ingredients (expect for the pine seeds) to the dressing bowl and stir carefully.
Drizzle the pine seeds on top and serve warm or cold.
Recipe by
Purple Avocado
at https://purpleavocado.de/en/nectarine-sweet-potato-salad/