Soft, vegan Carrot Lemon Cake with Cashew Butter Icing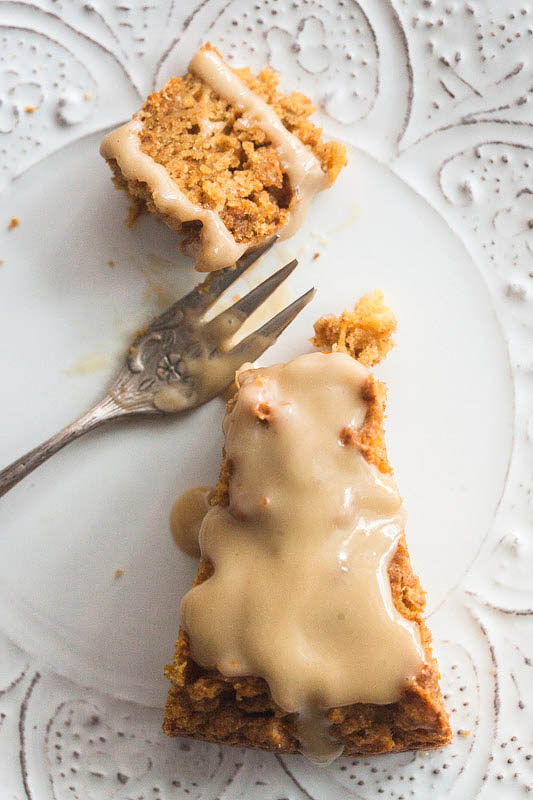 Portionen / Serves:
for a 20-30 cm loaf pan / round 30cm pan
400 g carrots
400 g flour (I like to mix 630 spelt flour with whole grain wheat flour 1:1)
juice and zest of one organic lemon
150 ml maple syrup or agave syrup
150 ml sunflower oil or canola/coconut oil
1 tsp cinnamon
8-10 g baking soda
8-10 g vanilla sugar / or vanilla extract
2 tbsp cashew butter
2 – 3 tbsp maple syrup
a pinch of salt
3-4 tbsp lemon juice
2 tsp water
optional: 1 tsp coconut oil
Peel the carrots and rasp them finely.
Sieve the flour and add it to a bowl as well as the oil, maple syrup, cinnamon, baking soda, vanilla sugar and zest and juice of a lemon. Mix it all together and add the carrots lastly, stirring it thoroughly until you get an even dough. Note: The dough is a little stubborn and sticky, but that's what it's supposed to be and will make it soft and tender ultimately.
Grease the cake pan with some oil and fill it evenly with the cake dough.
Bake at 180°C (356°F) for about 60 minutes. Check with a tooth pick if your cake is done. If non of the dough sticks to it the cake is ready.
Let it cool down for 10 – 15 minutes, then remove the cake mold / pan and let it cool further.
You can store it in the fridge for a couple of days.
In a small bowl mix together cashew butter, maple syrup, a pinch of salt and lemon juice. If necessary add a little water and adjust the icing to your taste by adding more of the ingredients. I liked mine with lots of lemon juice. It you would like to have a more solid texture ad some coconut oil and chill it in the fridge for about an hour.
Add the icing on top of the cake ultimately before serving. Otherwise it'll soak into the cake and won't look pretty pleasing.
Recipe by
Purple Avocado
at https://purpleavocado.de/en/carrot-lemon-cake-cashew-butter-icing/