Savory egg & avocado oatmeal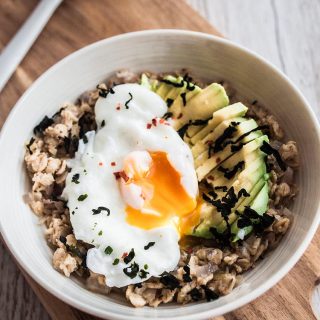 Author:
Sabrina Dietz / Purple Avocado
Portionen / Serves:
1 serving
3-4 tbsp oats
1 shallot
1 clove of garlic
1 piece of ginger
salt & pepper
approx. 200ml water
½ avocado
1 fresh egg at room temperature
1 tsp roasted seaweed
chili flakes
Peel and mince the garlic, shallot and ginger. Add to a pan with oil and roast until golden. Add the oats and roast for a couple of minutes.
Deglaze it with water and under constant stirring bring it to a boil and let it simmer until soft and tender. Season with salt and pepper.
Fill a pot with approximately 5-8 cm with water. Bring it to a boil and let it simmer slightly.
Crack an egg into a small bowl carefully and make sure to not damage the yolk.
With a tablespoon let the egg sink carefully into the simmering water. The egg white will start to solidify around the yolk. Let the egg boil for about 3-5 minutes and take it out of the water carefully with a big spoon or a scoop.
Add the porridge to a bowl. Slice half the avocado and arrange it on the porridge.
Carefully a the poached egg on top and garnish it with chili flakes, salt and some roasted seaweed.
Recipe by
Purple Avocado
at https://purpleavocado.de/en/savory-porridge-poached-egg/