Chanterelle & Scrambled Egg Sandwiches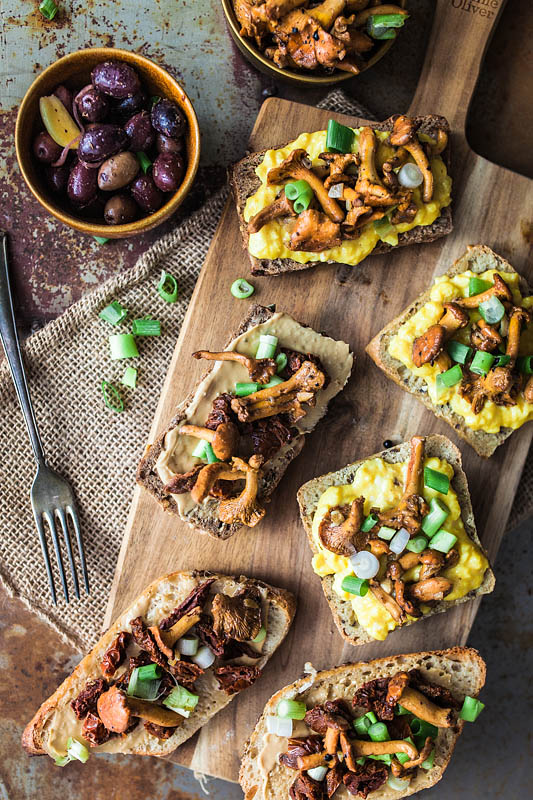 Portionen / Serves:
2 servings
3 buns or 4-6 slices of whole grain bread of choice
300 – 400g chanterelles
2 garlic cloves
3 eggs
3-4 dried tomatoes in oil
3 spring onions
some cashew butter
pepper and salt
Clean the chanterelles carefully with a brush or paper towel. Mince the garlic and add it to a pan with some oil. Heat it up slowly.
Once the garlic was fried for 1-2 minutes add the chanterelles and fry them for about 5 minutes until golden yet firm to the bite.
Turn the heat down and season to taste with salt and pepper. Slice the spring onions and add them to the chanterelles..
In a second pan crack the eggs and whisk them with a fork. Turn on the stove and heat the eggs slowly and gently so that the egg does not stick at the pan. Don't stop stirring until you have a homogenous, soft and creamy texture. Remove the pan from the heat and keep on stirring for a while before adding a little salt.
Halve the buns and spread cashew butter on three, scrambled eggs on the other halves. Lay the dried tomatoes on a kitchen towel to get rid of the excess oil. Cut them into thin stripes and spread them on the buns, as well as the chanterelles and spring onions. Serve with the remaining chanterelles and some olives.
Recipe by
Purple Avocado
at https://purpleavocado.de/en/chanterelle-sandwich-scrambled-egg/