Spicy Tuna Onigirazu Sushi Sandwiches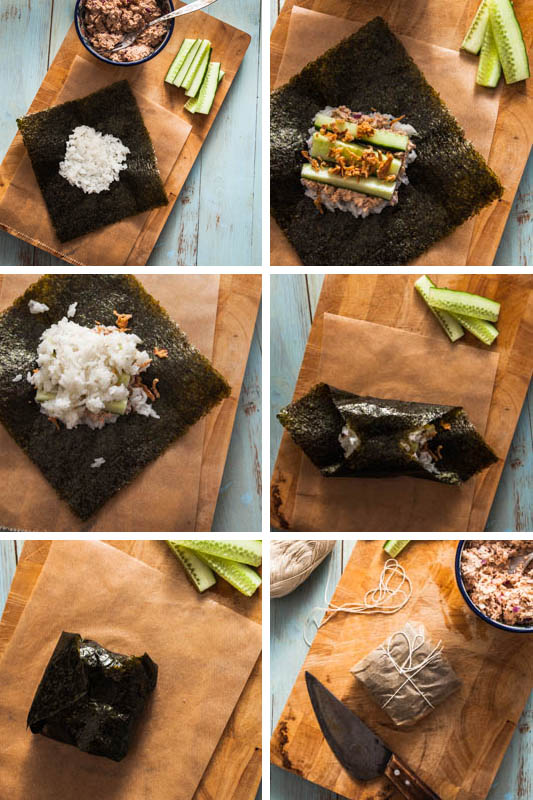 Portionen / Serves:
~ 8 sandwiches
2 cans of tuna (in juice, not oil)
1 red onion
~ 5 tbsp mayonnaise
~ 2-3 tbsp soy sauce
1-2 tsp chili sriracha sauce (to taste)
Tomato
Cucumber
Spring onion
Roasted onions
2 cups of rice
4 cups of water
2 tbsp rice vinegar
½ tsp salt
½ tsp sugar
Rinse the rice under cold water until the water stays clear. Add it to a pot with water and bring it to a boil. Turn down the heat immediately and let it soak for about 12 minutes. Mix rice vinegar, sugar and salt and add it to the rice.
Let the rice cool down before you place it on the nori. It shouldn't be hot anymore.
Peel and mince the red onion. To a bowl add the canned tuna, onion, mayonnaise, soy sauce and chili sriracha and mix it thoroughly.
Cut the tomato, cucumber and spring onion into slices.
Place the nori with on corner facing towards you.
Spread about one tablespoon of rice in the middle of the nori and press it into a square, flat shape carefully.
Spread the tuna paste, tomato, cucumber or spring onion on top and top it all of with another tablespoon of rice. Press it all together carefully. With time you will get a feeling for the right amount of rice and filling to be able to fold the nori properly.
The Nori is now folded from two opposite sites, just like an envelope. Let that sit for a little while before folding the two other corners over, while making sure that no rice is leaking out.
Turn the Onigirazu over and let it sit until it keeps its form. You can now cut it in half and store it in a bento box or lunch box or wrap it in sandwich paper.
If you have trouble folding, you can take some plastic wrap for help.
You can store your Onigirazu for about 1-2 days in the fridge.
Recipe by
Purple Avocado
at https://purpleavocado.de/en/spicy-tuna-onigirazu-sushi-sandwiches/