Vegan coconut pumpkin soup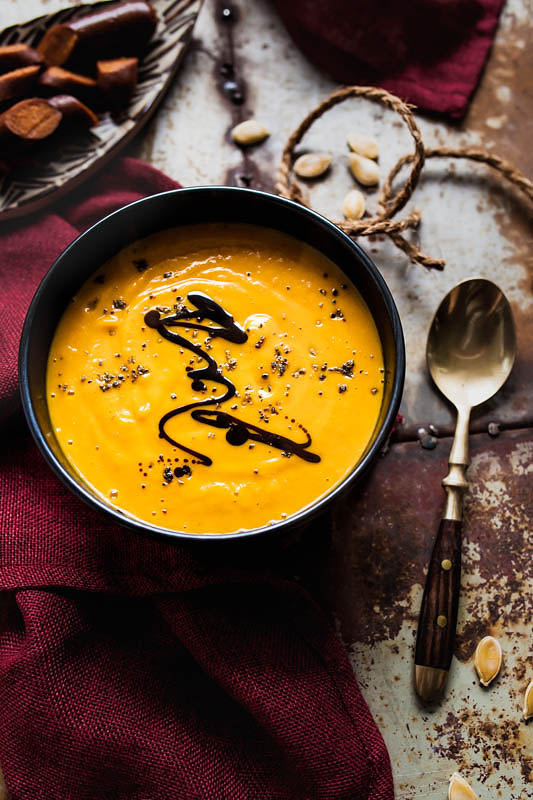 Portionen / Serves:
2-4 servings
1 hokkaido (or musquee or butternut – take whatever fucking pumpkin you like) it should have around 1 – 1,5 kg
400ml canned coconut milk
400ml water
2-3 tsp salt
2 tsp curry spice
2-3 tsp maple syrup
oil for frying
vegan merguez or another salty vegan sausage (I love wheaty)
pumpkin seed oil or aceto balsamico
Wash the pumpkin thoroughly, halve it and scoop out the pulp and seeds. Cut it into thumb-sized pieces. If you're using hokkaido or sweet mama pumpkin don't bother to remove the skin. For the other breeds you'll have to take the effort as they're not edible.
Heat oil in a pot and sautée the pumpkin pieces for a couple of minutes. Add salt.
Deglaze the pumpkin with coconut milk and water and bring it to a boil. Let it simmer for 20 – 30 minutes until the pumpkin pieces can be easily pricked with a fork.
With a hand mixer purée the pumpkin to the desired thickness. If the soup turns out to thick, just add some water. It's too thin? Try starch or some flour.
Season with curry, muscat and maple syrup and – if necessary – some more salt.
Fry the vegan merguez in a pan with some oil and cut it into small pieces.
Serve the soup in bowls and garnish with some pumpkin seed oil or balsamico and add the merguez on top.
Recipe by
Purple Avocado
at https://purpleavocado.de/en/vegan-coconut-pumpkin-soup/