Tomato bruschetta with parmesan cheese crust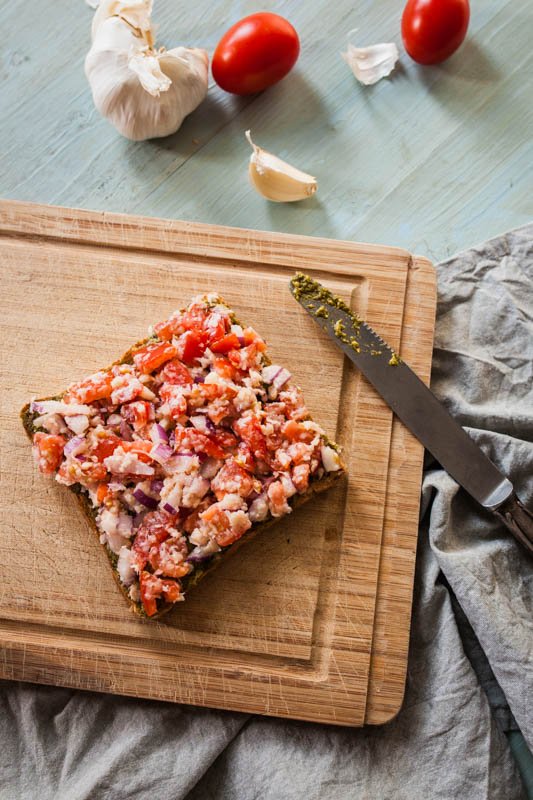 2 slices of toast
2-3 tsp green basil pesto
1 clove of garlic
½ red onion
4 cherry tomatoes (or one medium sized tomato)
180 – 200g parmesan
for the Toast: ca. 6 seconds / 850°C / 1562°F / upper rack
for the parmesan crust: ca. 45 seconds / 850°C / 1562°F / second last rack
Roast the toast from both sides (ca. 6 seconds / 850°C / 1562°F / upper rack). Peel the garlic clove, cut it into half and rub the toast with it.
Mince the garlic. Dice the tomatoes and onions. Grate the parmesan.
Mix the garlic, tomatoes and onions with 2-3 teaspoons of parmesan in bowl.
Spread some pesto on the toast. Now evenly spread the tomato-onion-mixture and make sure to cover the toast up until the very edges (as it will prevent the toast from burning). Afterwards cover it generously with parmesan. The layer can very well be 1cm thick, as it will shrink together and build a beautiful crust.
For about 45 seconds broil the toast on second last rack at full heat.
Recipe by
Purple Avocado
at https://purpleavocado.de/en/4-indoor-bbq-recipes/