Risotto with sunchoke (topinambour) and mushrooms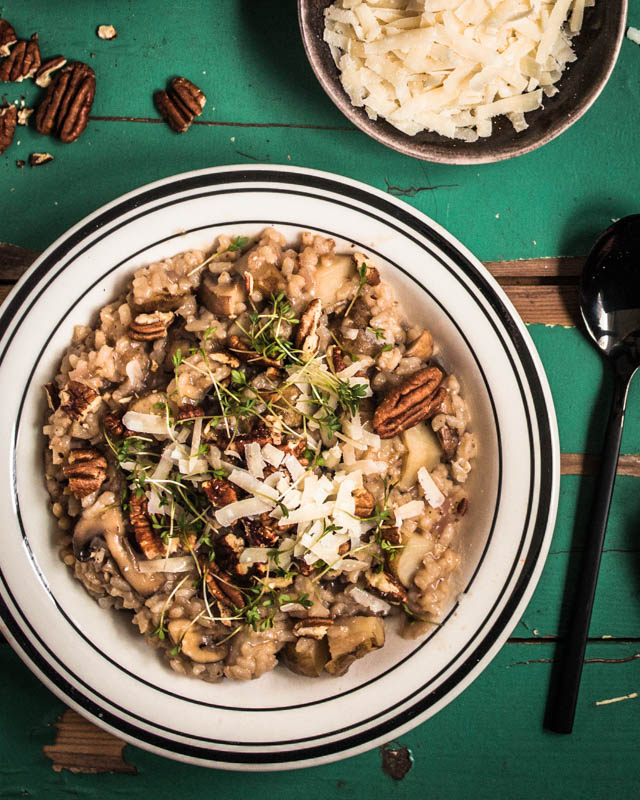 Portionen / Serves:
3-4 servings
300g (1 ½ cups) risotto rice
600 – 650ml (4-5 cups) vegetable broth
1 onion
2 garlic cloves
1 dash of apple vinegar (or white wine)
500 g (about 5 cups) diced mushrooms
500 g topinambour / sunchoke
1 hand full of chopped, roasted pecan nuts
½ hand full parmigiano reggiano
some cress as garnish
For this recipe you'll need two pots and some coordination. I'd recommend to work in this order: 1. roast the pecan nuts 2. wash and cook the sunchoke 3. prepare mushrooms and risotto rice
Clean and dice the mushrooms. Peel and mince the onion and garlic. Set everything aside.
Roast the pecan nuts without oil in a pot until is smells deliciously nutty. Be careful not to burn them. Set aside.
We'll be preparing the sunchoke with the skin. If you prefer them peeled, that's of course no problem either.
Wash the sunchokes with cold water and dice them into bite size pieces. Add to a pot with salted water and bring it to a boil. Let it cook for 20 – 30 minutes until soft. You can test the softness with a fork / knife.
Heat olive oil in a pan and fry onions and garlic in it until glazed. Add the diced mushrooms and fry it for a about 3 minutes. Lastly you add the risotto rice and fry it for another 2-3 minutes.
Deglaze with a generous dash of apple vinegar (or white wine) and let it slowly vapour.
Turn down the heat and add the vegetable broth bit by bit. Stir from time to time and only add more broth once it's soaked from the rice.
After about 20 – 30 minutes the risotto should be nice and soft, as well as the sunchoke. Drain off the water and add the sunchoke to the risotto. Stir together carefully.
Serve your risotto in bowls or deep plates and garnish with parmigiano, chopped pecan nuts and some cress.
Recipe by
Purple Avocado
at https://purpleavocado.de/en/sunchoke-mushroom-risotto/