Vegan apple cinnamon oatmeal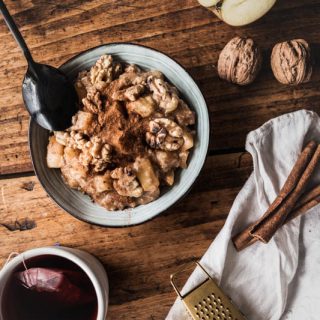 Author:
Sabrina Dietz / Purple Avocado
Portionen / Serves:
2 servings
2 sweet and sour apples (e.g. Braeburn, Elstar or Gala)
1 Banana
at least 1 tsp cinnamon (more is always better)
2-3 tbsp honey
1 tbsp butter / margarine
2 cups of water (400-500ml)
1 cup of oats (about 60g)
1 hand full of roasted walnuts
Wash the apples, remove the seeds and dice them. Heat butter in a pot on medium heat. Once it's melted you can add the apple pieces and roast them for a minute.
Add honey and cinnamon and fry for about 3-5 minutes until the apples have softened a bit.
Peel and slice the banana and add it, with the oats to the pot.
Stir and roast for a while and deglaze with 2 cups of water.
Cook until you get the desired texture, thick and soft and creamy.
Serve in bowls and garnish with walnuts (and more cinnamon and honey if you like)
Instead of cinnamon and honey you can add a tbsp of peanut butter or speculoos cream for a change.
Recipe by
Purple Avocado
at https://purpleavocado.de/en/baked-apple-oatmeal-cinnamon/