Creamy, garlicky mashed sweet potatoes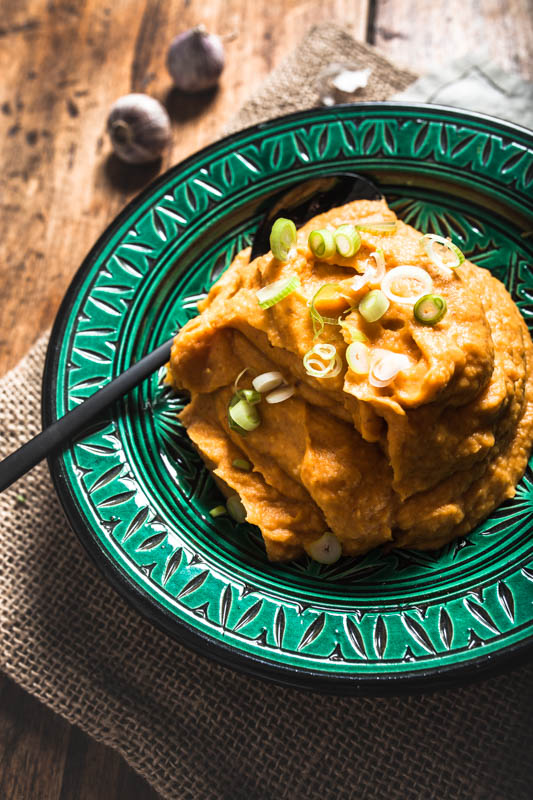 Author:
Sabrina Dietz / Purple Avocado
Cuisine:
vegan, vegetarian
Portionen / Serves:
for 3-4 servings as a side or 2 servings if you're really hungry
1kg of potatoes or sweet potatoes
1 bunch of chives
150 ml (¾ cup) of (plantbased) cream
3 piled tbsp (about 90g) margarine / butter
3 garlic cloves (it's implicitly allowed to adjust this number to your own garlic needs) Tip: roasted or pickled garlic will be much less spicy and very soft in taste)
1 tsp nutmeg
salt
Peel and wash the potatoes. Add salted water to a pot and cook the potatoes for about 20 – 30 minutes until soft.
Peel and mince the garlic or press it through a garlic crusher.
Once the sweet potatoes are cooked and soft drain the water through a strainer and leave the potatoes in the pot.
Bit by bit add the margarine, cream and garlic to the potatoes and use a potato masher* until you have a thick and smooth mass and all the ingredients are blended well.
Season to taste with salt and nutmeg.
Mince the chives and stir them under the mashed potatoes.
You can either use a potato masher or a hand-held blender. However, it takes some more muscle power to receive a creamy result with the non-electric device.
The desired texture – smooth or clumpy – also depends on your personal taste.
If you're working with the potato masher be sure to mince the garlic very finely to prevent unpleasent situations in which you bite on a raw piece of garlic.
Recipe by
Purple Avocado
at https://purpleavocado.de/en/garlicky-mashed-sweet-potatoes/