The perfect scrambled eggs with creamy garlic spinach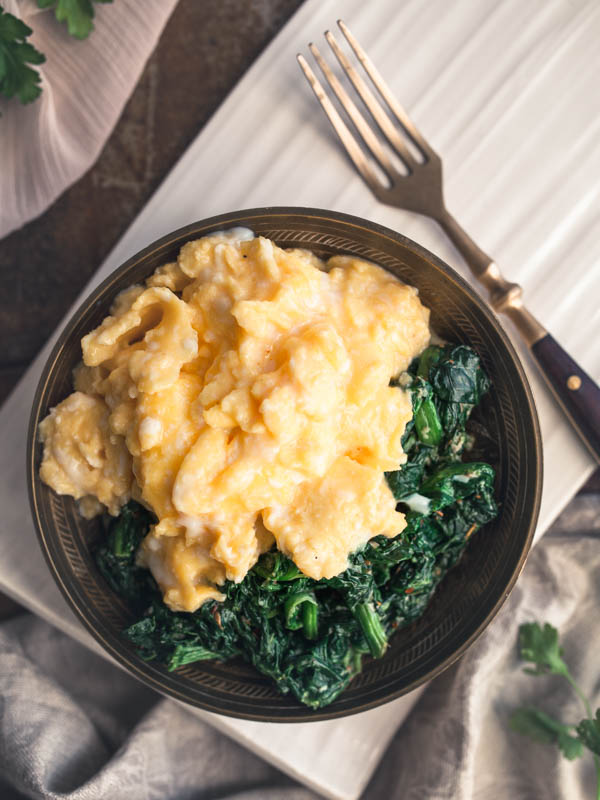 Author:
Sabrina Dietz / Purple Avocado
Portionen / Serves:
1 portion
2-3 eggs (or any amount that you can tolerate cholesterol-wise
some oil or margarine
250g fresh spinach
1 garlic clove
2-3 tbsp cream cheese
1-2 tbsp grated Parmesan
salt + pepper
Add the spinach to a strainer and wash it with cold water while kneading and roughly tearing the bigger leaves.
Add some oil to a pan and heat it (medium). Add the spinach (gradually if your pan is to small – as the spinach will shrink immensely). If you like you can add a dash of water, but the spinach will shrink and become soft anyway.
Peel and mince the garlic clove and add it to the spinach, once it's cooked, as well as the cream cheese and Parmesan.
Season to taste with salt and pepper and leave it on the stove at low heat while you prepare the scrambled eggs.
Add the eggs to the gold pan and whisk them with a fork. Turn on the heat and start stirring as soon as the egg starts sticking to the base. If it thickens too quickly remove the pan from the head and whisk thoroughly before heating it up again. Continue until your desired consistency. Season to taste with salt and pepper.
Recipe by
Purple Avocado
at https://purpleavocado.de/en/perfect-scrambled-eggs-garlic-spinach/