Vegan Pesto with Walnut and Parsley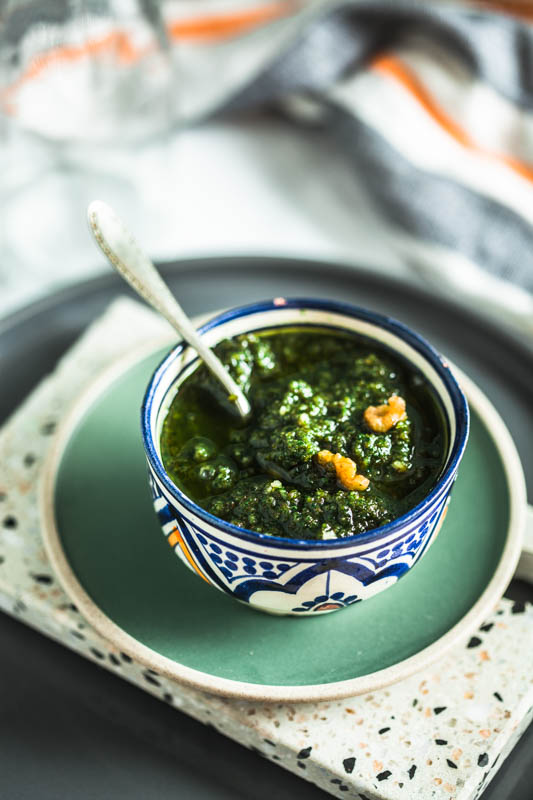 Author:
Sabrina Dietz / Purple Avocado
1 bunch / ~40g parsley
½ cup / ~ 60 – 70g walnuts
2-3 tbsp nutritional yeast
as required olive oil (~ 30 – 50ml)
salt to taste (½ tsp)
optional:
½ tsp sweetener such as agave syrup
1 garlic clove
4 thick slices of fresh bread
1 beef tomato
1 hand full of fresh spinach
~ 20g cashew butter (or almond butter) → recipe (basically anything sweet and creamy that gives a good contrast to the pesto will do fine – such as mayonnaise or the like)
½ red onion
½ zucchini / courgette
Wash the parsley and add it as a whole whole to a high jar. Add walnuts, nutritional yeast, salt and some olive oil and mix everything until you have a creamy, soft mass. Add as much olive oil as needed to get the texture right and season to taste with more salt and yeast flakes if necessary.
Wash and slice the tomato and zucchini thinly. Salt from both sides and fry with some oil in a pan until nice and soft.
Remove the veggies and add the bread slices to the pan and fry them crisp and golden. Rub the inside with a garlic clove for that extra aroma.
Spread cashew butter on the lower slice and add some spinach leave on top. Spread it with tomato, zucchini and onions to your liking.
Coat the other slice of bread generously with your freshly made pesto and fold the sandwich together (and halve it if necessary).
Best served when still warm.
Recipe by
Purple Avocado
at https://purpleavocado.de/en/vegan-pesto-with-walnut-parsley/