Feta Watermelon Basil Salad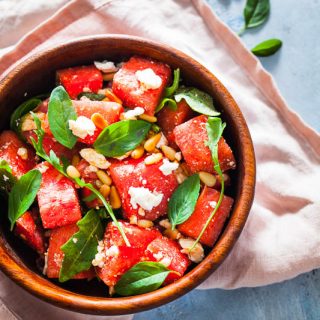 Author:
Sabrina Dietz / Purple Avocado
Typ:
Salad, Starter, Side
Cuisine:
Vegetarian, Vegan
Portionen / Serves:
2 servings (as main)
ca. 700g / ½ a watermelon
150 - 200g (1 Pack) of Feta cheese
50g (1 hand full) arugula
1 bunch of basil
50g (1/3 - ½ cup) roasted pine nuts
3-4 tbsp olive oil
1-2 tbsp balsamic vinegar
1 pack of fermented tofu (slightly roasted in a pan)
a hand full of black olives (without stone)
Half the melon and remove the green, hard shell. Dice the red pulp into thumb-sized pieces and add it to a bowl. Depending on the melon and your taste you might need to remove the seeds with a spoon.
Dice the feta cheese or crumble it with your hands.
Wash the arugula and basil. Tear the basil to bits roughly and add everything to the bowl.
Roast the pine nuts in a hot pan without oil for a couple of minutes until golden. Keep your eyes glued to the nuts since they burn quite easily.
The 'dressing' will be prepared in the bowl. Simply add a generous dash of olive oil and about 1-2 tablespoons of balsamic vinegar to the bowl and stir carefully.
Let the salad chill in the fridge for about an hour (it's best enjoyed when cold).
Serve the pine seeds on top of the salad or mix them under the salad in advance.
Recipe by
Purple Avocado
at https://purpleavocado.de/en/feta-watermelon-basil-salad/