Weißer Glühwein mit Sinalco Orange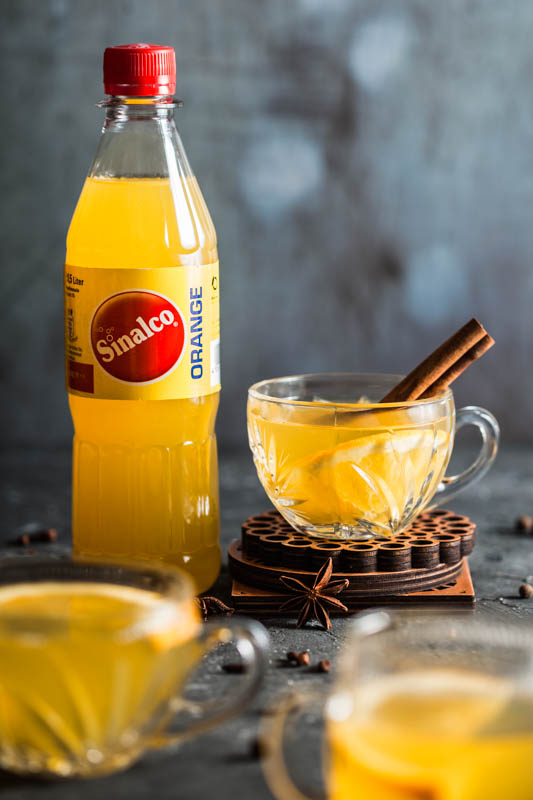 Author:
Sabrina Dietz / Purple Avocado
Cuisine:
Christmas, Winter
750ml high-quality white wine (make sure it is declared as 'vegan')
500ml – 750ml Sinalco Orange lemonade
2-3 Oranges
2 sticks of cinnamon
allspice / pimento - approx. 10 grains
star anise - approx. 5-7 pieces
sugar / agave syrup
apple or orange juice
Add the white wine and gluhwein spices to a pot and put the stove onto medium heat, slowly heating the mulled wine.
The longer you allow the spices to infuse, the stronger the taste will be in the end.
Halve the oranges and cut one half into slices to decorate your glasses or mugs later on if you like. Extract the juice from the remaining oranges and add them to the mulled white wine.
Shortly before the wine starts to boil you can turn down the heat and give it a first taste. Let it sit for longer if you want the spices to be more intense.
Now you can add the Sinalco lemonade and reheat the gluhwein for another 1-2 minutes. Add the Sinalco as late as possible to restore some of the carbonic acid for the sparkling effect. How much lemonade you want to add depends on your own taste.
Serve the mulled white wine in glasses or mugs and enjoy with some cookies or other Christmas treats.
Recipe by
Purple Avocado
at https://purpleavocado.de/en/german-mulled-wine-recipe-sinalco/