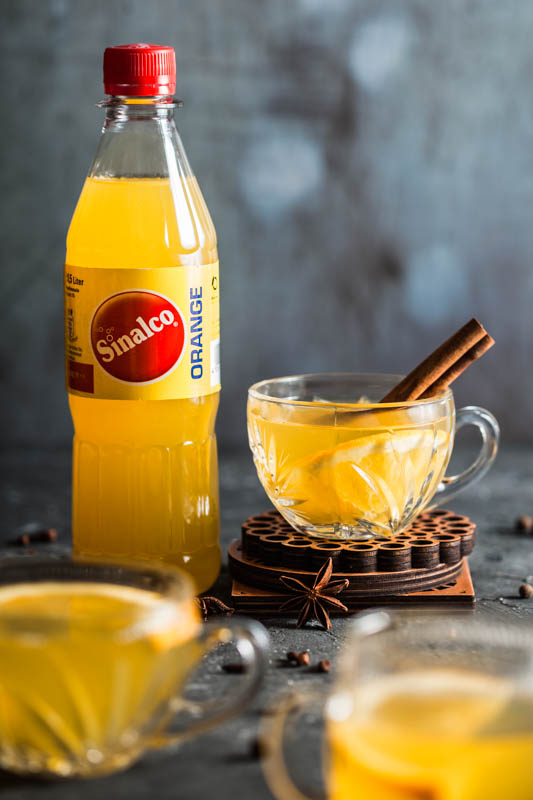 (Paid advert for Sinalco) – Do you still remember my Christmas market rant from last year? Let's be honest, my Grinch image is quite established by now. This year I have neither baked cookies, did Christmas present shopping nor am I all too sad that we didn't have much snow yet (as a driver I'm probably not alone with that feeling).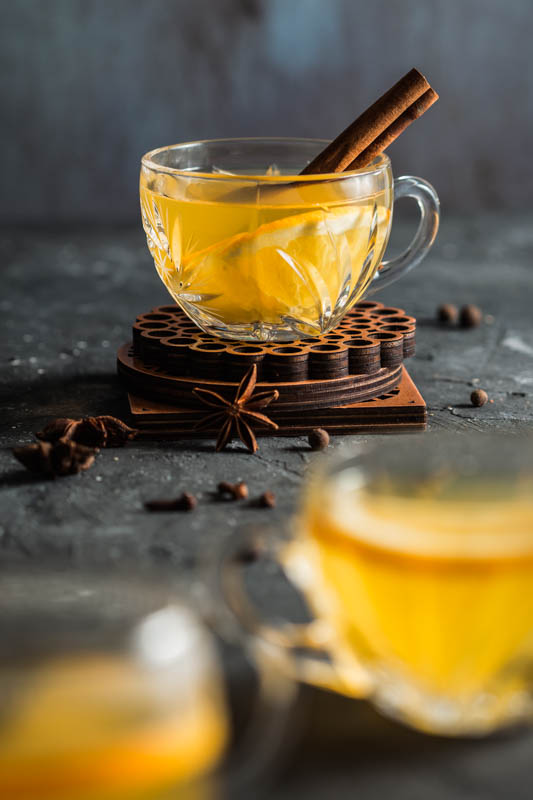 Nevertheless my Grinchy self has visited two (!) Christmas markets with friends already. I've travelled all the way to Hameln to meet an old friend (the market sucked) and I've visited the beautiful medieval Christmas lights market in Dortmund (so worth a visit). Yet I haven't come across the opportunity to drink a nice and hot german mulled wine (or "gluvine" as some may say).

How to make homemade german mulled wine
While it can be very nice to hold a hot cup of german gluhwein in your hands while standing in the freezing cold I prefer to drink the white version, as mulled white wine, from the cozy place that is our sofa while watching un-Christmassy movies and series. A crazy viking trying to take over Paris, a Doctor hunting Daleks or an epic family guy chicken fight are my perfect companions to a fruity and hot german mulled wine. As perfect as timing could get I did get a collaboration request from  Sinalco which inspired me to adjust my 'old' mulled white wine recipe and add a fresh and sparkly extra.

Vegan mulled wine?
If you happen to have chosen to change your diet to a fully vegan one there are a lot of things to be aware of. If you're a wine drinker from now on you have to make sure your guilty pleasure is declared as 'vegan' or else it quite likely has been filtered through a fish bladder.
The same applies to most soft drinks such as juices and lemonades. The ingredient list unfortunately is not an indicator for such things as it does not provide information about animal products being used during the production progress.
Therefore any company that decides to go fully vegan with their whole range of products – like Sinalco) did – makes a vegans heart leap for joy. No matter which Sinalco product you chose you can be certain that it is 100% vegan, gluten- and lactose-free as well as produced with all natural mineral water.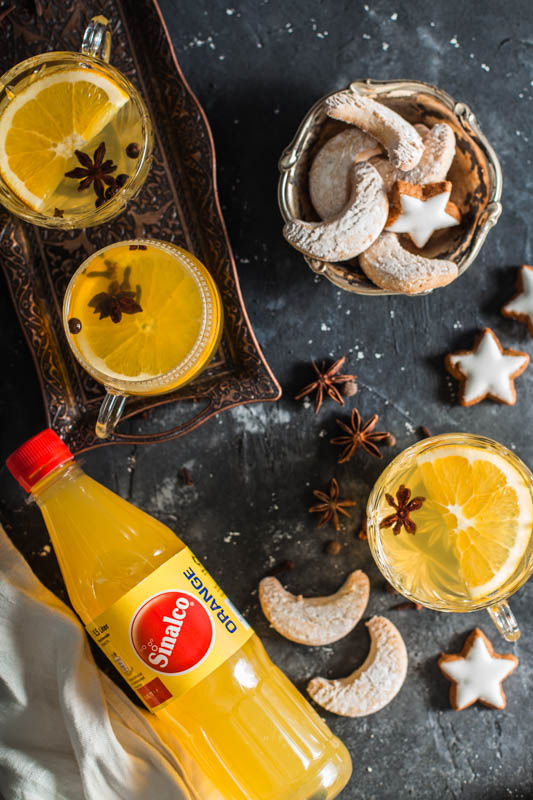 The lemonade from Sinalco is not just a perfect addition for a sparkly mulled white wine experience. It can also be used for baking (instead of water or sparkling water) to achieve a mostly fluffy and airy end result.

Weißer Glühwein mit Sinalco Orange
Author:
Sabrina Dietz / Purple Avocado
Cuisine:
Christmas, Winter
Zutaten / Ingredients
750ml high-quality white wine (make sure it is declared as 'vegan')
500ml – 750ml Sinalco Orange lemonade
2-3 Oranges
gluhwein spices
2 sticks of cinnamon
allspice / pimento - approx. 10 grains
star anise - approx. 5-7 pieces
optional to add more sweetness
sugar / agave syrup
apple or orange juice
Zubereitung / Instructions
Add the white wine and gluhwein spices to a pot and put the stove onto medium heat, slowly heating the mulled wine.
The longer you allow the spices to infuse, the stronger the taste will be in the end.
Halve the oranges and cut one half into slices to decorate your glasses or mugs later on if you like. Extract the juice from the remaining oranges and add them to the mulled white wine.
Shortly before the wine starts to boil you can turn down the heat and give it a first taste. Let it sit for longer if you want the spices to be more intense.
Now you can add the Sinalco lemonade and reheat the gluhwein for another 1-2 minutes. Add the Sinalco as late as possible to restore some of the carbonic acid for the sparkling effect. How much lemonade you want to add depends on your own taste.
Serve the mulled white wine in glasses or mugs and enjoy with some cookies or other Christmas treats.
In order to restore the carbonic acid in your gluhwein you want to make sure to add the lemonade shortly before serving and not to heat it all the way through. Also make sure that your gluhwein spices are fresh and aromatic – your results will come much quicker and the gluhwein will taste much more intense.
What is your favourite german mulled wine? Are you team red wine or white wine? Christmas market or rather living room? However you decide I wish you a lovely end of the year, some relaxing holidays and all the best for 2019!
You might like this as well
Vegan Christmas 'roasts'
Vegan Desserts