I am a total salad snob. One of the main reasons why I never order salad in restaurants is that I do not consider saggy lettuce, cucumber and tomato with – if you're lucky – some onions, corn and ONE olive a proper meal (the second reason is that those 'salads' often cost a fortune, considering that some basic ingredients were tossed together and mixed with a boring, unspectacular yoghurt dressing. Such a salad is only accepted as the side to my gyros or doner.
In my humbly opinion a salad is destined for greater purpose than a mere side dish for a piece of meat. This is why I stay away from restaurant-salads and start crafting in my own kitchen instead.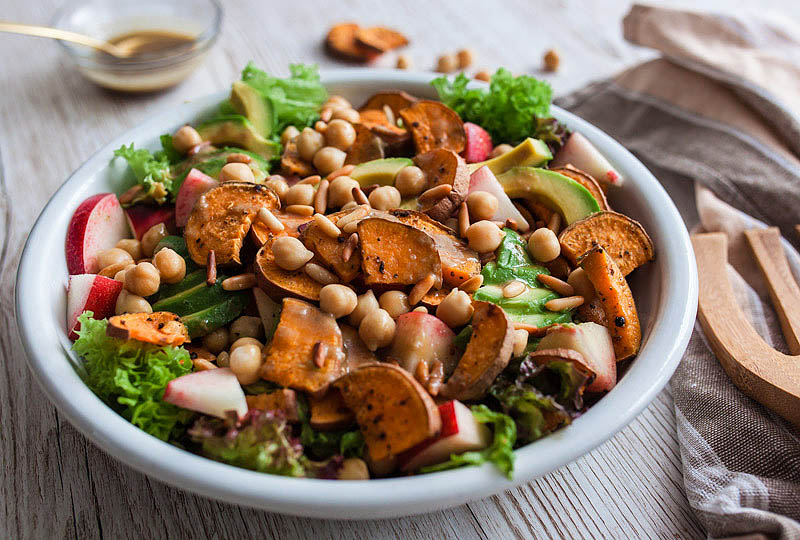 Salad Inspiration
can be found anywhere. I love to check out other blogs or Pinterest.
Lots of ingredients that taste warm, are often equally tasty when cold. Pasta, rice, gnocchi, potatoes – the perfect base for your deliciously stuffing salad.
By now you should have recognized my kindly obsessed relationship to sweet potatoes. I love them and there's already lots of recipes with them on the blog:
Sweet Potato Recipes
And now a delicious sweet potato salad is joining the collection. This salad combined a variety of different ingredients and can be eaten either warm or cold. It's the perfect travel snack as the ingredients are not so heat sensitive and will survive a longer, non-chilled trip without trouble.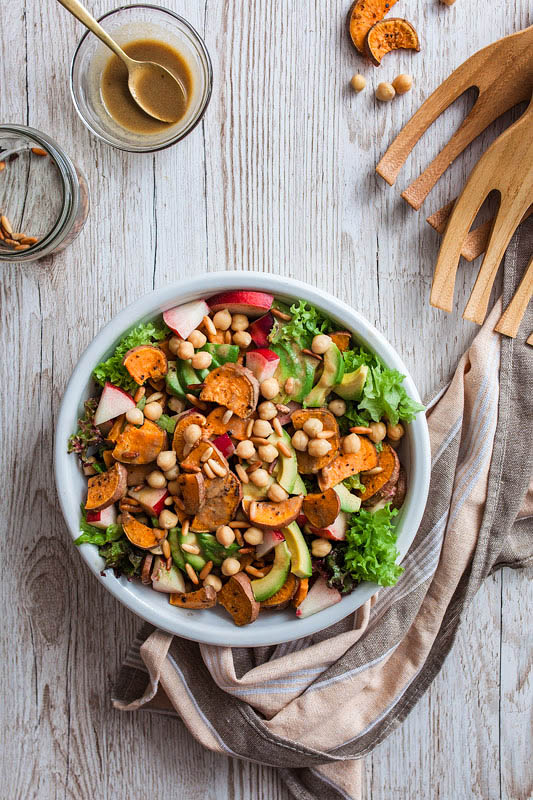 Let's have a look at the ingredients:
soft sweet potatoes
creamy avocado
fresh, crisp salad
sweet, soft nectarines
roasted, crunchy pine seeds
small, solid chick peas
The dressing is one of my absolute favourites, that fits well with many different salads. My Canadian friend, the maple syrup, is such a great alternative to sugar (or even honey), as it has this special, caramel-ish taste. If you like it hot you can go for the extra spicy mustard but I would recommend the medium hot version so that you can actually get a hint of all the different tastes.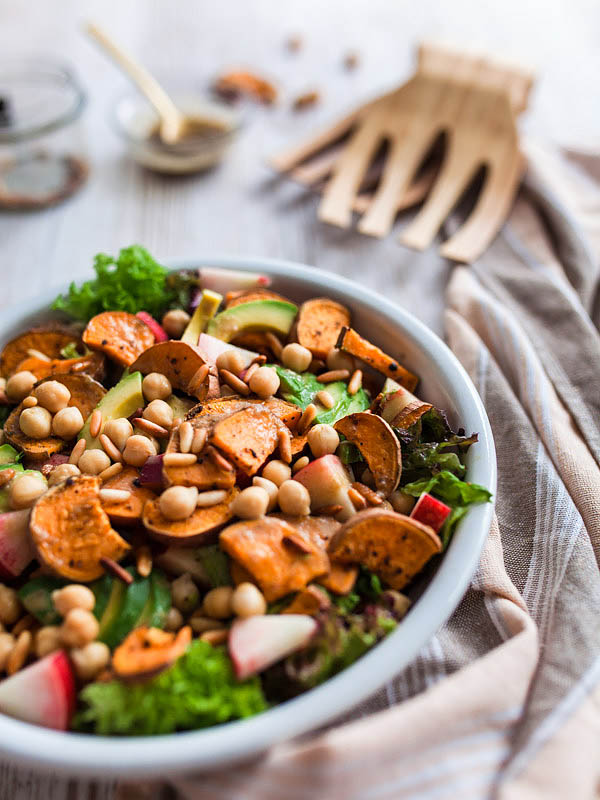 My basic tips for an interesting and filling salad are the following:
different textures – soft, crunchy, creamy, solid
different tastes – sweet, salty, sour, umami
a high quality protein source – beans & peas (kidney beans, chick peas…), tofu / tempeh / seitan, meat, fish or sea food
or carbohydrates – rice, pasta, potato
and good fats – oil, avocado, nuts, seeds
add a nice dressing et voilà!
It's actually quite easy and opens up a whole cosmos of salad possibilities. In the upcoming weeks I'm surely adding one or another additional salad recipe here on the blog 🙂
I've also linked some more recipes at the end of this post.
Nectarine & Sweet Potato Salad with Maple Syrup & Mustard Dressing
Portionen / Serves:
1 big bowl for 2
Zutaten / Ingredients
Salad
2 medium sized sweet potatoes (500 – 600g)
salt & pepper
1 avocado
300 – 400 g canned chick peas
1 hand full of salad / spinach
1-2 nectarines
2-3 tbsp pine seeds
Dressing
1-2 tsp mustard
~ 10 ml rice vinegar (or red wine vinegar)
~ 20 ml olive oil
a dash of sesame oil
1-2 tbsp maple syrup
a dash of soy sauce
Zubereitung / Instructions
Preheat the oven to 180°C (356°F). Wash and dice the sweet potato ( leave the skin on). Add them to a bowl with cold water and leave them in for about 10 – 15 minutes. Dry the potato dices roughly afterwards and mix them in a bowl with some salt and pepper.
Spread the potatoes evenly on a baking tray and roast them at 180°C (356°F) for about 30 minutes until soft and tender. Check the texture with a fork.
Dice the avocado. Drain the chick peas through a sieve and wash until no foam is left. Wash and dice the nectarines.
Roast the pine seeds in a pan without oil until golden brown.
Mix together all the dressing ingredients in a big bowl. It should taste a little sour.
Let the sweet potato cool down a little and add them together with the salad ingredients (expect for the pine seeds) to the dressing bowl and stir carefully.
Drizzle the pine seeds on top and serve warm or cold.
More salad recipe inspiration: