Are you ready for an easy alternative to sushi and a boss ass lunch idea? In one brilliant recipe? I love sushi, but sometimes it's just too filigree and time consuming. Instead I'm showing you how to fill and fold sushi sandwiches along with some amazing onigirazu filling ideas.
But what the heck are Onigirazu?
It's basically rice and a filling of choice wrapped in crisp nori seaweed. It's shaped like a sandwich (or, in the case of onigiri formed into a ball) and therefore perfectly suited to be packed in wrapping paper or a lunch box and eaten on the go. [more info]
I personally love a bit variety in my lunch box and prefer a rice sandwich to ordinary bread most of the time.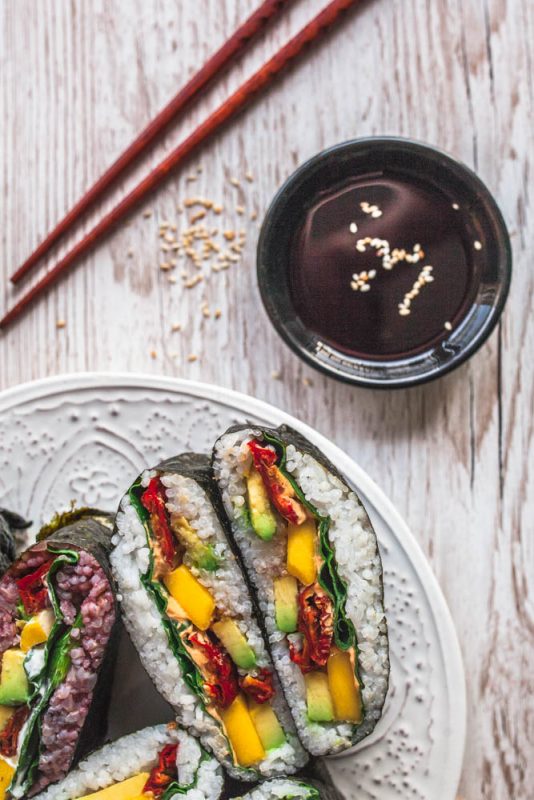 How to make a Sushi Sandwich
It's in fact rather easy, and I've explained it in detail in the recipe below. Yet, as I'm a very visual person, I can totally understand that reading something is always more difficult than actually SEEING it! So, with the help of my boyfriend Grimm, who was my handsome hand model I've created a little video for you to understand the whole process better. I hope you like it 🙂 [yet another great video]
Onigirazu Filling Ideas
Now that we've got the basics, let's talk about the filling. I personally love vegan and vegetarian onigirazu a lot, but there are some meaty and fishy fillings I can't say no to either.
Let me introduce you to my favourite onigirazu fillings:
// Meat & Fish
Chicken Terriyaki
Garlic marinated shrimps with shallots
English Breakfast (Ham, Bacon & scrambled eggs)
California Roll Style (cucumber, crab meat, avocado, mayonnaise)
// Vegetarian & Vegan
Scrambled eggs
Baked sweet potato
Smoked tofu with peanut sauce
Sesame or coconut coated tofu
Mango, Spinach, Cream Cheese, walnuts, dried tomatoes (recipe below)
Tomato, Mozzarella and Pesto
Pesto, Cheese and Walnuts
Red Cabbage and Hummus
Fried egg plant or zucchini
Fresh red peppers, carrots or cucumber
fresh spinach, rocket or any other salad
pak choi or mangold
green or white asparagus, along with dried tomatoes or apricots
// Sushi Recipes that can be easily turned into Sushi Sandwiches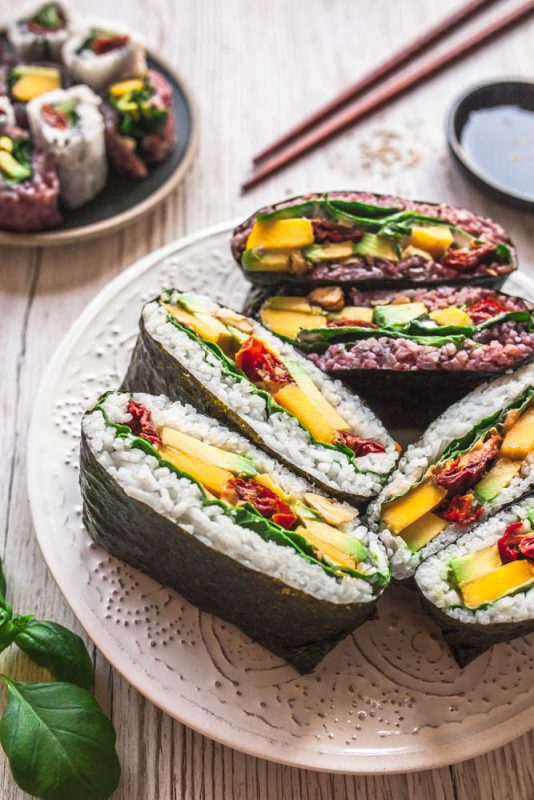 I hope this gives you a little idea about HOW AMAZING + VERSATILE onigirazu sandwiches truly are.
As for today's recipe I'd like to show you one of my latest creations which is not only very healthy and filling but looks like a beautiful RAINBOW! Who wouldn't want a rainbow on his / her plate?
They are easy to make and you can switch the ingredients as you like (you should have enough options by now). For this recipe I combined sweet and mango, fresh spinach and creamy avocado with a pinch of salt, a fruity cream cheese, soft, sundried tomatoes and some roasted walnuts for the crunch.
I can tell you it was so tasty I had to redo them the next day. Definitely give this combination a try and please let me know your favourite onigirazu recipes in the comments below.
HAPPY FOLDING!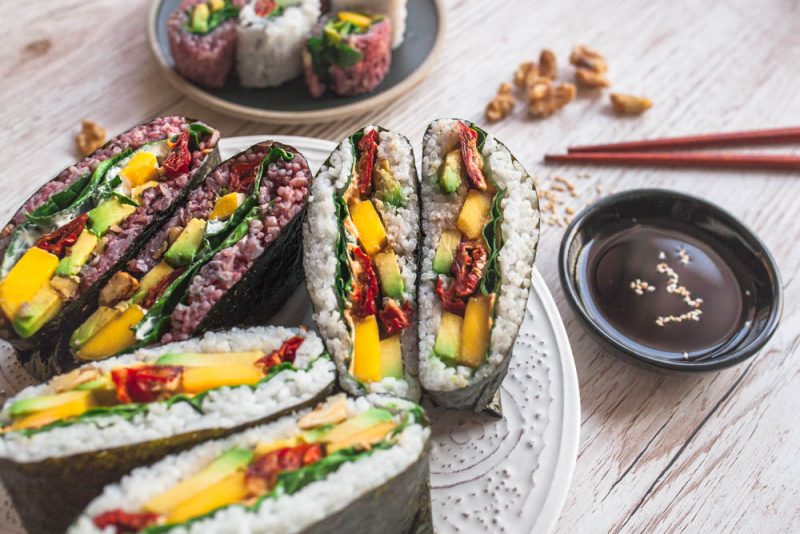 Vegetarian Onigirazu Recipe
Author:
Sabrina Dietz / Purple Avocado
Portionen / Serves:
for about 8 sandwiches
Zutaten / Ingredients
2 cups of rice (jasmine rice or sushi rice are most suitable)
4 cups of water
8 nori leaves
FOR THE FILLING
cream cheese with tomato or herbs (whatever you like the most)
1 avocado
a handful of fresh spinach
½ mango
16 pieces of sundried tomatoes
a pinch of salt
1 handful of roasted walnuts
Zubereitung / Instructions
Rinse the rice under cold water until it stays clear. Add the rice to a pot with 4 cups of water and bring it to a boil. When it boils turn off the heat and let the rice simmer for about 15 minutes – the lid remains on the pot. After the 15 minutes take the pot off the heat, remove the lid and let the rice sit for another 5- 10 minutes before transferring it to a cold bowl. Let the rice cool down before processing it further as warm rice might tear the nori leaves (you can actually prepare the rice the evening before and store it at room temperature. Not in the fridge as it will get lumpy)
Wash and dry and spinach. Halve the avocado, remove the stone and cut slices into it. Scoop out the slices with a spoon. Roast the walnuts quickly in a pan without oil until slightly brown.
Cut through the mango on both sides next to the stone and cut slices into the halves, just like you did with the avocado. Scoop out the mango stripes with a spoon and don't forget to cut off the remaining pulp around the stone.
HOW TO FOLD ONIGIRAZU (also have a look at the video)
Place the nori leaf on a chopping board, one of the corners heading towards you.
Add about 1-2 tablespoons of rice in the middle of the nori leave and press it into a flat, square shape. The corners of the square point towards the long sides of the nori.
THE FILLING:
Start off with 3-4 leaves of spinach, then add a generous amount of cream cheese. On top you place the mango slices, dried tomatoes and avocado. Season the avocado with a pinch of salt (and some pepper if you like). Top it with chopped walnuts and at long last another layer of rice. It's easiest if you carefully drizzle it on top and only press it on lightly. It'll get into shape once you fold the onigirazu.
Fold the upper and the lower corner towards the middle carefully pressing them onto each other. Some water on your finger will help to glue them together. Now take the other corners, fold them and be careful not to tear the nori (it'll get softer once it's in contact with the rice).
Turn the completely folded onigirazu over, press it a little into shape and let it sit for some minutes.
STORAGE
You can now either cut the onigirazu into halves or keep it whole. Wrap it into plastic wrap or baking paper or simply store it in a container. You can store the onigirazu for a day in the fridge, yet they are most tasty when fresh.
Pin it for later