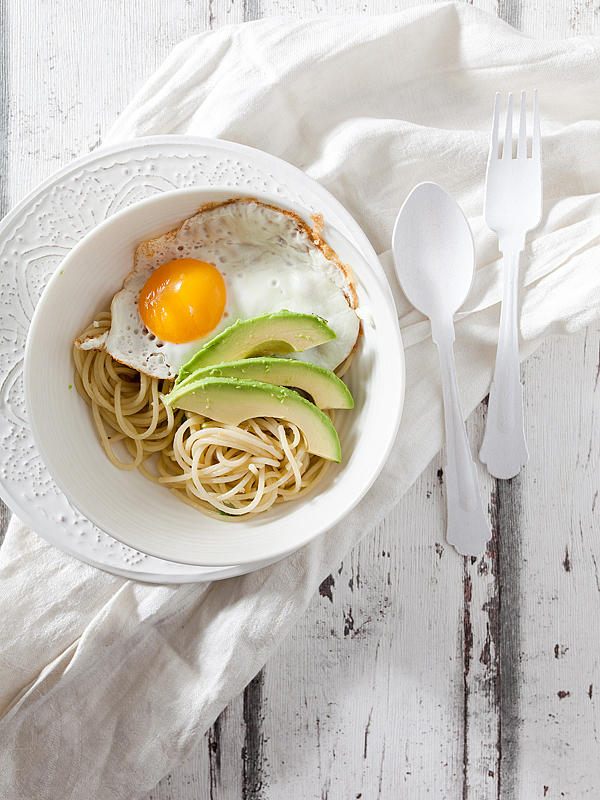 Let's be a bit minimalistic today and enjoy this immensely swift and feasible weekend dish. Spaghetti. Garlic. Shallots. Ginger. Avocado. Fried egg. This meal is a keeper. It made me extremely happy the night I created and photographed it. It made me so happy – I ate it all before I could take more decent photos (food photographer fail), which is why you get to see only three photos. I'm terribly sorry, but I got weak. It was almost midnight and I wanted to sleep.
Apart from that there was avocado involved. And that's some serious business. Read the blog title and tell me again that I should wait eating an avocado that looks so promising and coquettish.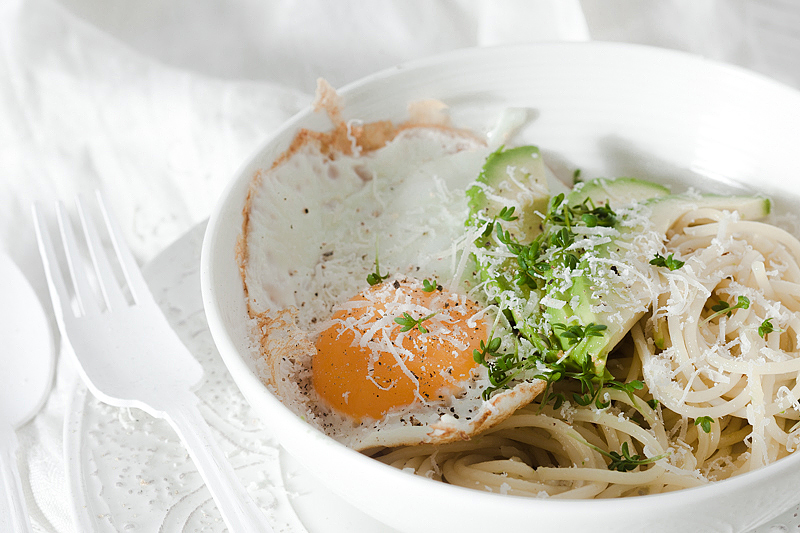 But despite the lack of diverse food photos I want to share this simple recipe with you anyway. Because – as I mentioned before – it is so satisfying and pleasing in its simplicity. The combination of avocado and egg is just epic! And combining onions and garlic with ginger was a tip of a friend from Berlin which whom I had a great night out last weekend in Hanover.
She also has a great blog, Food is taking over, in which she shares the best food from Berlin and some gorgeous, unique recipes. She also made some bad ass avocado pasta – guacamole pasta to be precise. I'd marry this pasta instantly, if it weren't for the Brussels sprouts, which I hate since I was a kid.
Pasta with Avocado, fried Egg and ginger
Portionen / Serves:
1 portion
Zutaten / Ingredients
100 - 150g spaghetti
salt
soy and olive oil
1 avocado (ripe and soft and creamy)
1 egg
1 - 2 cloves of garlic
1 small shallot
1 small piece of ginger (about the same amount as the garlic)
Zubereitung / Instructions
Cook the pasta. I don't have to explain how to cook pasta, eh?
Mince the garlic, shallot and ginger. The smaller the pieces the better. You want to taste the ginger but you don't want to chew at it.
Add soy oil (or any other oil that can be heated) to a pan and put it on medium heat.
Fry the onion until glassy and add the minced ginger and garlic to the pan.
Add the cooked pasta to the pan.
Dice the avocado and add it to the pan. Add some olive oil and salt (that's why the stove should be on medium heat. The olive oil shall not burn) and stir it all carefully.
Take another pan and fry an egg. I won't explain how to do this. You can do that!
Serve the pasta in a bowl with the egg on top and some avocado slices as garnish (you eat with your eyes first). Add some parmesan and cress if you want.