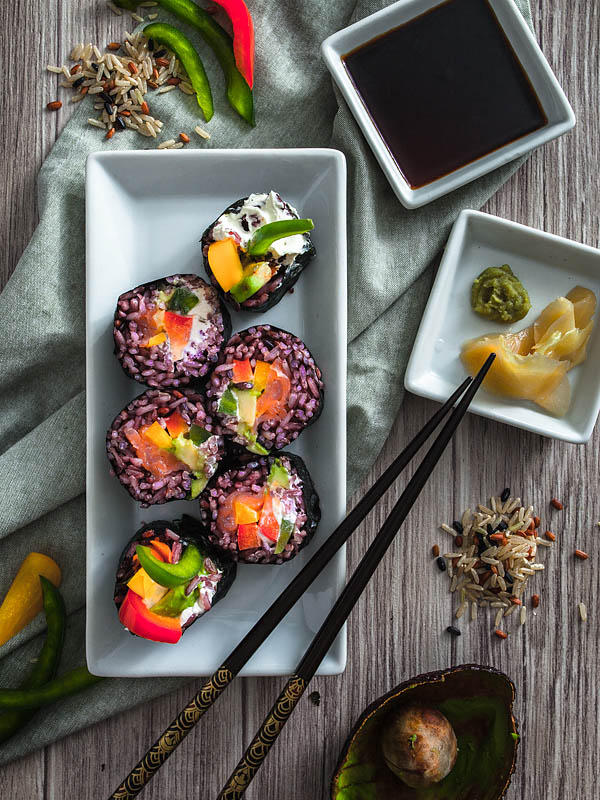 Since we're at it already, how about making some sushi again this week?
The salmon will stay, everything else will change and it's going to get crispy and colourful.
As you already know, I'm always on the lookout for some kickass inspiration for fancy sushi creations.
Food colouring or all natural?
I'm definitely not a fan of food colouring, though – neither the chemical nor the natural stuff. Even though I'd still dye my rice (or whatever other ingredients) with natural colourants such as red cabbage, turmeric, or spinach.
In general though, any food looks the most beautiful and delicious in its original, natural colour – in my humble opinion. But why should I dye my food anyway? Like I said – I'd rather go for the natural look.
Food goes Purple
So when it comes to nature at its best – how about some purple eatables? Purple is by far not the first colour that comes to mind when you think about rice, veggies, etc., right? However, there are so many natural raw materials existing in this colour.
Have you ever cooked with purple potatoes, for example? Or admired a purple cauliflower? Or a purple avocado? JK with this last one!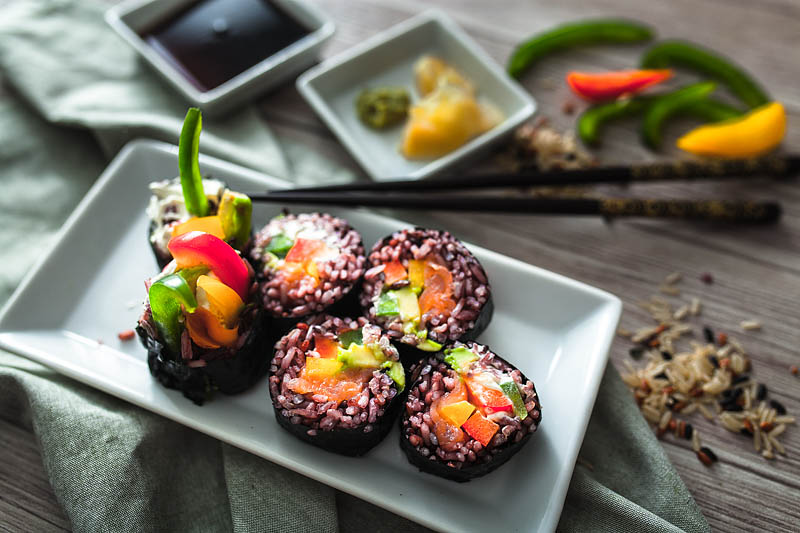 Purple Rice? Really?
That's why I thought that with all these numerous varieties of rice, there's gotta be something in this wonderful colour! And guess what – after a quick research I found purple rice from Thailand and Laos.
In its countries of origin, this rice in its special colour is a delicacy and usually prepared for exclusive festivities. Its stickiness makes this purple ingredient perfect for sushi.
I ordered my purple rice from "Betty's Reisküche." It's a mix of brown, red, and black rice. You do have to drop a couple of more bucks for this delicacy, but remember, this rice is only meant for special occasions!
Since the rice is already popping in colour, you can take it chill on the filling. Well… You could…
Not me, though. In this case, I chose to have an explosive firework of colours: Multicoloured veggies, shiny salmon, cream cheese, and – of course – avocado – the one ingredient that can NEVER be missed. There's only one appropriate name for this creation: Purple rainbow roll.
For even better optics and to add that lil' extra for your taste buds, spinach and mango are exciting alternatives. Now get cookin' and show me your purple sushi creations!

Rainbow Roll Sushi with purple rice
Portionen / Serves:
for 4-5 rolls
Zutaten / Ingredients
200 g purple rice (eg. from Betty's Reisküche or Reishunger)
1 tsp rice vinegar
a pinch of salt and sugar


1 tsp of cream cheese per roll
3 peppers in yellow, green and red
1 avocado
1 slice of smoked salmon per roll


1 sushi mat
a sharp knife
soy sauce
wasabi
Zubereitung / Instructions
Rinse the rice in a sieve until the water clears up. Add 1 part rice and 2 parts water to a pot and bring it to a boil. Turn the heat down, leave the lid on the pot and let it simmer for 30-40 minutes.
Once the rice is firm to the bite transfer it to a bowl and mix it with rice vinegar, sugar and salt. Let it cool down while preparing the filling.
Cut the peppers and avocado into thin slices.
Wrap the sushi mat in foil or place it in a freezer bag. Place a nori sheet on top and spread the rice evenly, leaving 1 - 2 cm on top and 0,5 - 1 cm on the bottom.
Place the salmon first and spread 1 tsp of cream cheese on it. Add the peppers and avocados on the sheet as well and roll it all up tightly. Cut into bite sized pieces and serve with soy sauce, wasabi and pickled ginger.
Pin it for later