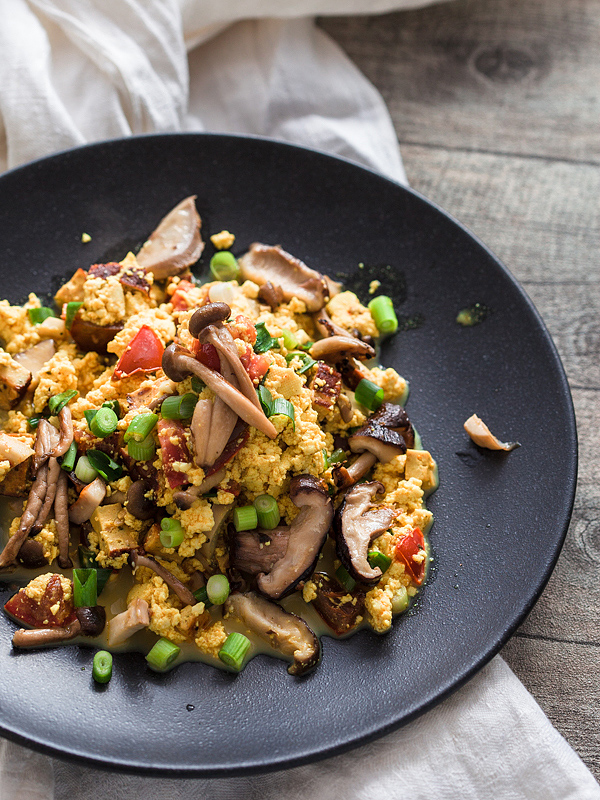 Hi my lovely people!
Long time no read. I could say that I'm sorry and that my bad conscience is killing me for not posting for so long. But in fact this little time out was pretty much needed. I spent 2 wonderful weeks in Scotland and I hope I'll be able to finally edit all the photos I took soon as I have a lot to tell. My plan to get right back into blogging however went a little wrong as I visited some friends and family afterwards, had to work and also had a little food styling job for a client to do.
But all in all I really miss blogging, writing, taking food photos just for my own enjoyment and interacting with other crazy foodies such as me.
So here I am. Back with a quick and easy recipe for a start.
Some time ago (in June *cough*) I created a new variation of my Scrambled Tofu Recipe. Check it out if you haven't already. For the new recipe I actually combined 3 different types of tofu in order to get the texture even closer to the original. However, if you've never tried it before you might as well try the older recipe first to see how you like it, before buying 3 packs of Tofu.
The most essential ingredient apart from tofu is Kala Namak, a black salt that will give your tofu the characteristic egg like taste. You can probably find Kala Namak in organic supermarkets, vegan stores or health shops and if everything fails the internet is your friend.
Scrambled Tofu with Mushrooms
Zutaten / Ingredients
1 handful mushroom e.g. shiitake, enoki or king oyster (I always have some frozen mushrooms at my disposal
1 - 2 tomatoes, diced
1 - 2 green onions, minced
½ package fresh tofu
⅓ package silken tofu (for the soft parts in scrambled egg)
1 little piece of smoked tofu (or black forest tofu), diced
Spices
a pinch of turmeric
½ tsp Kala Namak
salt, pepper, paprika to taste
Zubereitung / Instructions
Unfreeze the mushrooms in water and slice into thin stripes. Fry in a separate pan and salt lightly.
Dice the smoked tofu and fry it in a pan (with oil) until it's crispy on the outside
Put the fresh tofu in a bowl and mash it softly with a fork. If it's too soaky drain off the excess water with your hands.
Add the silken tofu and the spices to the bowl and mix it together, then add it to the pan with the smoked tofu.
When it's all heated up properly and mixed together add the tomato and green onions lastly and let it simmer for a couple of minutes.
Enjoy guys!
This recipe is part of my project "From my Fridge"
The project From my Fridge is an attempt towards a more sustainable lifestyle that aims at the reduction of food waste, more creativity when dealing with leftover food and a raised awareness for the usage of our resources.
It shall serve you as a source of inspiration and motivation to love your leftovers and create amazing dishes with them.
More tofu awesomeness:
Vegan Chocolate Mouse with silken Tofu