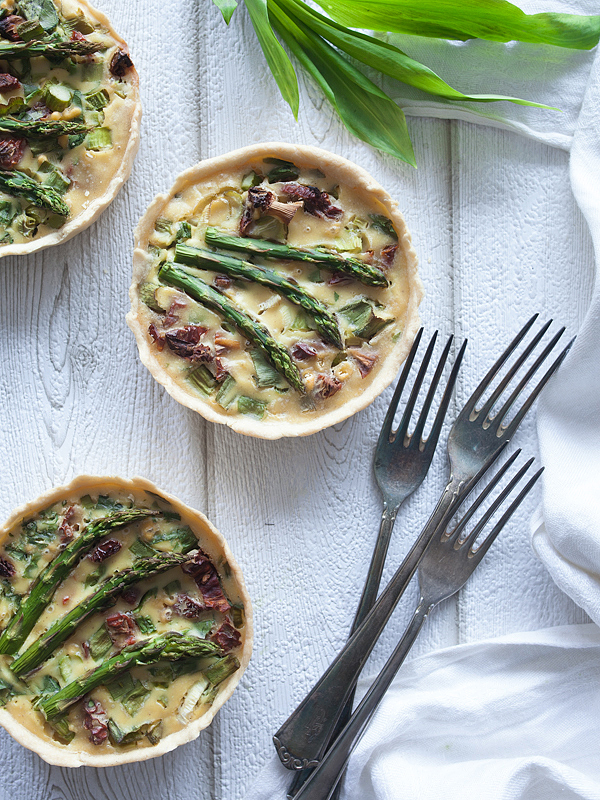 Hi everybody!
Here's my belated second Easter recipe for you (Easter 2017 for the win :D). And I'm not exaggerating when I tell you, this is da shit! Listen up: A vegan quiche with green asparagus, scallions, wild garlic and dried tomatoes. This was the first quiche I've ever prepared by myself and I succeeded greatly at the first try. This recipe is ridiculously easy and so delicious and aesthetic!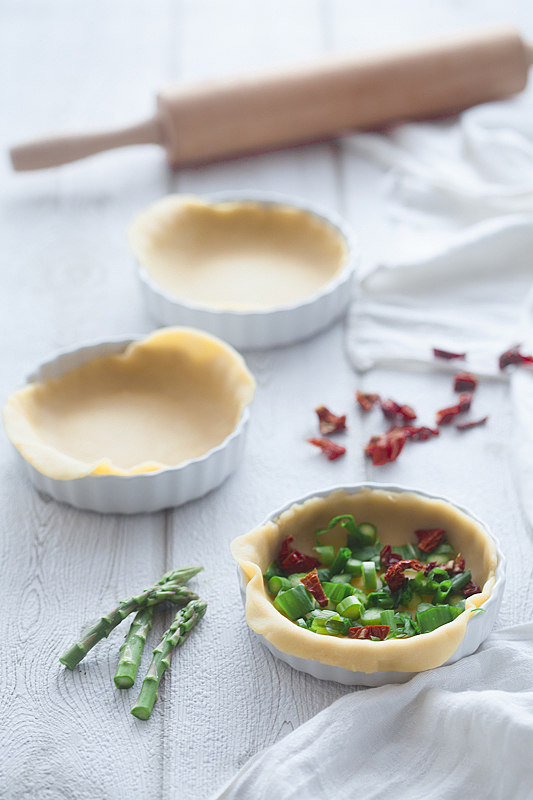 For Easter and Spring approaching I wracked my brains to make some sick vegan awesomeness for you. And I'm really happy, that I managed to do that with this vegan quiche recipe on all layers. The taste is heavenly! Luscious green asparagus (I prefer it to the white asparagus). Wild garlic, for the aromatic flavour, spring onions, because they're great. And dried tomatoes for the touch of fruitiness and to add some colour. After having baked this quiche I'm totally motivated to experiment further and create many other great combinations!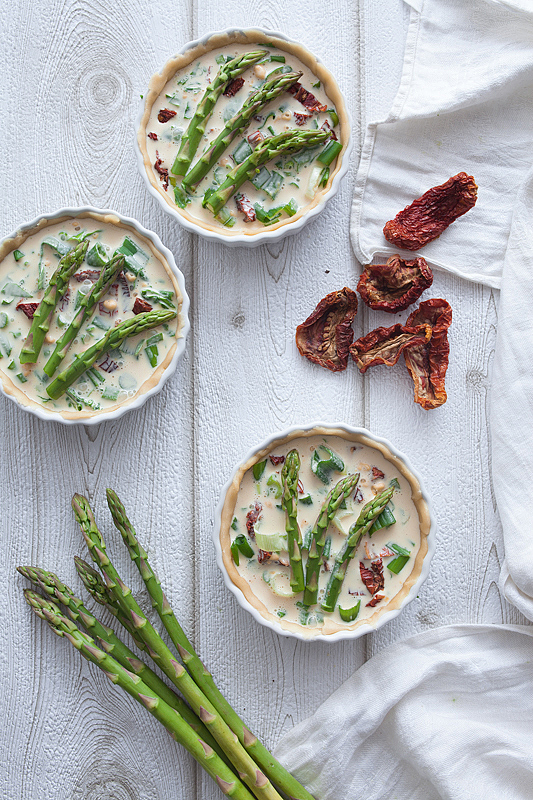 This time by the way, was also the first time I had some great support. A dear fellow student, lover of food and still life photography as well (everything that doesn't move so to speak) payed me a visit last Sunday and together we spend all day cooking and photographing. It was quite a welcome change to not talk to myself over hours (I really should really get out of this habit!). I got some totally new perspectives on my own photography. And at some points where I alone might have given up and sticked to the photos I produced, even though I wasn't 100% happy, Mareike managed to show me new approached and pushed me further, until we stared at the camera display, nodded our heads in unison and high fived each other for our awesomeness.
Have fun, trying this recipe at home! And please let me now, how you liked it!

Vegan Quiche with green asparagus, wild garlic, scallions and dried tomatoes
Vegan, healthy and damn photogenic - this quiche with green asparagus, buckrams, escallions and dried tomatoes combines it all. It is easy and fast to prepare and will impress even your most critical guests.
Portionen / Serves:
6 mini tartes or one 28cm (~11 inches) pan
Zutaten / Ingredients
for the dough
225g flour
90g margarine
6 tbs water
salt
for the filling
120g gram flour or polenta*
200ml soy cream
240ml water
salt
Vegetables of choice e.g.:
18 asparagus sticks
some leaves of wild garlic
approx. 10 dried tomatoes
1 spring onion
time exposure for everything
rest time for the dough: 1-2 hours
preparations: approx. 20 minutes
baking time: 30 minutes
Zubereitung / Instructions
Dough
Prepare the dough first. Knead together the flour, margarine, water and salt and let it sit in the fridge for 1-2 hours. Take it out before processing it further so it can warm up to room temperature again. That makes it easier to work with.
Part the dough into six equal balls and roll out each of the balls very thinly.
Place he rolled out batter iin the tart moulds (see photos) and press it to the edges. Remove exzess dough.
Filling
Mix together the gram flour (chickpea flour) with the soy cream and some salt until all the flour has dissolved.
Mince your veggies.
Fill up your tarte moulds with the vegetables first and then the filling. Place 3 asparagus tips on top, to round it all up.
Bake the vegan quiche for 30 minutes at 200°C (bottom and top heat)
Anmerkungen / Notes
* It has to be gram flour in order to thicken properly. If you know any other flour types with those characteristics, please let me know in the comments 🙂
Gram flour by the way can be found in asian supermarkets and isn't that expensive usually.
The basic recipe for the dough is from 
Vegan Guerilla
The basic recipe for the filling is from 
Chefkoch